Power Book II: Ghost Season 4 Will Introduce A Key New Character
Starz renewed the Power spinoff even before Season 3 dropped.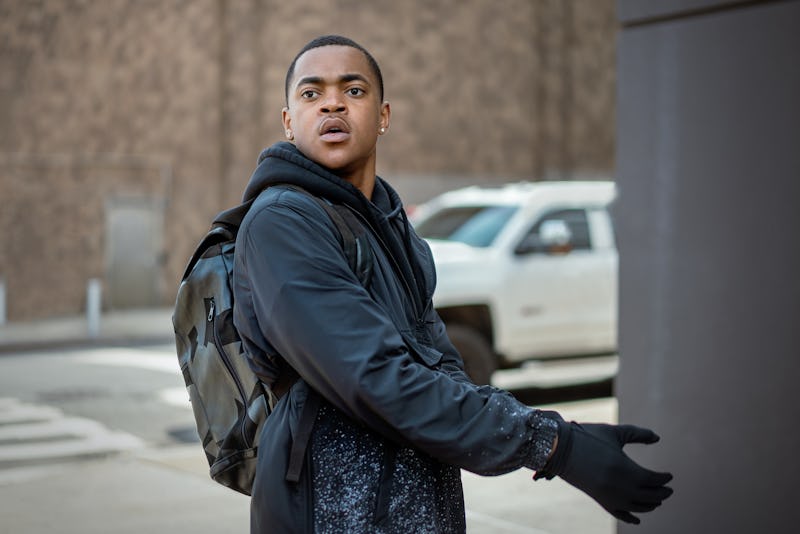 Starz
Spoilers ahead for Power Book II: Ghost Season 3. In the final moments of the tense Power Book II: Ghost Season 3 finale, Tariq told Brayden, "I think we just started a f*ckin' war" — and he was probably right. There's no question that viewers will see the battle play out, since Starz renewed Ghost for Season 4 in January. What's more, filming on the Power spinoff was already starting in New York City, when the news broke.
"The high-octane drama of Power Book II: Ghost continues to resonate with our viewers and we're thrilled to get Season 4 production underway ahead of our Season 3 debut," Starz exec Kathryn Busby said in a statement at the time, adding that it is "clear our fans are ready to devour more of this explosive series."
Indeed, after Season 3 dropped on March 17, the first episode delivered 5.8 million multi-platform viewers in its first three days, setting the record for Starz's biggest premiere weekend ever, according to the network.
With the drama's third season wrapping on May 26, here's everything to know about Ghost Season 4.
The Power Book II: Ghost Season 4 Cast
Though the Season 3 cliffhanger could affect the Season 4 main cast list ("I think I took one of those f*ckers out," Brayden said), possible returning actors include: Michael Rainey Jr. (Tariq St. Patrick), Gianni Paolo (Brayden Weston), Alix Lapri (Effie Morales), Woody McClain (Cane Tejada), Mary J. Blige (Money Stewart Tejada), Clifford "Method Man" Smith (Davis MacLean), Larenz Tate (Rashad Tate), Latoya Tonodeo (Diana Tejada), Lovell Adams-Gray (Dru Tejada), Audrey Paige-Marie Hurd (Lauren Baldwin), Paton Ashbrook (Jenny Sullivan), Caroline Chikezie (Noma), and Kyle Vincent Terry (Obi).
Along with the renewal news, Starz revealed that Michael Ealy was joining the cast in a series regular role as Detective Don Carter. The network described Ealy's character as "a rising NYPD officer who was on track to become Police Commissioner until his wife was killed in a crossfire between rival drug gangs." The detective will lead "an elite NYPD drug task force" to combat and prevent drug-related violence.
OG Power stars Naturi Naughton (Tasha St. Patrick) and Joseph Sikora (Tommy Egan) have also made multiple surprise appearances in Ghost, so it's entirely possible fans will see them again, too. However, unless they appear in flashbacks, don't expect to see the returns of Shane Johnson (Cooper Saxe) or Berto Colon (Lorenzo Tejada Sr.), whose characters were two major deaths in Season 3.
The Power Book II: Ghost Season 4 Plot
After Tariq's attempt to use Noma's daughter as leverage backfired big time — thanks, in big part, to Effie's betrayal — he's already drawn battle lines with the two, along with Cane, Diana, and Dru. While it's unclear if Brayden actually shot any of them (or Obi), fans might have another death on their hands.
"Noma is brutal and bloodthirsty as ever, and now we have to figure out how in the hell we are going to appease her," Lapri teases to Bustle, adding that she'd also like to explore more of Effie's backstory in Season 4. The actor also knows that her character is never really safe, adding, "They put Effie into the wildest of circumstances to where, at any point, she could end up dead."
Meanwhile, Tariq will also have to contend with Diana and Dru setting him up for Monet's attempted murder — as well as the Tejada children's attempt to take out their mom. Viewers have yet to find out what was on the flash drive Saxe sent to Agent Young (Kevin Rodriguez), who was revealed to be OG Power's Paz Valdes' (Elizabeth Rodriguez) son and Angela Valdes' (Lela Loren) nephew.
The Power Book II: Ghost Potential Premiere Date
In April, Rainey Jr. joked to Express.co.uk that "hopefully, the wait for Season 4 isn't as long as the wait was for Season 3." Given that production was underway before Season 2 premiered in March 2023 (just over a year after the second season wrapped), he could be right. Because the first two seasons premiered in the fall, Ghost could return for a late 2023 comeback.
This post will be updated as more Power Book II: Ghost details become available.