Princess Diana's Iconic Sheep Sweater Sells For Over $1 Million At Auction
This just might be the most expensive sweater of all time.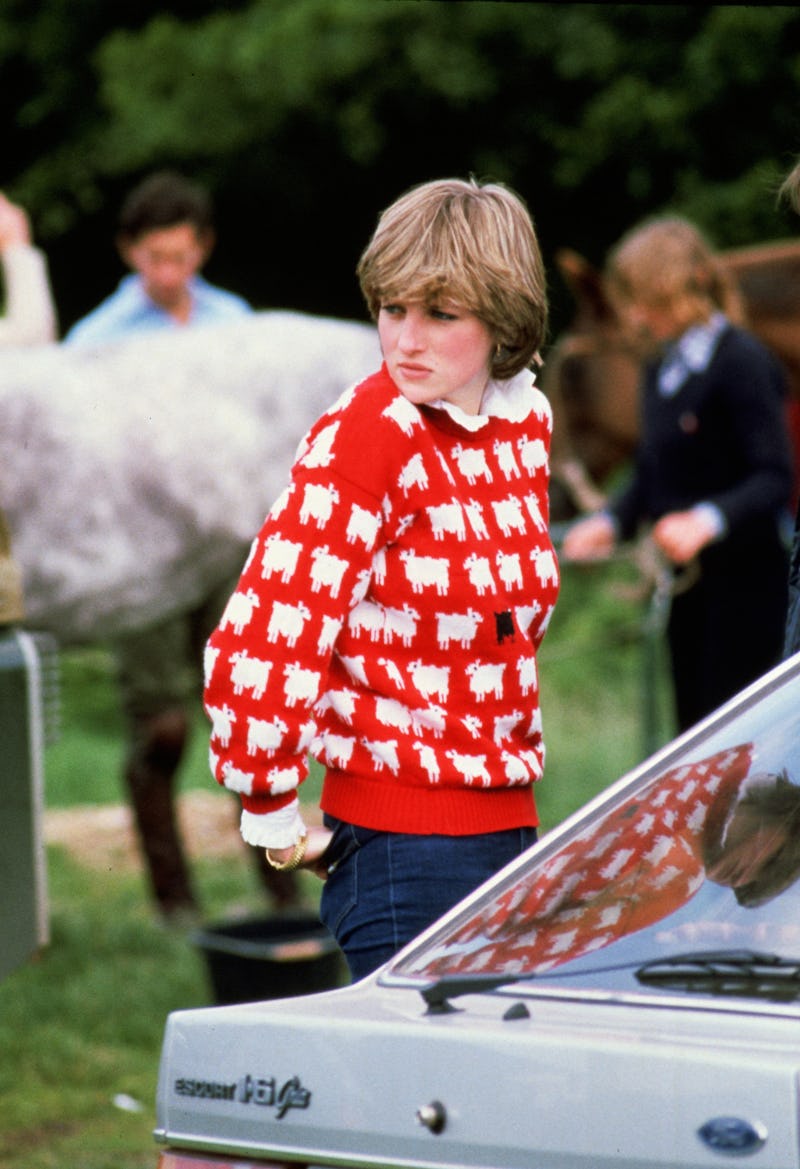 Tim Graham/Tim Graham Photo Library/Getty Images
One of Princess Diana's most beloved pieces of clothing has been auctioned off for an eye-watering amount of money, which just might make it the most expensive sweater in history. On Sept. 14, the late Princess of Wales' iconic black sheep sweater sold for $1.1 million at Sotheby's latest Fashion Icons auction during New York Fashion Week. It marks the highest price that's ever been paid at auction for one of Princess Diana's clothing items, beating a custom purple Victor Edelstein evening gown that she wore in 1989, which sold for a still eye-popping $604,800 in January.
Sotheby's announced that the sweater would be going up for auction in June, creating months of anticipation. It was initially estimated to sell for between $50,000 to $80,000. In the last two hours of the auction, the listing seemingly peaked at $190,000, before a 15-minute bidding battle caused the price to jump to its eventual sky-high bid.
According to Sally Muir, the co-owner of designer brand Warm and Wonderful who continues to sell replicas of the sweater, the highest bidder is keeping their identity a secret. "It's all confidential unless it goes to a museum and then we might find out," she told PEOPLE. "It's kind of frustrating but also quite intriguing because of course we have been speculating!"
If it comforts the highest bidder, this is the actual first black sheep sweater that Diana ever wore. The Princess first wore the garment while watching her then-fiancé Prince Charles play at a Windsor polo match in 1981, just a month before their royal wedding. But soon after, Muir and co-designer Joanna Osborne received a letter from Buckingham Palace explaining that the sweater had been damaged, leading them to send a replacement. Diana wore this sweater at another polo match in 1983, but over 40 years later, the original sweater was recently discovered by Osborne in storage.
"I was in the attic in February searching for a pattern, and I just happen to notice this old wine box in a corner — and there was a red sheep jumper wrapped in a cotton bedspread," she told PEOPLE. "It was well preserved, and I had a kind of Groundhog Day moment and thought, 'Could this be the one?' I looked at the cuff which had obviously been sewn back on, and I called Sal and said, 'I think I've found the actual real Diana jumper!' We looked at all photographs of her wearing it, and we compared the two and we both felt certain that it was the actual one. We just knew because every jumper is different, so it was easy to see." Now, it's in the hands of someone who will surely value it.