Priyanka Chopra & Nick Jonas' Matching Tattoos Have A Romantic Meaning
Their ink is a reference to Jonas' 2018 proposal.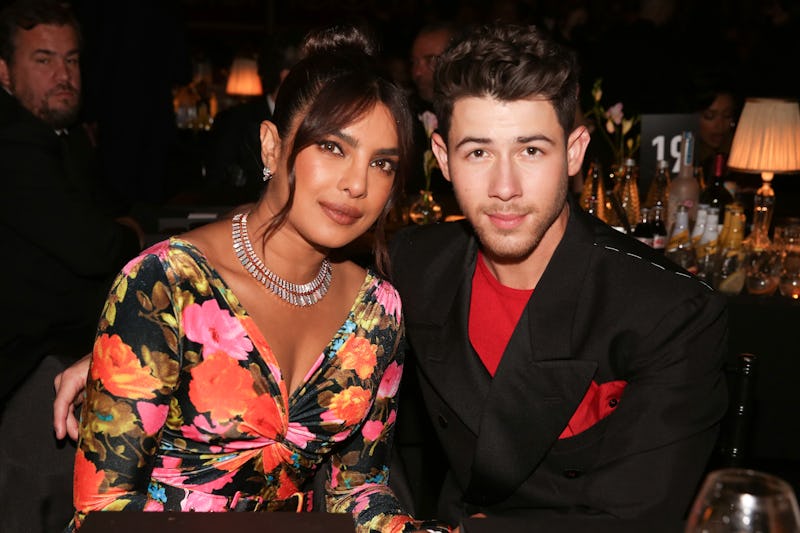 Lia Toby/BFC/Getty Images Entertainment/Getty Images
Priyanka Chopra Jonas is revealing more about her relationship with her husband Nick Jonas. In a British Vogue video series called "Pieces of Me," the actor shared that the couple has matching tattoos. "I have a check and a box behind my ears," she explained, touching each of her ears. "My husband has them on his arms."
Priyanka elaborated that these are a callback to their 2018 marriage proposal. In the video, she explains that Nick told Priyanka that she checked all of his boxes before asking if she would check another one. She previously unveiled the box tattoo behind her ear in an Elle UK shoot but never elaborated on the meaning behind the ink. Similarly, the dainty check tattoo has been seen in photographs without providing the backstory.
The lovebirds had a whirlwind romance, getting engaged after two months of dating and throwing an elegant and elaborate wedding in India a few months later. In the British Vogue video, Priyanka gave more insight into the dynamics of their relationship, sharing how she leans on Nick for support. "My husband is super thoughtful," she explains. "When he's around, everything feels like it'll be okay. He's taught me to approach things from a much calmer place."
She continued, "I was a tornado — still am! Mile a minute, bee in a bonnet type of person. He's not." The couple now shares a daughter Malti, born in Jan. 2022 via surrogate.
These aren't Priyanka's only tattoos: her most visible one says "Daddy's lil girl" on her wrist, written in her late father's handwriting. She also has a map of the world on her inner bicep — when she puts her arm down, "India is right next to my heart," she said. Priyanka, a known dog lover, also has three paw prints on her ankle as an ode to her three pups. Nick, meanwhile, has a matching arrow tattoo with his brother Joe as well as the word "Mercy" inked on his arm.