How Queen Charlotte's Corey Mylchreest Used Succession To Prep For Scenes
The leading man built a ritual around the Succession theme.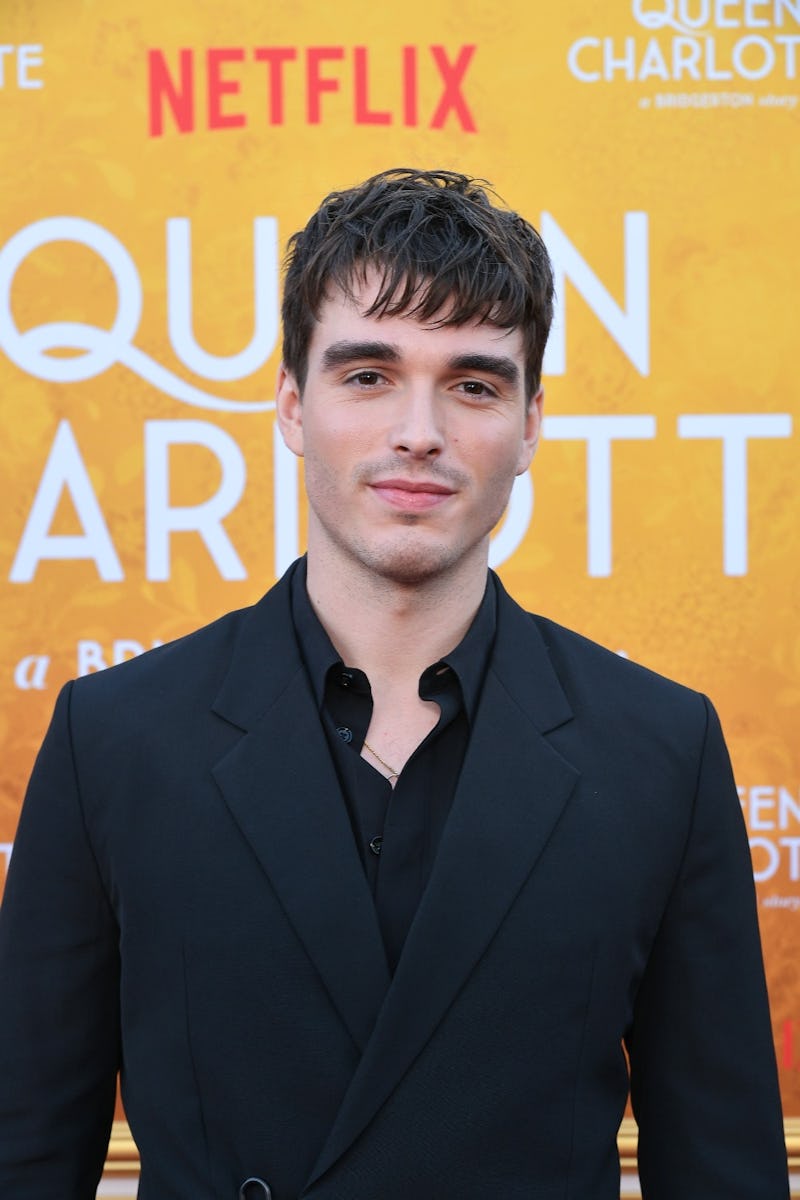 Charley Gallay/Getty Images for Netflix
There's unexpected crossover between two of the buzziest shows of the moment: Netflix's Queen Charlotte: A Bridgerton Story and HBO's Succession. Though one series is a period drama centered on romance and the other is modern black comedy-drama focused on a family power struggle, several motifs overlap. In fact, Queen Charlotte leading man Corey Mylchreest was so inspired by a Succession scene that he regularly played the show's theme as he got into character as King George III.
The Bridgerton universe newcomer explained his pre-scene ritual during an interview with Behind the Blinds magazine. "I would listen to that [the theme, "Adagio in C Minor"] every day as I put on George's ring, which is on his pinkie finger on his left hand," he said. For Mylchreest, it resonated because of the parallels between George and the Succession character Kendall Roy.
"I remember watching the series, and in one shot which I paused, there was this frame of Jeremy Strong, who played Kendall Roy, and I just looked at him and thought, 'that is George,'" Mylchreest said. "That resignation to the shame and crushing, oppressive power of duty and your bloodline and your role, and he just looked destroyed."
The actor spoke about how important his ritual was to him during a Wrap interview in early May. "That would be the last thing I did before I started the day," he said of listening to the music while he put on George's ring. "It was almost like Pavlov's dog."
The actor was so inspired by the Kendall scene that he printed out the picture for his character book. Like Kendall, George resents the duty and pressure put on him, Mylchreest said, which ends up being something that bonds him to his new bride, Charlotte (India Amarteifio). "I think that's why it's such a strong connection because it's a build-up of necessity and desperation for their entire lives that meet in that moment," he told The Wrap.
For the romantic parts of the story, Mylchreest had other Bridgerton leading men to look to for inspiration. Speaking to Today, he said got advice from Season 1's Regé-Jean Page (Simon Basset) and had "quite a few conversations" with Season 2's Jonathan Bailey (Anthony Bridgerton). "They are both very lovely people," he said. "They are also incredibly beautiful. And I'm very aware that they are running different races to me."
With his many sources of inspiration and wisdom, Mylchreest successfully brought to life yet another Bridgerton character that fans burn for. After the show premiered, Queen Charlotte viewers tweeted their reviews, and many named Charlotte and George their favorite Bridgerton couple yet. The prequel is meant to be a six-episode series, but there are already calls for more.