The "Hidden Meaning" Behind Queen Charlotte's Outfits Is Going Viral
Fans of the Bridgerton prequel have been paying close attention.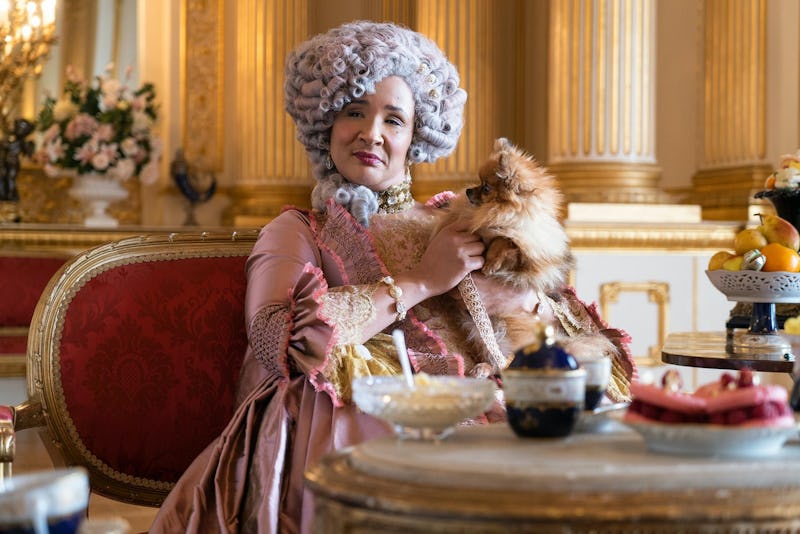 Liam Daniel/Netflix
The Netflix prequel series Queen Charlotte is already proving to be a hit with Bridgerton fans, and many viewers have been left gripped by the romantic telling of Queen Charlotte and King George's onscreen love story. However, it appears some viewers have been paying a lot more attention than others, and a viral fan theory relating to Queen Charlotte's "deliberate" fashion sense is going viral on TikTok.
In the viral clip shared by a TikTok account by the name of The Whistledown Whisperer, Queen Charlotte fans point out that the outfits worn by the show's lead character (played by Golda Rosheuvel) may harbor an emotional hidden meaning.
"Queen Charlotte wears outdated clothing. While other women have moved to Regency era style, Charlotte continues to wear the same style as the Georgian era (bigger skirt and lower waist)," the TikTok points out. "Why you may ask does QC keep the same look as when she was a young queen? To comfort George and make her more recognizable. He's always safe with her."
The clip struck a chord with Queen Charlotte fans on TikTok, many of whom were quick to offer their own thoughts on the viral theory. "This made me cry. She really was stuck in time and will always love George," one viewer commented, while another fan agreed that Queen Charlotte's consistent choice in clothing shows that she "has remained frozen in time."
Others fans disagreed, however, claiming that the Netflix drama could be referencing the real-life Queen Charlotte, who apparently "maintained a very outdated" dress sense.
As fans might be aware, this isn't the first viral Queen Charlotte theory to make the rounds on social media, as several TikTokers also recently pointed out a subtle reference to Bridgerton's Kate and Anthony nestled within the prequel.
Meanwhile, speaking to Radio Times, lead star Rosheuvel said it is "fascinating to see whether the fans notice little nuances and Easter eggs" in both Queen Charlotte and Bridgerton. "It's a fascinating way of telling the story," she added.
This article was originally published on