The Queens Cast Is Stacked With '90s & 2000s Music Icons
The new ABC series follows an iconic girl group who reunites decades after going their separate ways.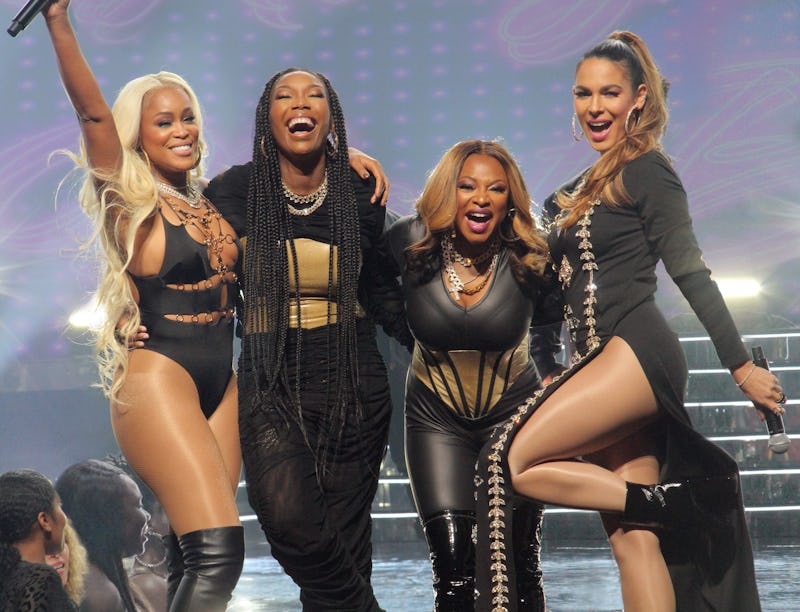 ABC/Kim Simms
From Destiny's Child to Salt-N-Pepa to TLC, all-women groups have been foundational to hip-hop and R&B. ABC aims to capture that legacy with their new musical series Queens, which stars Eve (Brianna), Brandy (Naomi), Naturi Naughton (Jill), and Nadine Velazquez (Valeria) as four members of an iconic girl group who reunite decades after going their separate ways.
During their heyday in the '90s, the Nasty B*tches reigned supreme. But 20 years later, their fame has disintegrated and their group has disbanded. Gone are the days of flashy music videos and cultural superstardom; now, they're performing in dingy venues and appearing on second-rate talk shows.
It's a familiar story. Many a musical group has stepped back from the spotlight only to push their way back into the public eye (looking at you, Spice Girls). While the Nasty B*tches are not based on any one group in particular, the show's stars do bring plenty of personal experience from the music industry to the cast.
Eve stars as Brianna, aka "Professor Sex," who left the rap scene and became a suburban mother of five. This isn't too far off from Eve's own life: after rising to fame in the New York-based rap collective the Ruff Ryders, Eve broke out as a solo artist in the early 2000s with hits like "Let Me Blow Ya Mind" and "Gotta Man" and starred on her own self-titled television show from 2003 to 2006. However, she hasn't released an album since 2013's Lip Lock, which she put out over a decade after her previous album, Eve-Olution. She's since pivoted to film and television, starring in 2016's Barbershop: The Next Cut, appearing on shows like Glee, Jane the Virgin, and Empire, and hosting The Talk from 2017 to 2020. She has one child and four stepchildren with her husband Maximillion Cooper​, who she married in 2014.
There's also Brandy, whose character Naomi — aka Xplicit Lyrics — is widely regarded as the Nasty B*tches' most talented member and is struggling the most to find her footing post-fame. Brandy may similarly be the series' biggest star, having dominated early 2000s R&B charts in addition to starring on her late-'90s sitcom Moesha and Rodgers and Hammerstein's 1997 musical Cinderella opposite Whitney Houston. After an eight year gap, she released her seventh album, B7, in 2020.
Queens' trio of former recording stars is rounded out by Naughton, who plays Jill aka "Jill Da Thrill." Naughton was part of the early 2000s group 3LW, who are famous for hits including "No More (Baby I'ma Do Right)" and "Playas Gon' Play." Since leaving music, Naughton has remained adjacent to the world of hip-hop and R&B, having portrayed Lil Kim in 2009's Notorious as well as Tasha St. Patrick on Power. Velazquez, meanwhile, doesn't come from a musical background: she's a model and actor known for her roles as Catalina Aruca on My Name Is Earl and Sofia Ruxin on The League. But even this sort of aligns with her character, Valeria, aka Butter Pecan, who was not an original member of the Nasty B*tches and was added by the groups' manager, Eric Jones.
It's unclear what lies ahead for the Nasty B*tches, but if the show unfolds anything like it has in reality for its stars, a successful comeback could be within reach for the fictional rappers.