Queer Eye Season 8 Could Potentially Take Place In These Locations
"We haven't really filmed at all in the west."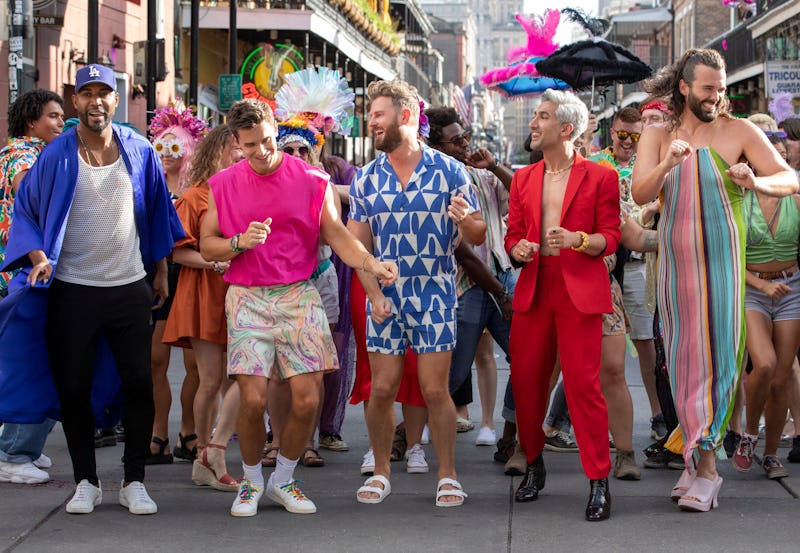 Karamo Brown, Antoni Porowski, Bobby Berk, Tan France, Jonathan Van Ness in Queer Eye Season 7.
The Fab Five is back again in Queer Eye Season 7, and this time they're headed to New Orleans. From a fraternity house full of "lost boys" to a sports super fan, Antoni Porowski, Tan France, Karamo Brown, Bobby Berk, and Jonathan Van Ness take on a whole new cast of people who just need a makeover and a fresh start.
The series has been on air since 2018, and since then, Queer Eye has featured over 60 people. The show inspired a spin-off set in Japan, as well as separate adaptations in Germany and Brazil that each featured their own teams of makeover artists.
As France told Insider, none of them expected the show to get so big. "I thought that Queer Eye wasn't going to be successful and that it would be a flop — we'd do one season, then it'd be over," he said.
It's certainly become one of Netflix's longest-running shows, but Netflix hasn't announced yet if there will be a Queer Eye Season 8. As Berk explained to E! in July 2022, it was already hard enough to get all five stars in one place to film the seventh season, considering they're all busy with their own projects. "We've been condensed to doing about an episode-and-a-half a week right now," he said, adding that his department had to fix up two homes in less than two weeks. Typically they would film over five days, but this time it was only "three to four days."
Still, Berk said the cast has thoughts on where they want to take the show next. So here's everything else we know about a potential Season 8 so far.
Queer Eye Season 8 Premiere Date
Given everyone's busy schedule, it's tough to tell when a new season could premiere. Early seasons always debuted between four to eight months after the last season, but Season 7 came out a year-and-a-half after Season 6. If Queer Eye Season 8 keeps up that trend, we might not get another season until summer 2024 or later.
Queer Eye Season 8 Location
There's no confirmation on where Queer Eye will film next. But in his E! interview, Berk said that they're maybe done with filming in the summer in the South for now. "Our list definitely consists of any place that does not get above 60 degrees," he joked. He said they would "love to go to the UK," which means there might be another spin-off like the Japan series in the future.
He also added that they're interested in traveling to a different coast. "We would love to hit the Pacific Northwest. We haven't really filmed at all in the west," he said. "We've been in the south and the east for seven, if you count Japan, eight seasons now. So yeah, we'd love to go out west."
Queer Eye Season 8 Cast
Despite all being busy, there's no indication that Queer Eye would ever swap out one of the Fab Five members just to make a new season, so we can assume Antoni Porowski, Tan France, Karamo Brown, Bobby Berk, and Jonathan Van Ness would all return to the show. As for the people featured as their clients, last year the official Twitter account posted about how to apply to be on Queer Eye in May 2022 — meaning a similar call-out could be posted soon for a new season.
This post will be updated as more information about Queer Eye Season 8 becomes available.