Finally: The Real Housewives of Miami Is Coming Back
Three former cast members will return.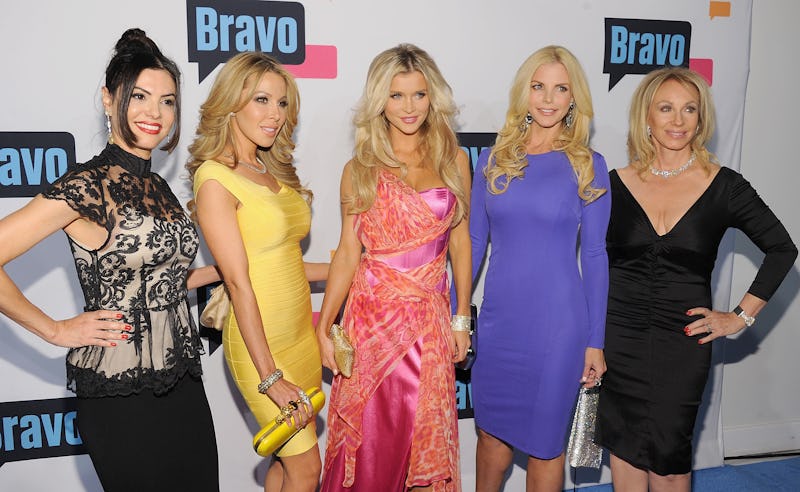 Jamie McCarthy/WireImage/Getty Images
Amid new seasons of Real Housewives of Salt Lake City and Winter House, another fan-favorite Bravo series is returning. Real Housewives of Miami will receive a long-awaited fourth season, NBC Universal's Peacock announced on Feb. 17. The streaming service's confirmation arrives weeks after a source spoke about the show's possible renewal to Us Weekly. The new installment is set to arrive more than eight years after RHOM last graced our screens in 2013. Andy Cohen himself will executive produce the show alongside Matt Anderson, Nate Green, and Cooper Green.
"They have started interviewing a bunch of different women," a source told the outlet at the time. "They want to have a very diverse cast and are speaking to women from all different backgrounds." According to the Us Weekly insider, Bravo was in the process of interviewing and was "very close to narrowing down a cast" earlier this year. A source for Entertainment Tonight also shared the same news. The final cast was officially revealed on Oct. 29, and it includes OG favorites and promising new names.
The original series, which aired alongside New York City, Orange County, and Atlanta versions of the franchise, ran from 2011 to 2013. Real Housewives of Miami was never formally canceled, but production on a fourth season was scrapped after the Season 3 finale aired in November 2013.
Ahead, everything we know about Real Housewives of Miami Season 4, from casting to where you might stream the new installment (hint: it's not Bravo).
Who is in the cast of Real Housewives of Miami Season 4?
The original RHOM cast included Lea Black, Alexia Echevarria, Marysol Patton, Adriana de Moura, Cristy Rice, and Larsa Pippen, who appeared on Keeping Up With the Kardashians in recent years. In Season 2, Joanna Krupa, Karent Sierra, Lisa Hochstein, and Ana Quincoces joined the cast. On Oct. 29, Peacock finally announced the cast on Twitter, and only three alumnae are returning: Echevarria, Pippen, and Hochstein, who previously teased via Us that a fourth season was "very possible."
New faces will also join the Housewives ranks, including event stylist Guerdy Abraira, anesthesiologist Dr. Nicole Martin, and former beauty queen Julia Lemigova, who's married to tennis champ Martina Navratilova. Lemigova's casting marks a turn toward LGBTQ+ inclusion on the RHOM franchise. On RHOBH alum Garcelle Beauvais' podcast last May, Cohen teased that he might cast lesbians in the series before revealing they "almost cast several lesbians" before.
Among the OG women who were down to return, Patton stoked rumors in 2019, telling a fan on Instagram, "You never know." Though she won't be returning as a regular, she'll still be appearing as a friend of the Housewives alongside de Moura and beauty queen newcomer, former Miss Haiti Kiki Barth.
Real Housewives of Miami Season 4 Plot
According to a press release, Season 4 of RHOM will follow the ladies as Miami comes back to life following pandemic-related closures. For Echevarria, this means focusing on growing her emerging beauty salon alongside her fiancée Todd — as she recovers from her tumultuous previous marriage. As she plans her forthcoming nuptials, a disagreement sparks between Todd and her son, Peter, leaving Echevarria in an uncomfortable position.
With two children and a $40 million mansion on Star Island, Hochstein is a philanthropist, socialite, health and beauty expert, and model who seemingly has everything but still finds herself in search of genuine contentment. This season, she'll encounter new information about her marriage to husband Lenny that complicates their future.
Following Pippen's highly-publicized separation from NBA player Scottie Pippen, she's rebuilding her life as a single woman with a successful new gig on OnlyFans, which provokes judgement from the other Housewives. Earlier this year, the RHOM star's friendship with the Kardashians became a hot topic, as Pippen was reportedly the first to inform Kim and Kourtney that Tristan Thompson allegedly cheated on Khloé. While one of Pippen's castmates is heard accusing another woman of trying to become "the next Kardashian," it's unclear whether the real-life drama will find its way into the Peacock series.
Haiti-born, Paris-raised Miami resident Abraira is a work-obsessed interior designer and luxury event planner who's also helping plan Echevarria's wedding. A mother of two who's been married to her high school sweetheart, a firefighter, for 26 years, she soon becomes overwhelmed by the work-life balance.
Martin is a self-made, board-certified anesthesiologist as well as an award-winning teacher and lecturer — who also has a partner, Anthony, and a two-year-old son, Greyson, and somehow still has time to join RHOM. Following a difficult childhood, her estranged father is now back in the picture, and throughout Season 4, she'll rethink the fate of their relationship, as it's affecting her son.
Unlike the other city-residing Housewives, former Russian beauty queen Lemigova lives on a farm outside of Miami with Navratilova. She spends time feeding chickens and milking goats, which is sure to make for some interesting conversation with the other ladies.
After a tough divorce, de Moura is thriving as a successful art dealer, musician, and multi-linguist. Career and family are most important to her, but as she searches for love and rejoins her friend group, drama will surely ensue.
The funniest of the group, Patton is newly married and embarking on a new life journey following a career in publicity. However, her controversial opinions complicate relationships with the other Housewives.
Guerdy's friend Barth is a Haiti native and mother of two who came to the United States at just 13 years old. She lives with her parents and children, holds a witty sense of humor, and speaks her mind — no matter what the other ladies think.
Real Housewives of Miami Season 4 Trailer & Release Date
Peacock released the official trailer for Season 4 of Real Housewives of Miami on Nov. 30, and the clip promises a rollercoaster of events to come. "I'd like to know who here you trust the least," Patton asks the group, prompting jaws to drop, before professing: "I think I trust Nicole the least."
Patton's remarks are just the beginning of this season's drama. Among countless shots of the ladies enjoying luxurious parties, yachts, and dinners, the trailer hints at several tense scenarios involving Pippen. She's first heard yelling at an unspecified castmate before expressing distaste for De Moura: "I feel like Adriana is like a mosquito. I just want to, like, swat her away."
The Season 4 teaser ends with the cast appearing distraught at what seems to be a funeral, footage of ambulances, and a voiceover speaking about a troubling event taking place at a wedding.
Alongside the trailer's release, Peacock revealed Season 4 would premiere its first three episodes Thursday, Dec. 16, on the streaming service. The rest of the season's 14 episodes will then premiere one-by-one every Thursday.
Where can I watch previous seasons?
All three seasons are available for your educational marathon-watching pleasure on BravoTV and Hulu. One place the show will land very soon: Peacock, the new streaming service from NBCUniversal that launched last July. "I have really been trying to get Peacock to pick up Miami," Cohen previously said while on the "Everything Iconic With Danny Pellegrino" podcast. "I don't know if I'm allowed to say this. I don't know where we are with that." Well, it appears someone spoke on Miami's return and Bravoholics everywhere can rejoice.
This article was originally published on