How Reality TV Stars Conquered Your Bookshelves
Celebrities known for sharing it all on camera have found another way to shape the narrative. (Actual writing not required.)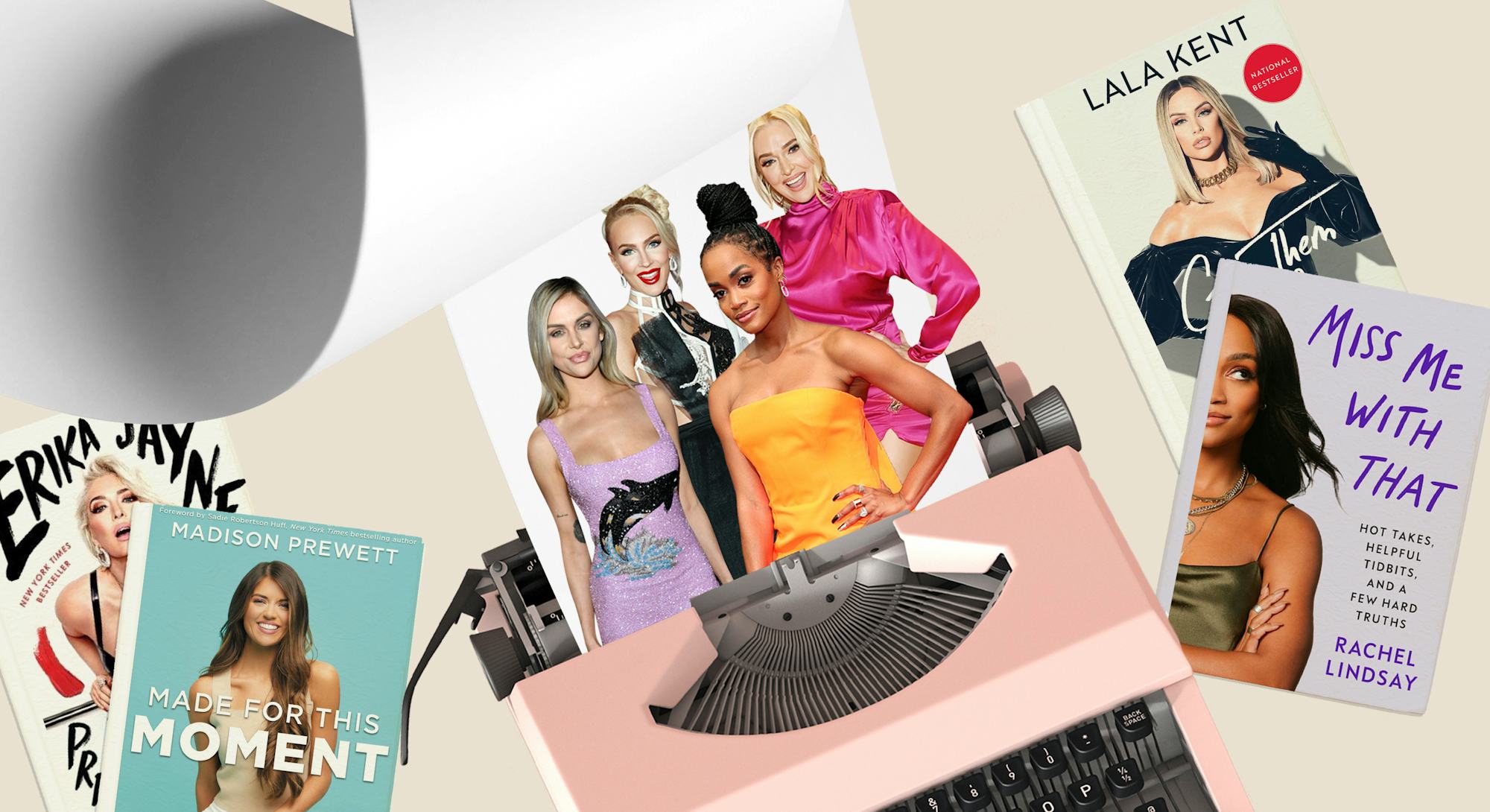 Denise Truscello, Michael Tullberg, Matt Winkelmeyer, Rich Fury/Getty Images
When an author has sold a book but cannot actually write that book, a hookup must be arranged. The matchmaking is done by someone like Madeleine Morel, who calls herself "the Tinder of the publishing world." At Morel's 2M Communications, authors with stories to tell but without the words to tell them are paired with, Morel says, "what we used to call mid-list authors, former longform magazine journalists, or former editors who were either canned or couldn't stand corporate life any longer."
Morel, who in her offtime used to do literary charitable work reading erotica to the elderly, has arranged collaborations that have resulted in more than 50 New York Times bestselling books on everything from Scientology to brain trauma in sports. Not every book changes the world, but every deal earns her 15% of her clients' fees. "Madeleine is always looking for new clients who have books to be written in order to maintain her Prada habit," her website reads. And lately, support for the Prada habit has begun coming from an unexpected source: memoirs, essay collections, and advice books from people who not only aren't writers, but are known because they already have lived their lives and shared their most personal moments on reality television.
The last year has seen new releases from famous non-writers that include Netflix's Cheer coach Monica Aldama; Selling Sunset's Chrishell Stause and Christine Quinn; Real Housewives Garcelle Beauvais and Leah McSweeney and ex-Real Housewives Porsha Williams and Dorinda Medley; Total Bellas stars Nikki and Brie Bella; Bachelor Nation alumni Rachel Lindsay, Hannah Brown, Tyler Cameron, and Matt James; and two not-especially-introspective cast members from the Bravo series Southern Charm.
The market is so bullish on these books that Erin and Ben Napier from HGTV's Home Town received an advance between $251,000 and $499,000 for their 2018 memoir — the range for what Publishers Marketplace calls a "significant deal." Queer Eye star Jonathan Van Ness received more than half a million dollars for his 2019 memoir.
This is perhaps not the payday it sounds like. "Writing a book is hard work, and there are many ways, when you're a celebrity, to extend your brand or make money, frankly," says Dey Street Books editorial director Carrie Thornton, who has published books by Dave Grohl, Jessica Simpson, and The Hills star Lo Bosworth. Ex-Fixer Upper stars Joanna and Chip Gaines got a $500,000 advance for the 208-page The Magnolia Story; Joanna could have made the same amount dashing off 10 sponsored Instagram posts at her reported average rate of $53,900 each.
"There's always a possibility it'll become a huge hit, but that's not why they do it," says Gary Morris, an agent at the David Black Agency. "It's a marketing opportunity. [The author's] face is now in Hudson News for a couple of months. So, while they are not literally operating at a loss in exchange for exposure, they're not counting on that money to bribe their eventual kids into USC."
Celebrity Memoir Book Club's Claire Parker, who co-hosts the podcast with Ashley Hamilton, believes the current crush of famous authors were motivated to publish by the pandemic. Parker says, "There was a year where celebrities were saying, 'I can't tour. I can't shoot. I can't market. How do I make money? I'm trapped inside.' And everybody was like, 'Well, now's a good time to write your book.' It's a merch drop… or the Shein of the publishing world."
But even the fast-fashion version of literary cachet offers these celebrities something TV and IG sponcon can't: a medium in which they have (almost) full control, and the opportunity to be taken seriously. As all-access as unscripted shows appear, they are still heavily edited and often rely on the genre's archetypes; a book proves there's humanity and agency behind a highly produced character. "I'm excited when a book comes out about someone that the world thinks they know, and then the book changes the perception of them," Thornton says. "You own the narrative as the author, and you can change the narrative about yourself because you have 300-plus pages to really tell this truth."
Reality stars' continued employment depends on hooking audiences with compelling storylines; deepening their bond with viewers in print also encourages them to keep tuning into the main show. "To be able to put on your sweatpants, take your shoes off, get on the couch, and sit with somebody to share the deepest part of who you are — there is still no other format that is more conducive to that kind of storytelling than a book," says UTA agent Albert Lee, who represents the upcoming Paris Hilton memoir and worked on Gabrielle Union's New York Times bestselling We're Going to Need More Wine.
Still: "How do you get someone who's a reader to take a book by a 'celebrity' seriously?" asks CAA agent Cait Hoyt, who represents both current Real Housewives of Beverly Hills star Erika Girardi and current President of the United States Joe Biden. And not everyone who watches unscripted programming is a reader — how do you get them to spend $30 and hours of their lives reading the stories of people they already have access to? According to Hoyt, the answer is both simple and impossible: "You have to have a great book."
Don't do it unless you're going to do it for real, because readers can tell.
Viewers have been watching reality TV for decades, but the deluge of reality TV book deals is more recent, largely fueled by two television universes: The Bachelor and Bravo.
Despite their longevity and heightened emotions, structured shows like American Idol and Survivor haven't historically translated to many literary tell-alls; neither have voyeuristic, the-audience-sees-everything shows like The Real World or Big Brother. But The Bachelor, as contrived as some of its on-camera action may be, still traffics in juicy personal experiences with real-world stakes — an immunity idol means nothing off the island, but actual sex is actual sex, even if it happens in the Fantasy Suite. Bravo's long-running franchises and spinoffs — it aired its first Real Housewives series in 2006 — lead viewers to grow deeply invested in cast members season after season, but who makes up the audience also matters. Bravo data analyst Dave Kaplan found that its relatively wealthy, educated demographic is 10% more likely than the average television viewer to be a "heavy reader," spending at least nine hours a week with books. (Meanwhile, TLC's monumental hit franchise 90 Day Fiancé's recurring casts have produced zero memoirs in their eight years and more than 20 spinoffs.)
Coming from the right show is a good start, but it's not a predictor of literary success. "The problem with doing it with B- and C-list celebrities is they often don't have enough to say to sustain an 85,000-word book," Morris says. Nor are they always the most self-aware, a quality Thornton says is "absolutely" essential to writing a successful memoir.
For would-be authors, identifying a viable narrative is the first step. No one wants to read "the cradle-to-grave story," says Lee. "I tell clients that's actually the least interesting thing you could do." Traditional memoirs also aren't the only option. Increasingly, celebrities are funneling their passions into all kinds of books — "whether it's a lifestyle book, a children's book, an erotic novel," says Hoyt.
For celebrities who do go the memoir route, "I often say to folks, 'Don't do it unless you're going to do it for real, because readers can tell,'" Thornton says. "And I think that's because of social media. Celebrities are so much more available to their fans these days, so books really have to deliver something else."
That something is almost always adversity. "They do need to have overcome something profound," says repeat New York Times bestselling "story architect" Michelle Burford, who has collaborated with Cicely Tyson, Toni Braxton, and former Fixer Upper star Clint Harp on their memoirs. This explains the success of fairly prosaic books by Colton Underwood, who went on The Bachelor as a closeted gay man; former Real Housewives of Beverly Hills star Taylor Armstrong, whose abusive husband died by suicide before the second season of the series aired; and of Real Housewives of New Jersey Teresa Giudice, whose audiobook on her incarceration for fraud seems to be less read by Giudice than recited in three-word bursts.
Though Vanderpump Rules has a cast that at times is too feckless to make it through a bartending shift at SUR, multiple cast members have produced memoirs and advice books about overcoming trials of disparate severity. Stassi Schroeder wrote 2019's New York Times bestselling Next Level Basic, about the challenges of being good at following mainstream trends. The book sold 126,000 hardcover copies because it feels like 240 pages of Schroeder delivering a Vanderpump Rules confessional interview in vocal fry font. In her wake, Kristen Doute published the definitely-not-bestselling relationships guide He's Making You Crazy, which moved 3,183 hardcovers. Doute's potential success was hampered by the fact that her book was not very good and also because, one week after its release, she and Schroeder were fired from Vanderpump Rules for falsely accusing a Black castmate of a crime to the LAPD. (Schroeder recently released a follow-up book about surviving this perceived cancellation, called Off with My Head, whose New York Times bestseller status was marred by the dagger icon that indicates suspicious bulk purchases.)
The apex of the Vanderpump print pantheon came from Lala Kent, who published the bestselling addiction and recovery memoir Give Them Lala last year. The surprisingly ennobling memoir details additional alcohol abuse and bad behavior than what we've seen on the series, from Kent breaking a hurricane-proof glass door in a drunken rage to throwing her (now former) fiancée's clothing out of a window in a drunken rage to sticking her fiancée's toothbrush up her ass in a drunken rage. Reading Kent's words also happens to be as entertaining as watching her on TV — and to make that happen, you need to find the right ghostwriter.
I'm not just choosing a book. I'm choosing my life when I choose you.
Morel saw the opportunity for behind-the-scenes matchmaking years ago. "Publishing was becoming more and more like Hollywood," she says. "With increasing frequency, editors and agents only wanted to represent 'platformed authors,' i.e., somebody who is well known in their field, who could bring a preexisting audience to their book. Most of these people are not writers. And if they are, they probably don't have the time to write."
Morel represents Brian Moylan, whom Erika Girardi picked as her co-writer for 2018's Pretty Mess (published under her stage name, Erika Jayne). Girardi liked Moylan's writing and that he was well known in the Bravo fandom for his Vulture Housewives recaps, so she hired him for $50,000. Moylan spent more than 30 hours over the next six months interviewing Girardi for the book; he estimates 75% of their conversations took place over the phone, with a few in-person interviews in New York and Los Angeles.
"Reality-type people, they're funny being themselves," Moylan says. "I find that is harder to capture [in a book]." During the time they worked together, Girardi's persona on Real Housewives of Beverly Hills was a nouveau (very) riche dame-type, throwing withering one-liners at other cast members and, very occasionally, herself. Moylan's task with Girardi was "amping it up" so that her dry wit was a sustainable, book-length hang, without transforming her voice entirely. Moylan also had to get the famously guarded Girardi to speak freely. "We got to a point where she trusted me and would talk openly with me," Moylan says. "And then the negotiation was what would and wouldn't make it into the book."
Though Bravo tells me they don't require approval for book deals, Moylan says they get the opportunity to read every Housewife's manuscript and request changes. A source with firsthand knowledge of the conversations says the only text authors are asked to excise is that which "reveals confidential information or comprises production." "She could talk as much shit as she wanted about the other women," Moylan says of Girardi. "But they took out anything having to do with production they didn't want in there." One such detail: Girardi recalled that former Beverly Hills co-star Yolanda Hadid (who wrote her own memoir about her battle with Lyme disease, Believe Me) advised her, "'Whenever you go and film something, take notes, and then you can remember what you said in those scenes,'" Moylan says. "[Bravo] would not have that."
Pretty Mess was later revealed to be a falsely sanguine picture of Girardi's home life; in 2020, she filed for divorce from former class action litigator Tom Girardi, who was accused a month later of embezzling tens of millions of dollars from clients. This, however, could potentially mean more money for the real story behind what was ostensibly already a "real" story down the line. Hoyt, who represented Girardi on the deal, says that while she isn't familiar with the specifics of Girardi's plight, it's possible to write a second book that reestablishes reader trust. "When someone has a life change, they have to address it," Hoyt says. (When they spoke earlier this year to write Girardi's tagline for the new season, Moylan says, "I was like, 'Girl, if there's another book...' And she was like, 'Oh, we're a long way away from that.'")
Choosiness about collaboration goes both ways. Burford, who is also represented by Morel, has a binary but difficult-to-pass test for whether she wants to work with someone: Does she get goosebumps when she meets them and hears their story? "I'm not just choosing a book," says Burford, who makes six figures for all of her collaborations. "I'm choosing my life when I choose you, because I am going to spend a substantial part of my waking life with you and on your behalf on the page. So while you may not be my personal friend, it's still a sacred space, and one that matters to me."
Though her mother did help her with the manuscript, Bachelor star Madison Prewett is the rare author in this publishing niche who claims they didn't hire a collaborator. Prewett says she was called by God to write Made for This Moment, released last October, just as she was called to try out for The Bachelor. She rose to fame on the show's 24th season, during which she famously broke up with lead Peter Weber because she had decided to abstain from sex until marriage, while Weber decided not to abstain from being "intimate" with the other women on the show during filming. It made sense that the book she produced would sell itself as a guidebook for readers on how to follow Prewett's televised lead and "stand firm in your convictions in a world that's trying to pull you down."
When agents approached Prewett, she chose Esther Fedorkevich, founder of the Fedd Agency, partly because the first story in what would become Made for This Moment is the parable of Esther. Bachelor graduates tend to disproportionately publish through Christian imprints like Prewett's Zondervan and Thomas Nelson, but Prewett's book eschews the kind of behind-the-scenes gossip typically revealed and instead Trojan Horses an earnest journey of aspirational Christianity through morsels about the show. "I don't expect my book to be just like a book that only Christians pick up," Prewett says. "I expect it to be a book where it does kind of relate to a lot of different people… that's my prayer." Nearly 20,000 people answered Prewett's prayer with a hardcover purchase.
A tagline is eight words and seen by millions; a book is 80,000 and may reach tens of thousands of people if it's an enormous breakout bestseller. But having a million and a half IG followers doesn't mean a million and a half people will buy your book. Live events, podcast appearances or analysis on Celebrity Memoir Book Club, and — if an author is exceedingly lucky — a spot on the bookshelf behind Andy Cohen's head on Watch What Happens Live can all drive sales, but even a marketable story and a seasoned collaborator can't guarantee success. "A lot of people publish books that don't work," Hoyt says.
Still, it is genuinely moving to watch people who could have made as much money tagging Smirnoff or weight loss supplements on social media spend six months sincerely trying to express their deepest selves through the written word, desperate to convey something about themselves the cameras haven't yet. "Bitch, you're an alcoholic…," Lala Kent (and her ghostwriter, Caroline Ryder) tells herself in one of Give Them Lala's inner monologues. "Being misunderstood forced Lala to evolve into a tough bitch who made her thoughts and feelings clear."
Is this a great work of literature? "There's a space for a contemporary voice with a story that's well crafted but isn't necessarily all that literary," says Burford. "Give those folks a ride and make it great."
Ultimately, the books that feel that most satisfying are the ones that let viewers in on the hang. "That's what these books are about," Moylan says. "People just want to be around Erika. They want to be around Margaret Josephs, or be around Bethenny Frankel." Or as Hoyt puts it: "If [fans] feel the book is truly from that person that they love, they'll show up. Because they bought that person."
So no. Give Them Lala is not a literary gemstone. But bitch, I showed up on the couch in my sweatpants to cry while I read it.