The Reservation Dogs Co-Creator Is Open To A Sequel Series
The Emmy-nominated show is ending with Season 3.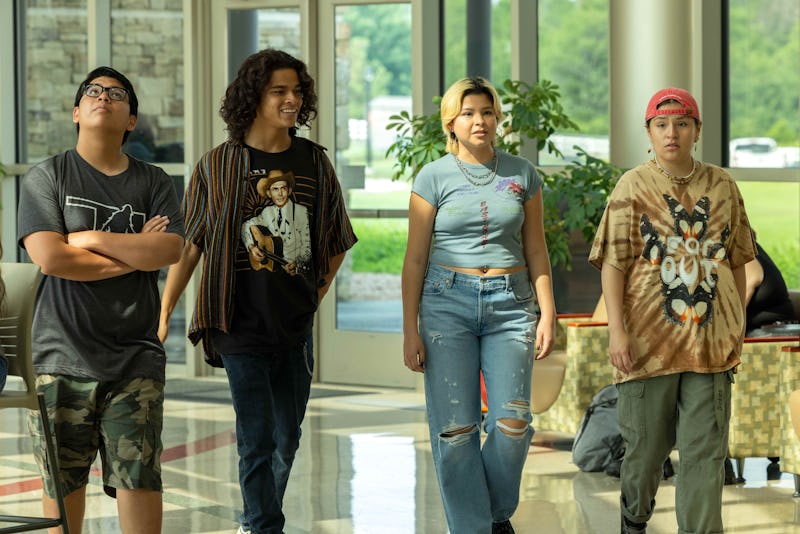 Shane Brown/FX
While putting together Reservation Dogs Season 3, co-creator Sterlin Harjo and his team came to a difficult realization: It was time to say goodbye.
"I always knew what the end of this story would be, I just didn't know when it would arrive," he explained in a June 29 Instagram caption. "As we continued to break stories and write scripts this season, it became clear to the producers, Taika [Waititi], and me that the season three finale is the perfect series finale."
In an August interview with Variety, he elaborated on the decision to end the show, which focuses on a group of Indigenous teens mourning a close friend. "It's a story about people going through transition, and specifically kids going through a very transitional moment and grief. I just don't think that lasts forever," he said. "I think that we're meant to be with them during this transitional time. To me, the show's too important to drag out."
The third and final season kicked off in August with the "Rez Dogs" — Elora (Devery Jacobs), Bear (D'Pharaoh Woon-A-Tai), Willie Jack (Paulina Alexis), and Cheese (Lane Factor) — stranded in California. The writers wasted no time returning them to fictional Okern, Oklahoma, to wrap up the coming-of-age series.
While there will not be a Reservation Dogs Season 4, Harjo teased that he's open to a sequel in the future, but he's unsure what the project would look like, since Reservation Dogs was "not meant to evolve into some other story."
For now, he's happy to leave it up to the viewers to imagine what happens next for the Rez Dogs. "There's something about being able to imagine where these characters go instead of me forcing it on people," Harjo said. "Being able to imagine what happens to these kids as they get older and go into life. And I'm not saying I would never revisit it. I'd love to. It's just right now, this is the end of the show."
Reservation Dogs, which premiered in August 2021, leaves an undeniable legacy. Entirely written by, directed by, and starring Indigenous people, the Emmy-nominated series "set a new bar" for storytelling, according to director Danis Goulet.
"We have been saying for so many years: Just give us the opportunity because we know the talent is there," Goulet, who helmed two Season 3 episodes, told The Hollywood Reporter in August. "The impact of it both on audiences but also on the film community to get these opportunities for people like myself and the other directors and the writers has just been absolutely incredible."