Everything To Know About RHONJ Season 13
The upcoming season is already filled with wedding drama, two Housewives on the outs (again), and one demoted to a Friend.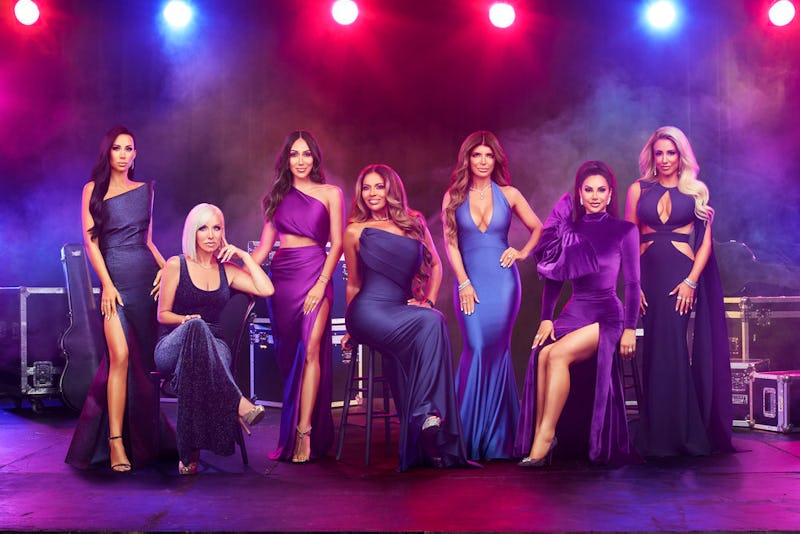 Andrew Eccles/Bravo
The Real Housewives of New Jersey is about to enter its lucky 13th season, but the New Jersey ladies are showing no signs of turning down the heat. Bravo officially confirmed RHONJ Season 13 on Dec. 21, giving an early Christmas present to viewers by revealing the cast, official trailer, and premiere date for the highly anticipated season. While all of the Season 12 Housewives you know and love are returning in some capacity, there are also some new Housewives joining the fray as the group gears up for one of the most anticipated Real Housewives weddings.
The network doesn't typically announce Real Housewives renewals until shortly before a new season's premiere date, but the high Season 12 ratings, cast member Teresa Giudice's wedding to Louis Ruelas, and the drama that went down just days prior made Season 13 essentially guaranteed without an official renewal. The Season 12 finale on April 26 scored a season-high viewership, with nearly 1.2 million people tuning in. (For context, that's higher than any 2021 episode.) It also marked the fifth Season 12 episode with more than one million live viewers. That trend continued into the first and second episodes of the RHONJ reunion, both of which topped one million viewers.
Here's everything we know about RHONJ Season 13 so far.
The RHONJ Season 13 Cast
Given Season 12's ratings success, it's not surprising that Bravo chose to largely stick with the same Jersey girls — but they still gave the cast a good shake-up. OG Housewife Teresa, Melissa Gorga, Dolores Catania, Margaret Josephs, and Jennifer Aydin are all returning for Season 13, and they will be joined by new Housewives Danielle Cabral and Rachel Fuda.
Jackie Goldschneider, who starred as a full-time Housewife from Seasons 8 to 12, has been demoted to a part-time "Friend" status, with TK also joining as a Friend of the Housewives. Season 12's friend Traci Lynn Johnson, who's married to former NFL running back Tiki Barber, will not be returning for another season.
Fan account RHONJ Obsessed first reported Jackie's demotion to friend status. Dolores' ex-husband Frank Catania gave credence to the alleged news, telling The Morning Toast on May 24 that he "heard" Jackie had been demoted and Traci was "gone" completely, but noting that "nothing's definitive ever here." Jackie herself couldn't confirm or deny the rumors, telling E! on July 18 that she's "filming all the time" and is fine with any decision Bravo makes. "Sometimes they make these decisions at the last second," she explained. "No matter what they decide, I go into filming doing the same exact thing that I've been doing for the past five years... That being said, I don't know what they're going to ultimately decide."
The RHONJ Season 13 Release Date
On May 26, RHONJ Obsessed shared behind-the-scenes photos indicating that RHONJ Season 13 had begun filming, and over six months later, the release date was finally announced. RHONJ Season 13 will premiere on Bravo on Feb. 17 with a 75-minute extended episode.
The RHONJ Season 13 Trailer
On Dec. 24, Bravo released the first RHONJ Season 13 trailer, which is so action-packed that it needed to be extended to nearly four minutes. The new trailer builds up to Teresa's anticipated wedding, splicing footage of her getting ready for the big day with peeks of the drama that leads her brother Joe Gorga and sister-in-law Melissa to skip the ceremony. Of course, there's no shortage of drama from the other ladies, with Dolores navigating tensions between her ex-husband Frank and new boyfriend Paulie, and Margaret and Jennifer going at it over family (again). The first look ends with a shocking potential altercation, leading Teresa to conclude that Melissa "has succeeded" in keeping her and her brother apart.
Will Teresa's Wedding Be Shown On RHONJ Season 13?
Teresa Giudice's wedding to Luis Ruelas happened on Aug. 6, and fans are going to see it play out in one way or another. Days before the ceremony, US Weekly reported that her wedding would be filmed for a separate RHONJ wedding special. Teresa hinted at a spin-off in May, telling ET that her wedding wouldn't be televised — at least "not on Housewives" — but she still wanted fans to watch it. "They've been on this journey with me, so of course I want them to see it. I really do," she said. "It's [also] something I'll always have for myself, and, I don't know. I'm still torn." However, the wedding does appear in the Season 13 trailer, indicating that fans may watch her get married on RHONJ.
Most of Teresa's current RHONJ castmates attended the wedding, with Dolores and Jennifer serving as bridesmaids. Several past and present Housewives from across the franchise were also guests, including Teresa's Ultimate Girls Trip castmates Kenya Moore and Cynthia Bailey, Phaedra Parks from Atlanta, Dorinda Medley and Jill Zarin from New York, Ashley Darby from Potomac, Alexia Echevarria from Miami, and Chanel Ayan from Dubai. However, one major Housewife was nowhere to be found.
Why Didn't Melissa & Joe Go To Teresa's Wedding?
Fans have known since March that her sister-in-law, Melissa, will not be a bridesmaid, but she and Joe Gorga, Teresa's brother, didn't end up attending the wedding at all. PEOPLE reported that the couple had a huge blowout with the newlyweds while filming the Season 13 finale just days before the wedding. "Teresa betrayed them in a way that's unforgivable," a source told PEOPLE. "They're not going to celebrate Teresa's new marriage when all she does is try to tear apart theirs." Alleged rumors circulated among the cast that Melissa had cheated on her husband, which was the cause of their reported fight. "Melissa was blindsided by the 'rumor' that was revealed," another source told US Weekly. "That's when things escalated and got out of control."
On the Aug. 11 episode of her On Display podcast, Melissa and Joe began to explain why they missed Teresa's wedding, teasing that all would be revealed on the new season. "There was something that went down at the finale of filming," Melissa said. "Anything that we have filmed is something that I am not able to talk about." She went on to explain that it would have been "very strange" if she and Joe were "sitting in the pews [and] wishing them well on their wedding day" after what happened. "I'm just shocked at the way I'm treated by my own family, my blood," Joe added. "I can meet a stranger, and they can know right away, they're like, 'Yo, this guy's great, I love him, he's awesome, he's real.' I'll brag about that, 'cause I am. And then it's shocking when I go and see our family. Why am I getting treated that way? Why are you treated that way? Why are we so bad?"
During the Season 12 reunion, the women agreed to stop pretending to be friends, and in a May 16 interview on Betches' Mention It All podcast, Melissa said she has "no guilt" over ending efforts to repair their relationship. "We are all, as a cast, sick of it," Melissa said. "Does anybody really wanna see Teresa, Melissa, and Joe argue and make up to break up? Just leave it alone! ... I don't care if we never talked about it again. You have me all f*cked up and you got it twisted. I don't want to talk about Teresa or the family, never again if it was up to me."
Teresa seems to be on the same page, telling Extra after her Dancing With the Stars debut on Sept. 19 that she hadn't reconciled with Melissa and Joe. "If I did, they would've been here," she explained. In a separate interview with E!, she indicated that she doesn't see herself mending fences with her brother and sister-in-law at all. "No, no, no, that's really it," she said. "That's it."
As drama continues to brew, expect plenty of Season 13 plot points to drop between now and the premiere.
This post will be updated as more information about RHONJ Season 13 becomes available.
This article was originally published on