Rihanna Gets Candid About First Pregnancy On Instagram
The singer also shared a previously unseen maternity shoot.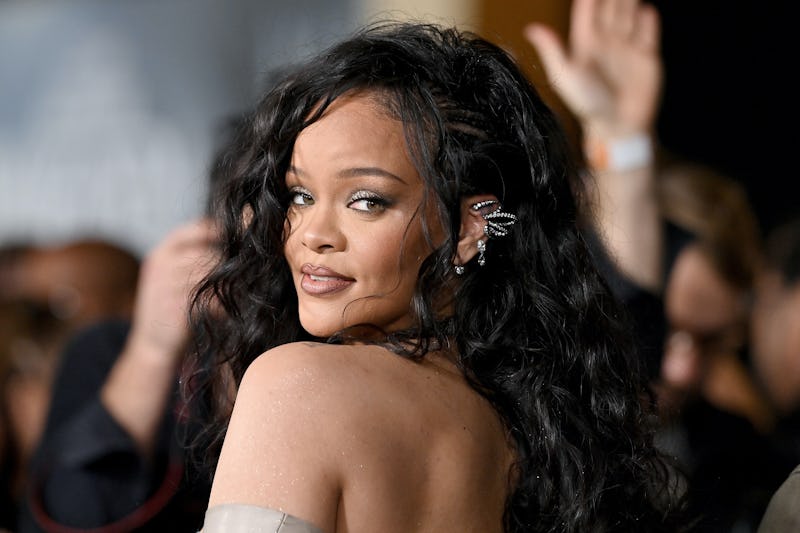 Axelle/Bauer-Griffin/FilmMagic/Getty Images
Amid her second pregnancy which was sensationally announced during the singer's Super Bowl Halftime Show back in February, Rihanna has opened up about "embracing motherhood" with a maternity shoot taken during her first pregnancy with baby RZA.
In an Instagram caption shared on May 18 alongside several unseen photographs of the "Diamond" hitmaker, Rihanna wrote: "In honor of my first pregnancy, embracing motherhood like a g, and the magic that this body made! Baby RZA… he in there not having a clue how nuts his mama is, or how obsessed he was bout to make me." Confirming the date of the photoshoot and hinting at future posts of a similar vein, the singer added the hashtags: "#maternityshoot2022 #tobecontinued."
Many fans are celebrities were quick to comment on the now-viral post, with Lori Harvey commenting "unreal" and rapper Ice Spice simply writing: "Muva."
The Grammy winner's latest IG post arrives after the name of her first child was finally revealed, almost a year after the singer gave birth. As noted on a copy of the youngster's birth certificate obtained by the Daily Mail, the couple's baby name was revealed to be RZA Athelston Mayers — a moniker inspired by the iconic producer and rapper RZA, the leader of the U.S. hip-hop collective Wu-Tang Clan.
Celebrating their son's first birthday on May 13, father A$AP Rocky (real name Robert Fitzgerald Diggs) confirmed his child's name in an Instagram gallery post featuring previously unseen snaps of Rihanna and baby RZA (pronounced "Rizza").
"WU TANG IZ 4 DA CHUREN' HAPPY 1st BIRTHDAY TO MY 1st BORN. RZA," A$AP captioned the birthday tribute, which also included a clip of founding member Ol' Dirty Bastard's 1998 Grammys stage-crashing speech.
Back in March, Rihanna opened up about her "legendary" first few months of motherhood in an interview with British Vogue. "It's everything. You really don't remember life before, that's the craziest thing ever," she recalled. "You literally try to remember it — and there are photos of my life before — but the feeling, the desires, the things that you enjoy, everything, you just don't identify with it because you don't even allow yourself mentally to get that far, because… Because it doesn't matter."