Another Side Of Rupert Grint
A decade post-Potter, the actor has found his groove playing "damaged" guys in prestige, supernatural horror.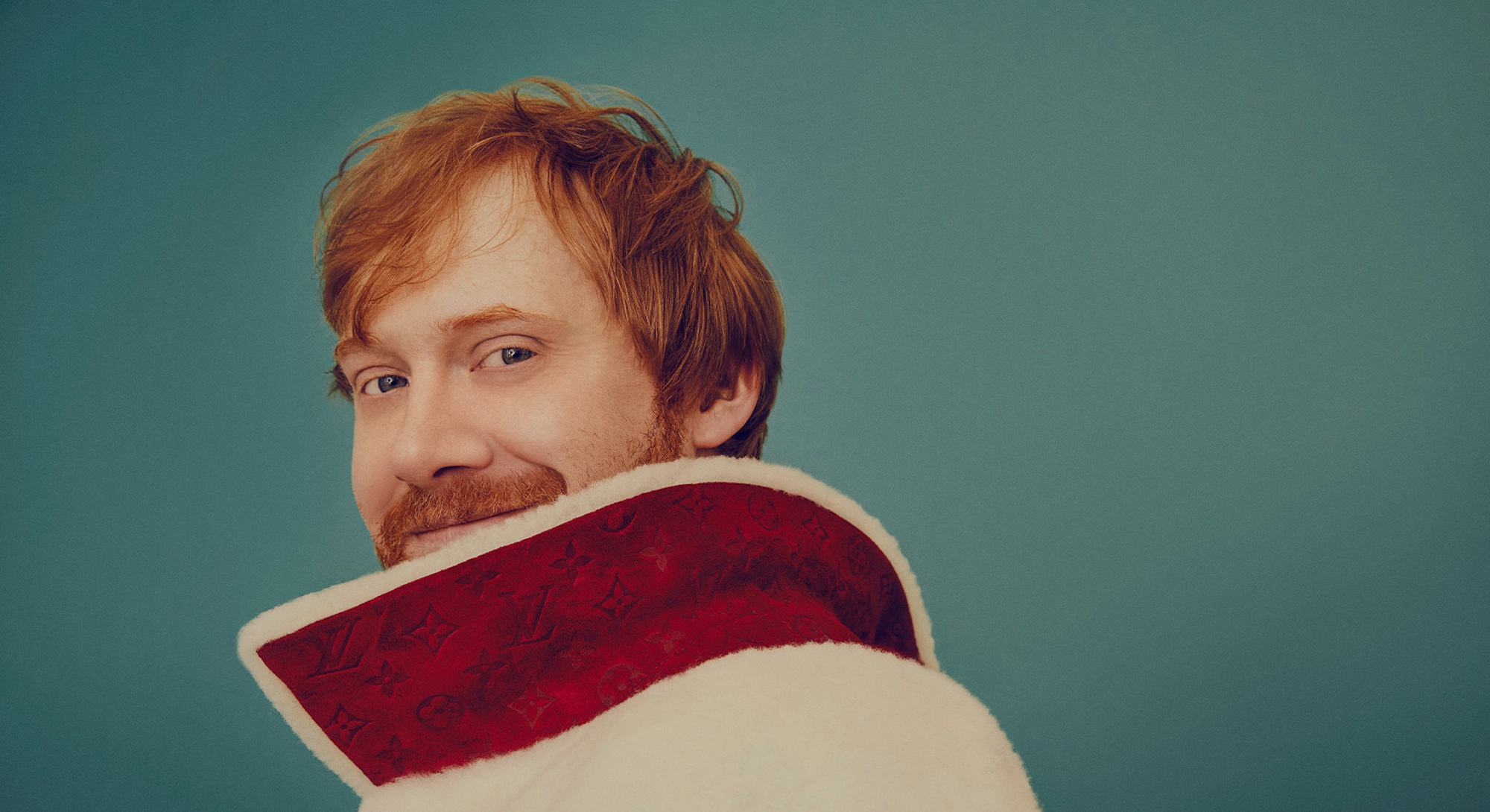 Two young autograph-seekers wait outside a chic Manhattan hotel, but they're not here for Rupert Grint. He slips into the lobby bar, deceptively anonymous in a hunter-green corduroy button-down and a Philadelphia 76ers baseball cap pulled to his eyebrows.
Once one of the most famous teenagers on the planet for his portrayal of Ron Weasley in the Harry Potter series, he's now a 34-year-old dad in the throes of a critically acclaimed second act fueled by prestigious, suspenseful projects. Surely that comes with some earned privacy.
"I live a quite normal existence," Grint says, smiling, though he gets stopped in public "every day, pretty much."
Grint spent much of the last five years as a part-time resident of the greater Philadelphia area, filming the M. Night Shyamalan grief thriller Servant, whose fourth and final season recently premiered on Apple TV+. His first feature film in eight years, Knock at the Cabin, another Shyamalan production hitting theaters Feb. 3, stars Grint as a fearsome member of a modern Four Horsemen of the Apocalypse. In between the two, Guillermo del Toro brought Grint onboard for his sinister anthology series, Cabinet of Curiosities. Undeniably, Grint has hit a creative groove, delivering the best performances of his career by repeatedly prodding at the morbid side of humanity and its supernatural fantasies.
In a phrase: death is everywhere in his work. So is it on his mind?
"I do have a bit of a fear of death," Grint says, sipping on a Coke served in highball glass, bright blue-green eyes wandering. "And this has made me face it a bit. I don't think I've fully worked it out just yet, but there's something therapeutic about these roles as well, I guess. Demystifying."
But if Grint had to define the throughline in the roles he's recently taken on, it's this: "I'm drawn to a hidden vulnerability. A bit broken, damaged people. At the moment, it seems to be what I'm doing."
'In the movies, [Ron and I] merged into one. By the end of it, I was playing myself. The lines were blurred.'
In conversation, Grint speaks softly and purposefully, sometimes breaking into the same crooked closed-mouth smile he gave Ron Weasley all those years ago. He was an 11-year-old theater kid growing up an hour north of London when he was cast in Harry Potter, wholly unaware that the gig would take him to age 22. The role was almost too perfect: Besides being redheads with R names, Rupert Grint, who is one of five siblings, shares with Ron Weasley a sense of inferiority that many children in large families experience.
"I was feeling the difficulty of being seen, being overshadowed," he says. That connection also made untangling himself from the character even harder. "In the movies, we merged into one. By the end of it, I was playing myself. The lines were blurred," he says.
But don't mistake it for ingratitude. Even now, "I answer to it, if someone calls me Ron." He lets out a small laugh. "It's my second name."
Finding his footing post-Potter was tricky, if only because he wasn't sure he wanted to keep acting. "Potter was so full on — [filming] all year, then we'd promote the rest of the time. It was quite suffocating," he says, uncrossing his legs. "I wanted a break, to reflect on everything... It was an out-of-body experience for a while, but I think we finished at the right time. If we continued, it could've gone downhill."
Isabel Marant jacket and jeans, Theory sweater
In the years between Harry Potter and Grint's current supernatural horror streak, Grint experimented. He did theater and indie films. He faked cancer on the short-lived British black comedy Sick Note, where Lindsay Lohan was one of his co-stars. Publicly, stories about Grint buying an ice cream truck and a hovercraft painted a whimsical picture, distracting from the hard work he was doing to make himself unrecognizable in every performance. If child actors are an exclusive group, Grint is in the 1% of the 1%: forever tethered to one of the most beloved characters of our time. "I've always felt there was this expectation for us to go off the rails, follow the child star stereotype," Grint says. "That's always been something to fight against."
He also sensed a "competitive element" to the way the media wrote about him and his Potter co-stars. "'Who's doing what?'; people contrasting our careers. We're all completely different and going along different paths."
Last year, Grint participated in HBO Max's Harry Potter 20th Anniversary: Return to Hogwarts television special, even though he initially didn't feel enough time had passed to merit a reunion, and despite still not having seen all the films. (He finds it awkward to watch himself on screen.) "It was happening, I didn't really have a say," he shrugs. But it was rewarding: "[Being in Harry Potter] was a really unique experience only us core group really know, so it's nice to see them," he says of his co-stars. "It was a good opportunity to reflect on everything and just say how crazy it was. It's always nice to look back."
M. Night Shyamalan was delighted to discover, directing Grint in Servant and Cabin, that the actor had survived mega fame without growing cynical. "I've said this to him: he shouldn't exist," he laughs. "A child actor part of an almost religious IP. This renaissance, this second movement of his, shouldn't be happening … He's a person of such abandon to his character without any protective mechanisms. He has a connection to his emotions in a way that's just pure."
"He's kind to everybody," Shyamalan continues. "He's always on time. He's super professional. It comes effortlessly to him. He's just an unusual human being in every way. He's truly become a wonderful actor. I defy you to find somebody that doesn't have something good to say about him."
Servant follows Dorothy (Lauren Ambrose) and her husband Sean (Toby Kebbell), a well-to-do couple who hire a nanny, Leanne Grayson (Nell Tiger Free), to care for their infant son, Jericho. The first of many Shyamalan twists comes in the pilot: the baby is actually a "reborn doll" — a hyperrealistic baby doll sometimes used to help parents grieve the loss of an infant — and a series of cultish, supernatural, and downright spooky events follow. Grint plays Dorothy's brother, Julian, a brash, privileged, tormented alcoholic who "epitomizes everything you hate," as Grint describes him, but often acts as the show's off-kilter comedic relief.
"I'm quite dark," Grint says of his interest in the material. "It's definitely part of my personality, especially in humor." That's evident: Years before the show, someone had even given him a reborn doll as a gag gift. "It's a very strange object," he says. "When you hold it, you want to support the head."
Grint considers this chapter of his life and career as formative as any other. "I've never been a part of a show this long, really, apart from Potter," he says of Servant. "It's quite comparable. And in a way, [Servant] may be more significant, because personally so much has changed in my life. I've become a dad, and obviously we had the pandemic…"
As if on cue, Grint's daughter, the nearly 3-year-old Wednesday, makes a mad dash for her father, her blond pigtails held up by a plastic tiara. She's intercepted by Georgia Groome, Grint's partner of 12 years and an actor best known for her role in what Grint calls a "feminist cult classic" Angus, Thongs and Perfect Snogging. Wednesday was not named after the hit Netflix show ("We love that character," he says, "I'm glad we got in there early, otherwise it would seem a bit lazy, naming your child whatever you're watching") but she channels the Addams family daughter in one particular way. "She's obsessed with the moon. I like the moon, but I've never really paid it much attention. It's an amazing thing. She's taught me to appreciate everything again."
Kolor shirt and sneakers, Buck Mason T-shirt, AYR pants
Wednesday loves princesses, dollhouses, and also, inexplicably, Target stores, so Grint built her a tiny Target checkout counter to play with now that they're back in the U.K. He is crafty like that. "I'm always going through phases, obsessions. [Miniature] pottery was a lockdown hobby. That really saved me," he says. He's also an amateur urban beekeeper. "They're fascinating animals, but I've developed a fear of bees because they're quite aggressive. I haven't been stung, but the idea is terrifying."
All of these interests sound like source material for horror films — the miniature furniture in Hereditary, killer bees in every '70s natural horror flick. Becoming a parent, Grint says, means recognizing that dangers can lurk everywhere. "It is constantly on your mind, that everything can kill her," he says, his voice dropping into a whisper. But for the most part, being a dad has chilled him out. "She's relaxed me," he says. "I used to be a real insomniac."
He's not sure what comes after Servant and Cabin. "I'm enjoying being a dad, doing dad things," he says, smiling with all his teeth. He might even — plot twist — take a break from those broken, damaged characters. "I like the idea of doing something light next — like a Christmas movie." He laughs: "I'm happy with where I've ended up."
Top Image Credits: Louis Vuitton Men's jacket
Photographer: David Urbanke
Stylist: EJ Briones
Grooming: Jennifer Brent
Talent Bookings: Special Projects Media