Channing Tatum "Nearly Killed" Salma Hayek During A Magic Mike Lap Dance
"Upside down, one loses sense of direction."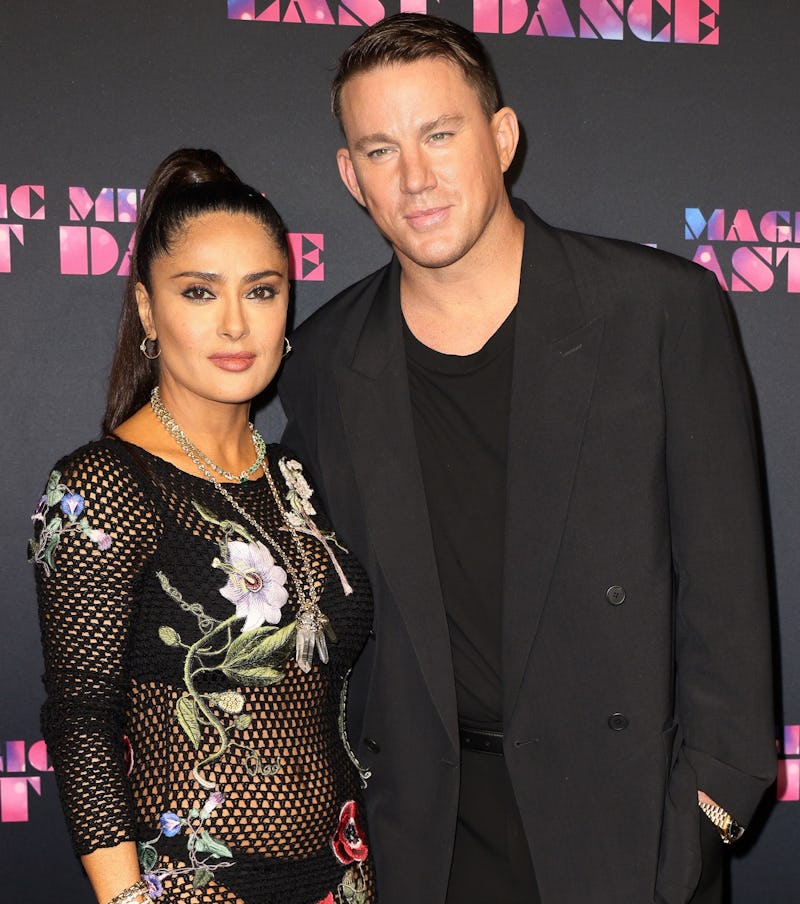 Alexander Tamargo/Getty Images Entertainment/Getty Images
To the delight of fans, the third and final entry in the Magic Mike trilogy is upon us, and will again see Channing Tatum reprise the role of Mike Lane for one last dance. The film follows Lane as he teams up with, and falls for, a wealthy socialite played by co-star Salma Hayek. Ahead of Magic Mike's Last Dance hotly-anticipated release, Hayek shared some behind-the-scenes tidbits of her time on set, revealing that Tatum "nearly killed" her during a "challenging" lap dance.
Appearing on Jimmy Kimmel Live, the "Desperado" actor recalled an incident during rehearsals for Magic Mike's Last Dance that required Tatum to flip Hayek upside down. However, things didn't exactly go according to plan.
"There's one part that's not in [the film] where I'm upside down and my legs had to be somewhere," Hayek told host Jimmy Kimmel. "But upside down, one loses sense of direction, and I didn't do what I was supposed to do, so in the rehearsal, I went like, head down, almost hit my head."
The actor went on to share that Tatum "held on to" her pants, which began to slide "away." Hayek continued: "I was really concerned ... I couldn't remember if I had underwear or not in this moment. So, instead of putting my hands to protect my head, I just held onto the pants. He's like, 'Put your hands up,' and I'm like, 'No, no, no, no.'"
The "Frida" star concluded: "Everybody came in and kind of took me away from him, and he said, 'What's wrong with you?' I said, 'What's wrong with me? You nearly killed me.'"
As mentioned, the shirtless Kings of Tampa are back for another sequel, Magic Mike's Last Dance, six years after the franchise's last instalment in 2015. Alongside Tatum and Hayek, the Stephen Soderbergh-directed film also stars Ayub Khan Din, Jemelia George, Juliette Motamed, Vicki Pepperdine, Gavin Spokes, Catilin Gerard, and Christopher Bencomo — and will hit cinemas on Feb. 10.