Sami Sheen's Parents Can't Be Mad
The model and daughter of Denise Richards and Charlie Sheen reflects on sex work, boob jobs, and growing up in the tabloids and on Real Housewives.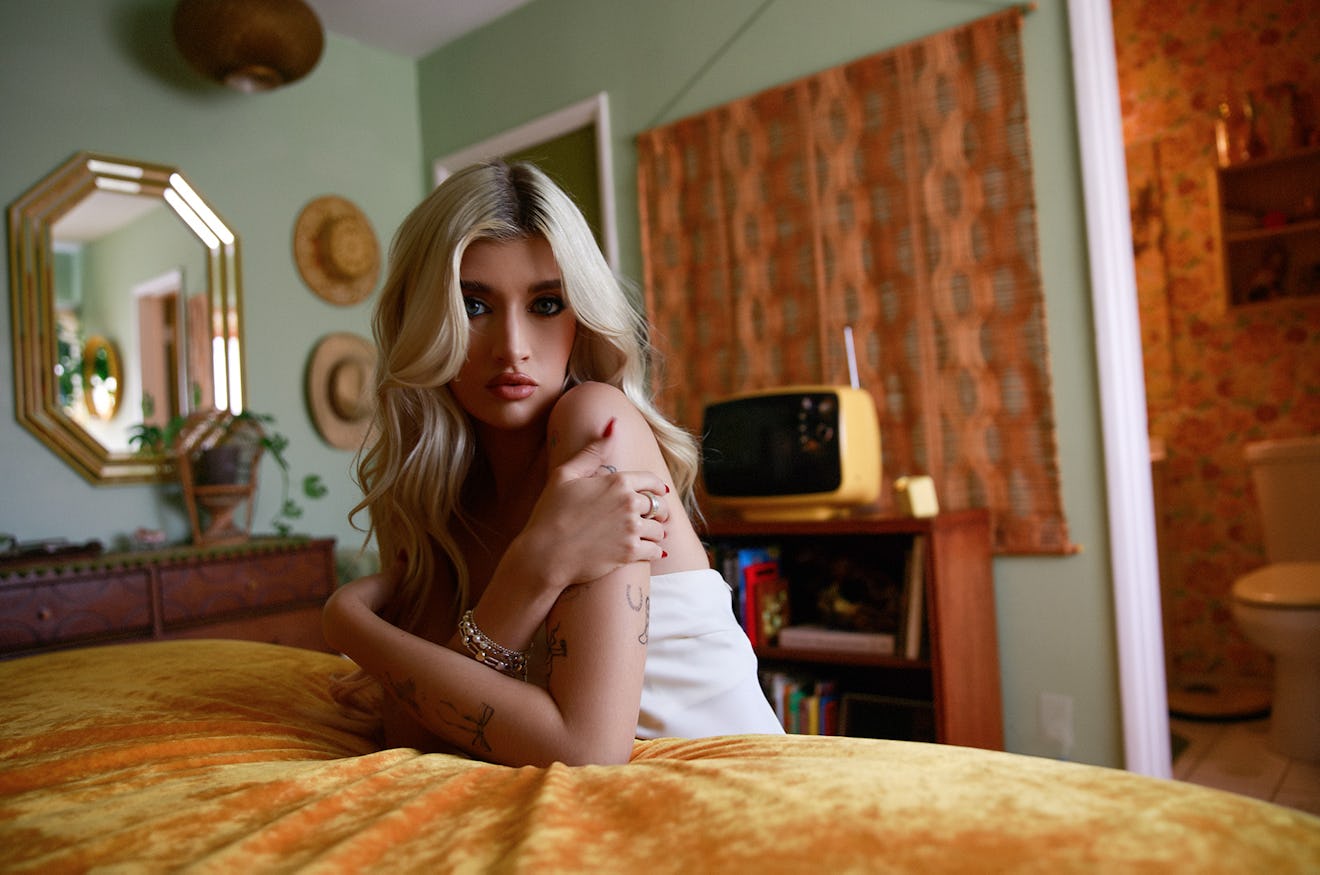 One night last summer, Sami Sheen got around to googling "sex worker." For months, the model and daughter of the actors Charlie Sheen and Denise Richards had been watching the models on her For You page launch OnlyFans accounts, realizing what a low-key, lucrative hot girl gig it could be. Sami had started her own OnlyFans, where she posted risqué photos and videos. But now here was one of her favorite influencers, Anna Paul, calling herself a sex worker.
"I was like, 'Oh, my god, this looks so fun.' She just had so much freedom and posted whatever she wanted and controlled her own hours."
Then Sami thought: Was she a sex worker, too? "I'm like, 'Let me just look up the definition,' because I was so confused," the 19-year-old tells me. What she discovered was that sex work is a spectrum and that, yes, her R-rated channel is on it. To Sami, this was a revelation. But when she later shared her discovery with the world in her own "Get Ready With Me" for a day of sex work TikTok — covering body hair ("I just can't stand [it]!"), boob insecurity ("I just want to wait until the girls are done so I'm fully confident with everything I'm showing"), and content creation ("I just get all pretty and see what happens") — the response was not exactly what she expected.
"People think I've thrown my whole life away [or that] I'm a loser going nowhere in life. People call me dirty and gross. They say the weirdest sh*t."
Sami doesn't believe them, mainly because of her fans. "They always hype me up," she says. "I could have mascara running down my face, and they would still be like, 'You're so beautiful,' this and this. They just made me realize some of the stuff that other people are saying on the internet is just not true."
But it wasn't just random people on the internet saying things. Soon the media was weighing in, drawing connections between her career and the experiences of her father, whose drug-fueled, public involvement with a group of sex workers he called his "goddesses" made him the most discussed person online of 2011.
Sheen didn't anticipate this narrative, largely because she spent most of her life blissfully unaware of it: "My mom kept me very shielded my whole life."
"She always had little distractions for us and if I asked her a question about something [about my dad], she would kind of sugarcoat it," Sami says. "She did a really good job making sure we weren't fully exposed to everything so young."
"Just recently, these past couple years, I've found out a bunch of stuff [about them], but it doesn't really affect me that much [because] it's all in the past," she says.
Reflecting on her childhood over plant-based "chicken" milanese sandwiches at Calabasas' Crossroads Kitchen, which Sami struggles to eat, as she's just had her lip filler dissolved, there's no hint of the Daddy Issues! gleefully implied by the tabloid coverage of her OnlyFans success. Instead, Sheen recalls lots of competitive horseback riding, hanging out with her sister, Lola, and what she now calls her mother's "white lies."
Her parents divorced in 2005, when Sami was just a year old. What followed was a rocky time for the former couple — with Denise seeking a restraining order and being awarded primary physical custody of the kids — but they worked hard to put aside their differences to parent. Then 2011 hit: the year Charlie Sheen was fired from Two and a Half Men and began claiming that he was a "warlock" with "tiger blood" and "Adonis DNA," who was "winning."
Denise remembers vividly the challenge of navigating Charlie's crises while co-parenting. "I went to New York to promote a TV show and Charlie thought it would be great if he came, too. There was a very public incident that happened and we were able to get him back on a plane to LA," Denise says, referring to Charlie's highly publicized meltdown at the Plaza hotel. "I told the girls that he had to go to work [because] I didn't know what to tell them. As they got older, and they were able to hear different things, they asked me why I didn't tell them the truth. I said to them, 'What would you have wanted me to say at your age? That your father was with a prostitute, or prostitutes, and he went sideways? How on Earth would I say that to you?'"
She also recalls reading the girls a children's book on the topic of addiction, but the resources at her disposal were only so helpful. "There are books, but there's no book on dealing with it publicly," she says. "It was very hard on the girls. There were so many white lies I had to tell [about] why he didn't show up to school events or Christmas. He would say, 'I'm on my way to the house to drop off a gift,' and he would never show up. I remember one Christmas Sami crying and saying, 'It's not Christmas without Dad.' I really did not know how to explain it."
Another family experience without a playbook materialized when Denise joined the cast of Real Housewives of Beverly Hills in 2019. While her two seasons reflected well on her — "She's an extremely warm, loving parent, without a hint of narcissism or vapidity about her," The Daily Beast wrote — it also coincided with a period of depression for the then-15-year-old Sami.
"Looking back at clips of me in the Housewives, you can tell I was going through it," Sami tells me now. "When it was airing people would say, 'Oh, my god, she looks awful.' It's like, 'Yeah, dude I was so depressed. I did not care about anything.'" Today, her face is accentuated with faux freckles. She's also bleached her eyebrows and dotted her arms with small, feminine tattoos. There's a rainbow by her shoulder, a disco ball on her bicep.
Sami's screen time on the show was fairly minimal, and when she did appear she was typically arguing with Denise over her strict rules around dating. "Hearing 'You're not allowed to date boys until you're 16' made me want to date guys. I went behind her back." And by the time Sami hit 17, their fighting escalated to the point where she posted a TikTok (which she now deeply regrets) referring to Richards' home as a "hell house." She dropped out of high school and started living with Charlie.
But the experience of living together turned out to be cathartic for both father and daughter. "What she had the benefit of, and I had the uber benefit of, was she was there towards the end of my drinking," Charlie tells me. "She got to see up close and personal that journey." The two also started attending music festivals like Coachella together, caring for her cats, and listening to lots of Billie Eilish. "I'm not a guy that preaches [or] that needs constant attention or support of what I'm doing. But she got to see the benefits of just how a life together in that domestic reality can improve so completely and stay that way. She got to see an inconsistent me become the most reliable person in her life. Of course, it wasn't a plan. The universe had us together when it did, which is pretty amazing."
These days, Sheen lives alone in Calabasas, not far from Denise, Charlie, and her boyfriend. The boyfriend is "very, very, very supportive" of her OnlyFans work, she says, and "helps me so much with all my content." While she isn't comfortable sharing just how much money she's making from her channel, it's clear she's proud of the life it's provided her. "I didn't really see myself getting into modeling until I did the Alexander Wang [lingerie] campaign. That kind of sparked something in me where I was like, I actually want to do this seriously," she says of Wang's bodywear collection both she and former porn star Lana Rhoades recently modeled. "My dream brands [are] definitely Chanel, Charlotte Tilbury, SKIMS."
At first, Denise wasn't entirely comfortable with her daughter's career choice. "I said, 'I think you need to really think twice about doing this because there's a certain perception with it.' Then as soon as she joined, it was viral and she got a lot of backlash and I was concerned about that because she's so young. I'm a grown-ass woman, and I've had a lot of stuff over the years [said] about me, good and bad, publicly. Even now as a grownup, it hurts still," Denise says.
Then after mulling it over some more, Denise decided to launch a channel as well. "When Wild Things came out, it was a very positive movie for my career, but I'm sure a lot of people had a personal opinion, too. Then after that, you're perceived as a sex symbol, and the things you do are perceived [as] sexual," she says. Denise decided she might as well capitalize on her public image in a way that felt true to her. "So that's why I wanted to join OnlyFans, because I was like, 'Who cares?'"
"Looking back at clips of me in the Housewives, you can tell I was going through it. When it was airing people would say, 'Oh, my god, she looks awful.' It's like, 'Yeah, dude I was so depressed. I did not care about anything.'"
Charlie has also come around. "I had a knee-jerk reaction to it because of the reputation that preceded it. I was just like, 'Oh, this can only go bad.' That flies in the face of my approach to things normally, but I think when your child is involved, it presents as just a whole different alternative set of circumstances," he says. "She's doing this and it can only be a much more successful and pleasant experience with the support of myself, her mom, and others. I have to have confidence and just know in my heart that all of her virtues and all the wonderfulness that makes her, her, come with her. I believe her to be incorruptible."
As for Sami, she says that, a year-and-a-half since joining OnlyFans, "I've never felt more confident in my body. I think it's because my subscribers, they're the best."
Right now, her biggest concern is quitting vaping, which she's been told she needs to do in order to get the D cup breast implants she's been wanting ever since she was on the cusp of puberty. "I was 10 years old and like, 'I can't wait to have big boobs like my mom.' All my friends were getting boobs, and I was just like, 'OK, when's it my turn?' I would always stuff my bra with socks and stuff."
It's a feeling Denise can relate to. "I was made fun of as a teenager [because my boobs] were mosquito bites. I got them done at the same age Sami is wanting to get them done," she says. Though now, 43 years later, Richards is planning to get hers removed. "I'm trying to talk her out of it because, and the reason why I'm getting them out, is I didn't know how toxic [they are] when I was 19. And it's not an easy surgery. It's painful!"
Even so, Sami tells me her career is much more influenced by her mother. Sheen says she admires the way Richards went from the pages of Playboy to starring as a Bond girl. She also looks to Chloe Cherry, who parlayed her porn career to a turn on Euphoria. And the Kardashian family, whose entire empire was spurred by Kim's sex tape.
Like the first family of Calabasas, the Richards-Sheen family creed seems to have become "no judgment," through boob jobs and breakdowns. "I've just started asking my parents random questions [about their past] and they're now more honest with me. It's really nice that they're able to have an adult conversation with me, and we can just laugh about mistakes they've made or funny stories that I wasn't aware of," Sami says. The conversations have helped her understand her parents more, and in turn, foster a respect for Sami's own choices. "It'd be different if my parents were both lawyers, or a little bit more conservative. But they get it — so they can't be mad!"
Photographs by Camraface
Hair: Laura Rugetti
Makeup: Dominique Della Maggiore
Talent Bookings: Special Projects
Photo Director: Alex Pollack
Editor in Chief: Charlotte Owen
SVP Fashion: Tiffany Reid
SVP Creative: Karen Hibbert