Selena Gomez Asks Fans To Stop Harassing Hailey Bieber On Instagram Amid Feud Speculation
Bieber thanked Gomez for speaking out on her behalf, writing, "I believe love will always be bigger than hate."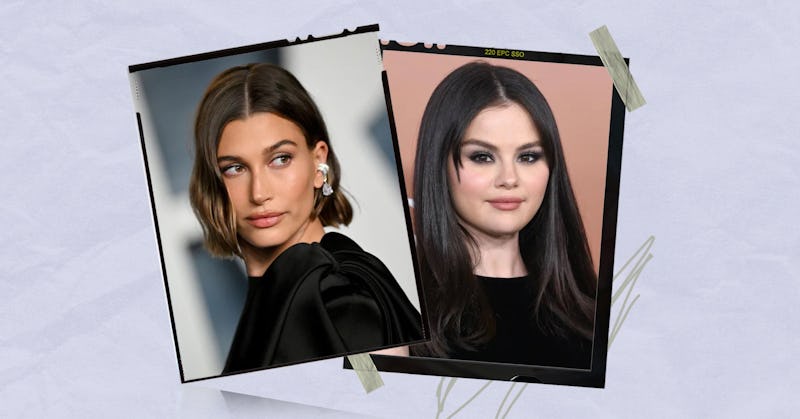 Lionel Hahn/Getty Images Entertainment/Getty Images; LISA O'CONNOR/AFP/Getty Images
The drama between Selena Gomez and Hailey Bieber has officially come to an end — at least if Gomez has something to say about it. On March 24, the Only Murders in the Building star took to her Instagram Story to ask fans to stop harassing Bieber on social media, and noticeably started following the Rhode Skin founder on Instagram as well.
In her note, Gomez revealed that Bieber contacted her directly amidst heightened TikTok and Twitter speculation of a feud between the two, and she did not approve of what her fans were saying to her. "Hailey Bieber reached out to me and let me know that she has been receiving death threats and such hateful negativity," she wrote. "This isn't what I stand for. No one should have to experience hate or bullying. I've always advocated for kindness and really want this all to stop."
A few hours later, Bieber followed Gomez back and responded to the actor's message on her own Instagram Story, revealing that the social media drama had become an ongoing conversation between them. "I want to thank Selena for speaking out, as her and I have been discussing the last few weeks how to move past this ongoing narrative between her and I," she wrote. "The last few weeks have been very hard for everyone involved and millions of people are seeing so much hate around this which is extremely harmful."
The model concluded her note by encouraging her followers to be more considerate of their words and lead with more empathy and compassion. "Things can always be taken out of context or construed differently than they were intended," she wrote. "We all need to be more thoughtful about what we post and what we say, including myself."
Drama flared up between Gomez and Bieber once again in February, when fans thought Bieber and her friend Kylie Jenner mocked Gomez's TikTok video of her laminated eyebrows by sharing a photo from their FaceTime that zoomed in on their own eyebrows. Jenner immediately denied that it was a dig at Gomez. "This is reaching," she commented on a Feb. 22 TikTok. "No shade towards selena ever and I didn't see her eyebrow posts! u guys are making something out of nothing." Gomez also chimed in to defend her. "Agreed @kyliejenner it's all unnecessary," she wrote. "I'm a fan of Kylie!"
The rumored drama ramped up further thanks to a resurfaced TikTok video from Bieber's 2017 show Drop The Mic, which showed her co-host Method Man introducing a "rap battle full of the meanest lyrics about a celebrity since Taylor Swift's last album." Seemingly after the singer's name is said, Bieber pretends to throw up and rolls her eyes, and Gomez came to her longtime friend's defense. "So sorry my best friend is and continues to be one of the best in the game," she commented on the clip, which was posted by a user who called Bieber a "mean girl."
Despite the recent drama, this is not the first time that Gomez and Bieber have shown a united front during speculation of a feud. In October, the two embraced and posed for photos together at the annual Academy Museum Gala. Photographer Tyrell Hampton shared the glowing snapshots on Instagram, captioning his post, "plot twist." In the comments section, Bieber called it a "beautiful night," but the post has since been deleted.
Prior to their union, Bieber cleared the air about rumored drama with Gomez on the Sept. 27 episode of the Call Her Daddy podcast, saying they've communicated privately since Bieber started dating her now-husband Justin Bieber following his split from Gomez. "She doesn't owe me anything," she said. "Neither of us owe anybody anything except respect. I respect her a lot and I think there's no expectations. There's no drama personally."