Selena Gomez Celebrated Setting A Major Instagram Record
"Wishing I could hug all 400 million of you."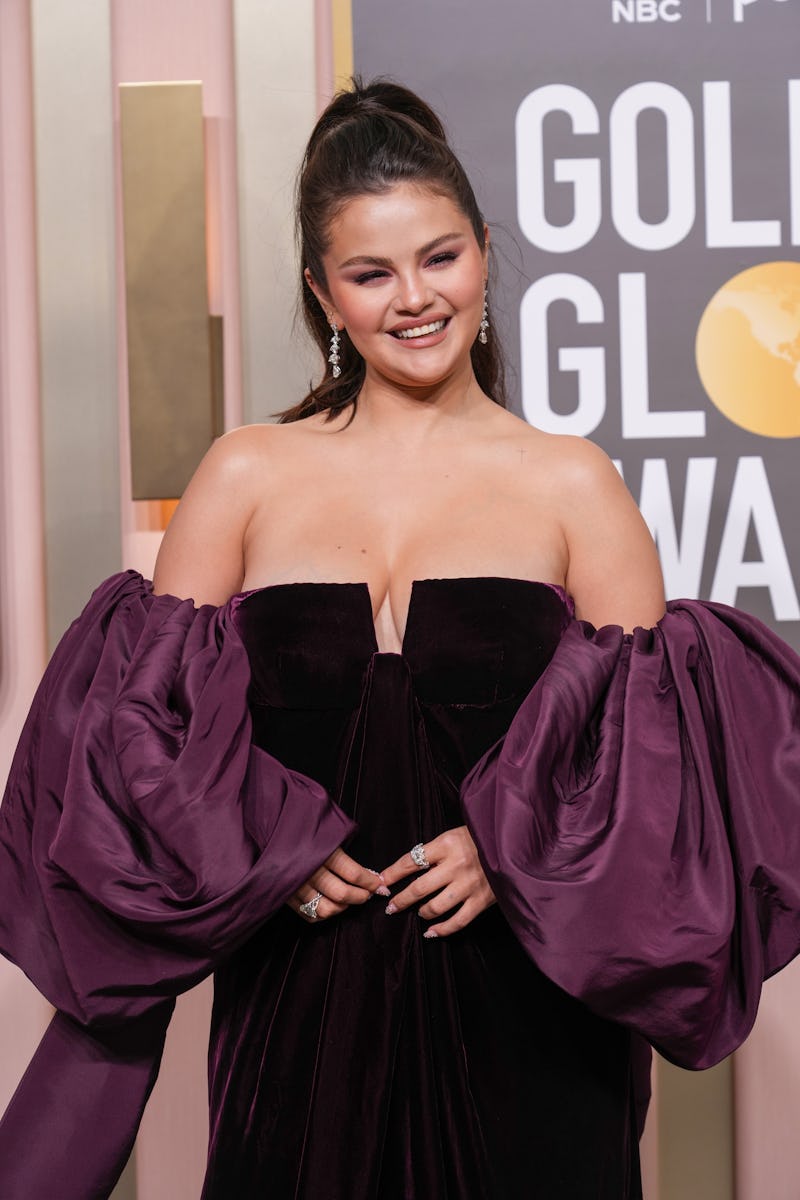 Kevin Mazur/Getty Images Entertainment/Getty Images
Since reclaiming her position as the most-followed woman on Instagram in February, Selena Gomez has only distanced herself from the pack. She's gained some 20 million followers since then, which has pushed her count to impressive new heights. In fact, she became the first woman to top 400 million followers on Saturday, March 18.
Having reached that massive milestone, the singer-actor celebrated with — what else? — an IG post. Gomez showed all of her followers love on March 19 by posting a series of photos of memorable fan encounters from over the years. "Wishing I could hug all 400 million of you," she wrote, adding a white heart emoji.
The Only Murders in the Building star has 401 million followers at the time of this writing, putting her well clear of the second-most-followed woman on Instagram, reality TV star and founder of her own beauty brand Kylie Jenner, who has 382 million followers. Only international soccer superstars Cristiano Ronaldo and Lionel Messi have more followers than Gomez, with 563 million and 443 million, respectively. Ronaldo previously overtook Gomez as the most-followed person on Instagram in October 2018, back when they each had a following of around 144 million users. Oh, how times have changed.
Gomez's recent follower surge seems to be at least in part due to fan speculation that there was drama between her, Jenner, and Hailey Bieber. In February, a bizarre situation involving arguably shady posts about eyebrows unfolded, and though both Jenner and Gomez tried to shut it down, fans picked sides. In the aftermath, Jenner lost followers while Gomez gained them, as Elle reported at the time. The fuss seemed to prompt the actor to step back for a minute. Posting a new photo on Feb. 22, Gomez added in the caption that she was "taking a break from social." She also briefly deleted her TikTok, describing herself in a live as "too old for this."
It was not Gomez's first social media break. Truth be told, there's an irony to her latest Instagram record. The former child actor has been vocal over the years about her cautious approach to social media. Since at least 2017, she's spoken about both the benefits and the costs to society, even saying that "the biggest challenge" for her generation is "separating what you see on your phone from what is your life" in a feature for Business of Fashion that September. For long stretches, Gomez has distanced herself from social media and handed her account over to her team for the sake of her mental health.
"To spend time fixating on all these comments and letting this stuff in, it was affecting me," she said on Live with Kelly and Ryan in 2019. "It would make me depressed. It would make me feel not good about myself, and look at my body differently."
Gomez had learned a lot of lessons about how to cope with social media in the years since, and still she's setting records.