The 2 Richest Selling Sunset Cast Members Are Wealthier Than The Rest Combined
Brett and Jason Oppenheim are each worth $50 million, but just how rich are their employees?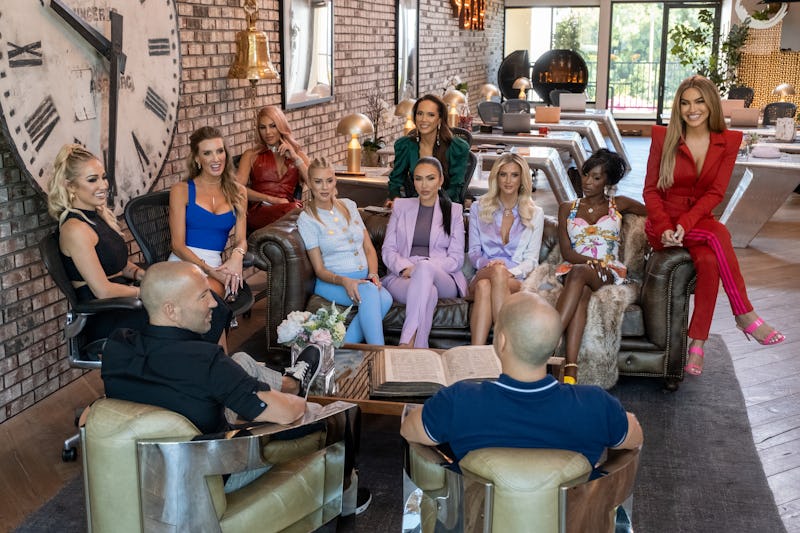 Netflix
From the moment Netflix released Selling Sunset, it became one of the streamer's most beloved reality series. With millions of fans around the world, the fourth season's release in November 2021 ended up being one of Netflix's most highly-anticipated in the reality genre in recent memory. The series is doing so well that Netflix is already working on spinoffs and the show has been renewed through Season 7. The sixth season will make its long-awaited premiere on May 19, featuring two new faces and the departure of some fan-favorite agents.
The show has made all of its stars quite a bit of money, but they were already doing well before the cameras started rolling, as real estate can be a very lucrative business. Just what are the main cast members of Selling Sunset worth? Here's a rundown of the most popular figures featured in the program — the Oppenheims, Chrishell, Heather, Davina, Christine, Amanza, Mary, Maya, and newer arrivals Emma, Vanessa, Chelsea, Bre, and Nicole — and how much they have in the bank.
What Is Brett & Jason Oppenheim's Net Worth?
Jason Oppenheim joined his great-great-grandfather's Stern Realty Co. (originally founded in 1889) and rebranded it as the Oppenheim Group, following in his family's footsteps. It quickly became one of the most successful firms in the country, catering to celebrities and wealthy clients. His twin brother, Brett Oppenheim, later joined him, and the two are now the faces of the brand, which has made them very wealthy. Both siblings claim a net worth of at least $50 million, according to the South China Morning Post. Looking at the price tags of the homes they sell to their clients, it's easy to understand that there's a lot of money in their world. They are by far the richest members of the cast.
What Is Chrishell Stause's Net Worth?
When Chrishell Stause joined the Selling Sunset group, she was married to TV star Justin Hartley of This Is Us fame. That connection helped her stand out from the other realtors, and it also ensured she was living large even before she began making commissions. Her net worth is $5 million, per Celebrity Net Worth, and in addition to real estate, she also made money on the side writing a book called Under Construction. During the run of the program, she got divorced, but she is set to collect some healthy alimony for at least a few years, making her even richer. For several months, Stause was dating her boss, Jason Oppenheim, though they split at the end of 2021.
What Is Vanessa Villela's Net Worth?
Vanessa Villela, who exited Selling Sunset ahead of Season 6, started her career as an actor in her home country of Mexico, and she secured starring roles in TV programs like Eva Luna, Una Maid en Manhattan, En otra piel, and El Señor de los Cielos, to name just a few. In 2021, she joined the cast of Selling Sunset, as she had officially made the jump from acting to real estate. At a reported $5 million, her net worth is higher than some of her former co-stars, possibly because she made money for years in entertainment before starting this new chapter.
What Is Heather Rae El Moussa's Net Worth?
After spending years appearing in Playboy and smaller films, Heather Rae El Moussa got her real estate license and put acting on the back burner. Now, she's found success in the buying and selling of homes, and her new calling also helped her find love. In October 2021, Young married Tarek El Moussa, who co-hosted the HGTV show Flip or Flop with his ex-wife, Christina Haack. El Moussa now claims a net worth of $3 million, according to The Things.
What Is Emma Hernan's Net Worth?
By the time she joined Selling Sunset in Season 4, Emma Hernan was already a successful real estate agent. She built her own company in the industry after deciding not to pursue modeling anymore, so she came into the Oppenheim Group with plenty of experience. In addition to selling homes, Hernan also operates a frozen seafood line called Emma Leigh & Co.
While her time on the program has largely been marked by feuds and disagreements with fellow star Christine Quinn, Hernan is still pulling in big bucks, and she is reportedly worth somewhere between $1.5 million and $3 million.
What Is Davina Potratz's Net Worth?
In the first season of Selling Sunset, Davina Potratz wasn't credited as a main cast member, but she quickly moved up and became a full-time agent. Interestingly, the Netflix program wasn't even the first time she was featured on a real estate-themed reality show, as she had previously been seen on Million Dollar Listing. The professional left the Oppenheim Group in 2021, but her exit wasn't entirely permanent, as Season 6 sees her back in the office and on the show as a part-time star. Regardless of the changes, she's reportedly built her net worth up to $2 million.
What Is Christine Quinn's Net Worth?
Known affectionately as the villain of Selling Sunset for its first five seasons, Christine Quinn was one of the most popular figures on the reality staple before her Season 6 departure. The potential future cast member of The Real Housewives of Beverly Hills is worth $1.5 million, according to Celebrity Net Worth, thanks to her success in the real estate industry. Combined with her husband Christian Richard (real last name: Dumontet), her wealth skyrocketed when they tied the knot in Season 3, as the former Foodler CEO is worth as much as $20 million. Quinn has also started making money by capitalizing on her fame, including a deal with Shoedazzle, a company that sells her used clothing, and a book titled How to be a Boss Bitch that was published in May 2022.
What Is Amanza Smith's Net Worth?
Before Selling Sunset, Amanza Smith was a successful interior decorator, so the leap into real estate wasn't a big one. In addition to working for the Oppenheim Group, her bank account is supported by child support payments and perhaps even alimony from football player ex-husband Ralph Brown, with whom she has two children. Smith's net worth is around $1 million, per The Cinemaholic.
What Is Mary Fitzgerald's Net Worth?
Jason Oppenheim seems to have a habit of dating those he employs. In addition to his short relationship with Stause, he still sees former girlfriend Mary Fitzgerald every day, as she's also employed by her former beau. The mother of one is now married to French chef and model Romain Bonnet, who appears regularly on Selling Sunset and who has a reported net worth of at least half a million dollars. She herself is estimated to be worth $1 million.
What Is Maya Vander's Net Worth?
The private Maya Vander isn't known for being quite as controversial as some of her co-stars, but she was a staple on Selling Sunset throughout its first five seasons before leaving for personal and family reasons. She also works in real estate in Florida as a broker for her own Maya Vander Group, but it doesn't appear to get in the way of her selling and buying homes for famous clients in California. She and her family claim a net worth of at least $1 million.
What Is Chelsea Lazkani's Net Worth?
Season 5 is bringing a newcomer to the Oppenheim Group: British Nigerian luxury realtor Chelsea Lazkani. Her career started in the corporate world before she transitioned to real estate, per People, and her background includes a stint at the LA-based agency Rodeo Realty. After taking time away to raise her two children, she's ready to return. Lazkani will be selling multimillion-dollar mansions, but as of now, her net worth is not yet known.
What Is Nicole Young's Net Worth?
One of Season 6's new additions is actually an Oppenheim Group veteran. Nicole Young has been with the brokerage for over a decade, making her their longest-standing agent, and was actually supposed to star in the show's first season before deciding to drop out (although she did appear on the show while officiating Mary's wedding). While her net worth is currently unknown, Young has apparently racked up over $100 million in real estate sales on her portfolio, meaning she's likely sitting pretty when it comes to wealth.
What Is Bre Tiesi's Net Worth?
The newest agent at the Oppenheim Group comes with an impressive Rolodex of contacts and a complicated family dynamic. Tiesi welcomed her first child with Nick Cannon — and his ninth — in June 2022, which will be a hot topic among the group this season. Tiesi's net worth is currently unknown. If she gets a monthly $40-60,000 check from Cannon as some of his other baby mothers reportedly do, her net worth is only bound to grow.
This article was originally published on