The Selling The OC Cast Wishes These Moments Made The Cut In Season 2
The show left out a key detail about Tyler and Alex Hall.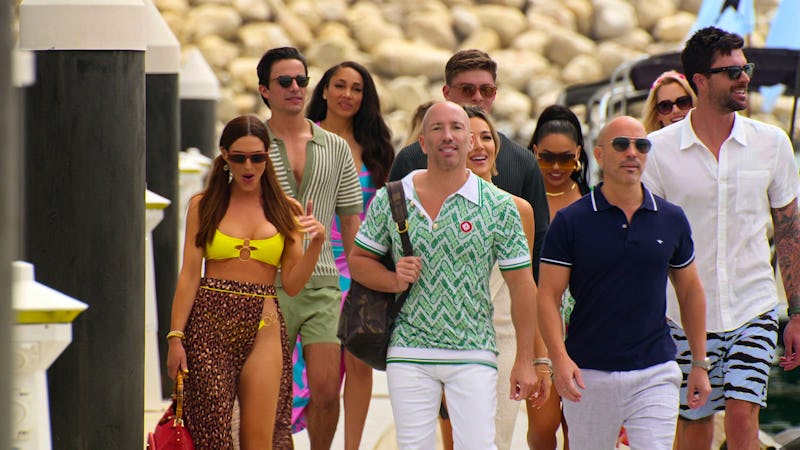 Courtesy of Netflix
Netflix's Selling the OC Season 2 features no less than a dozen real estate agents, plus their bosses, Brett and Jason Oppenheim. Over the course of several months, these "young and hungry" Oppenheim Group employees document their listings in Orange County's hot real estate market, while also navigating "even hotter rumors." In the end, all of their professional and personal drama was edited down into eight roughly 30-minute episodes, meaning plenty of content ended up on the cutting room floor. Below, the Season 2 cast reveals which unaired scenes they most wish viewers had gotten to see.
Brandi Marshall, for one, wasted no time addressing the "elephant in the office" (or at least one of them), bringing up Tyler Stanaland and Brittany Snow's newly filed divorce, along with her opinion that his friendship with Alex Hall "can sometimes look too friendly." Though her strong reaction to the rumored romance seemed to come out of left field in the season premiere, Brandi says viewers missed out on the larger context of her comments. Shortly before cameras began rolling, she tells Bustle, Tyler and Hall traveled to Dubai and attended a Jan. 20 event together — just one day after Brittany filed for divorce.
"At that time, they were in Dubai together, and it was a whole thing," Brandi explains. "So it was affecting our office; clients were calling me talking about it. It was just a negative narrative that was going around our office. That kind of gets left out of the show. You just see me talking about them, but you don't see why I'm saying what I'm saying."
Admitting that he didn't "have that much story going on" this season, The O Group's Sean Palmieri similarly thinks the portrayal of his seemingly abrupt falling out with onetime BFF Polly Brindle "blurred lines" and left out explanatory conversations. So, what went wrong between them? "There were a few disagreements I had that were very valid as to why our friendship ended," Sean elaborates. "It leaves a lot of people confused because it seems like it just happened overnight, but there were a lot of facts as to why... I thought Polly was a true friend, but I started to realize she wasn't when it came time to go over the facts of certain boundaries I wanted to put in place."
Gio Helou, for his part, has a much happier memory that didn't make the cut in Selling the OC Season 2. Though he announced at Polly's birthday party in the finale that he and wife Tiffany are expecting their first baby in September, the couple filmed another earlier surprise fans didn't see. "Tiffany actually told me for the first time on camera that she was pregnant," Gio adds. "That, for me, was just a moment that I'll never forget, and it was a side of me that's not often publicly on display. So I was super grateful for her to coordinate that with production and make that happen."
There were no hard feelings, though. As Gio sums up, "We're all at the mercy, at the end of the day, of how we're edited together. There are things that we all wish would have made the cut that didn't, but it's just the nature of reality TV."