Serena C. From BiP Was Embroiled In Drama With Katie Thurston
She's set to appear on BiP Season 7 after competing on Matt James' Bachelor season.
by Mary Kate McGrath and Kadin Burnett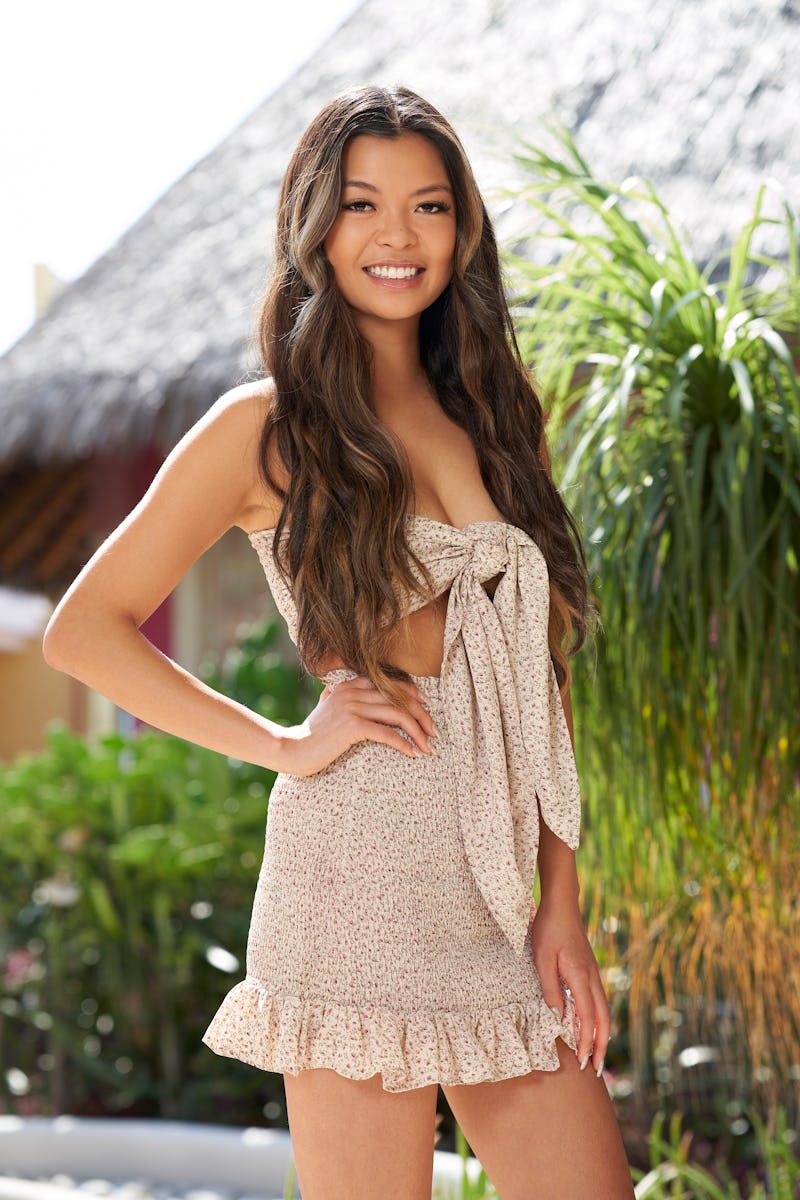 ABC/Craig Sjodin
The Bachelor franchise can be a trip — which is something Serena Chew took literally. On night one of Matt James' Bachelor season, she charmed Matt after tripping up the steps to meet him, only to recover quickly and slip in a joke. "It's been five seconds and I'm already trippin' off you," she quipped.
As it turns out, Serena's fall wasn't accidental. In December 2020, former Bachelor host Chris Harrison revealed on the Meet the Women livestream that the 25-year-old planned on tripping in hopes of being caught by Matt. Unfortunately, Matt didn't fall for her in return, but she's now heading to the beach for Bachelor in Paradise Season 7 to find a man that will. Here's everything else to remember about Serena C. ahead of the Aug. 16 premiere.
The Basics
In her Bachelor bio, Serena described herself as a "free spirit who loves adventure and is always up for a good time." Her idea of a perfect date is getting dolled up to enjoy the sunset and good conversation with champagne. She also loves bottomless mimosas and says her favorite food is chicken wings.
Serena's Job & Instagram Are All About Travel
Since Matt's season, Serena has switched coasts. She was previously based in San Francisco, but her Instagram bio says she now lives in New York. She's still working as a flight attendant, which is a good fit for her apparent wanderlust: her Instagram page is filled with pictures chronicling her travels. She's snapped photos of herself in locales including Honolulu, Hawaii, Tulum, Mexico, and San Francisco as well as from her job 34,000 feet in the air.
Serena also has an appreciation for clothes. She previously had aspirations to become a fashion blogger, and once ran a now-defunct blog called serenaissance, where she posted renaissance-inspired looks. On Instagram, she shares photos of herself showing off her style everywhere from the streets of France to Trader Joes. "Welcome to my closet. No such thing as being too overdressed," her bio reads.
What Happened to Serena On Matt James' Bachelor Season
Matt's season included a divided house of women, with half of the contestants accusing the others of bullying. Serena was part of the group labeled as mean girls, but blamed future Bachelorette Katie Thurston for causing problems by telling Matt about the drama happening within the cast. Things reached a boiling point during a conversation in which Serena called Katie an "arsonist" for starting fires and distracting from time they could spend getting to know Matt. "I'm continuously being taken away by your antics," Serena told Katie. "I don't think you're truly here for Matt."
Ultimately, Serena made it to Matt's Top 10 before being eliminated in Week 6.
Serena's Bachelor in Paradise Experience
Ahead of Matt's season, Serena said in her bio that she was looking for a professionally successful man with charisma, good character, and a love for travel. However, she may not find him in Paradise. Serena appears in the Season 7 trailer of Paradise fairly early, yelling "Welcome to Paradise!" alongside the rest of the women in the cast. However, that's the only time she shows up in the nearly three-minute trailer, which could mean one of two things: either she stays out of the drama this season, or she simply just doesn't last that long.
This article was originally published on