Serena P. May Get Her Heart Broken By Grocery Store Joe On BiP
The two hit it off...before Joe's ex Kendall arrives.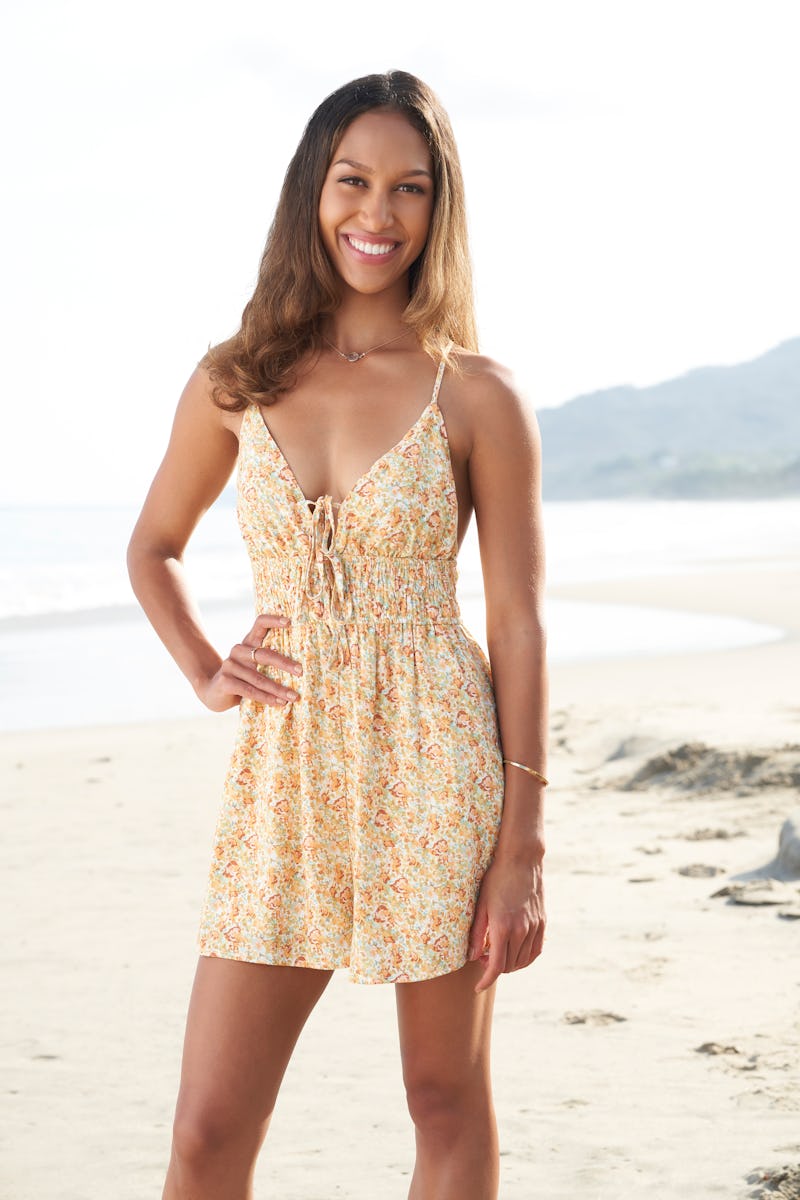 ABC/Craig Sjodin
After a summer away, Bachelor in Paradise is returning to give Bachelor and Bachelorette alums another chance at love. One of the contestants hitting the beach is Serena Pitt, a standout from Matt James' season of The Bachelor who decided to leave the show after hometowns. Though Matt ultimately wasn't the guy for her, she wrote on Instagram that she came away from the experience with "a greater sense of self, confidence, and incredible friendships." Now, she's hoping to add "romance" to the list.
In her Bachelor bio, Serena described herself as a disciplined and logical person who -- at the time -- hadn't invested much effort into searching for love. The Toronto native is looking for a man who's ambitious, an equal partner, and willing to share his food. "If they don't let me taste their food, I don't know if the relationship could survive," she said.
Here's what else to remember about Serena ahead of BiP's Season 7 premiere.
Serena's Instagram Is All About Wellness
Serena's Instagram is full of posts about bettering the body and mind, including ads for green smoothies, collagen creamers, and hair care. That being said, she still loves a good glass of wine.
Her feed also has plenty of photos of her in nature, with friends, and showing off her fashion sense.
Serena's Job Is In Communications
Despite the abundance of sponsored posts across Serena's Instagram, she's not a full-time influencer.
According to her LinkedIn page, she studied communications and business management at Wilfrid Laurier University, graduating in 2019. Since then, she's interned at a few places, including LOCAL Life magazine and more recently MacIntyre Communications, a public relations and communications firm that specializes in brand management.
She also worked part-time at Cotton Candy Event Staffing, a professional staffing company specializing in branding, from June 2019 to March 2021. In 2020, she obtained a postgraduate certificate in sport and event management from George Brown College, so perhaps she's looking to break more into the event planning space.
What Happened To Serena On Matt's Season Of The Bachelor
Serena was one of the stronger contestants during Matt's season of The Bachelor, making it all the way to hometowns before deciding to eliminate herself from the show. After introducing Matt to her family, Serena's sister, Talia, noticed that she didn't seem fully into Matt. "The one thing I worry about, is you getting engaged and being like, 'I messed up,'" Talia said.
It came as a revelation for Serena, who immediately spoke to Matt about her doubts. "When I talked to my mom, I was able to sit there and say, 'Matt has everything I would want in a husband and he makes me feel so special," Serena explained. "But when it came to actually being able to talk about my feelings for you and how I felt about you, I really struggled. I thought that it was fear initially, that I was just scared. But I think if I'm being honest with myself it's more than that … I think it just comes down to the fact that I don't think you're my person."
After the show, Serena talked about the split on the Bachelor Happy Hour podcast. "Breakups are really emotional, so I wanted to kind of have an idea of what I wanted to articulate to make sure I gave him as much closure as possible, and make sure I wasn't overcome by emotion," Serena said. "In that moment I felt being as clear and direct as possible about where I stood in that relationship, and what my feelings were, and why I was leaving was the best thing I could do for him."
Serena's Bachelor In Paradise Experience
Serena is featured heavily in the Season 7 Paradise trailer. After she yells enthusiastically that she's "ready to fall in love," she's seen cozying up withJoe Amabile (aka Grocery Store Joe). The two frolic in the water before sharing a passionate -- albeit clunky -- kiss on some hammocks. Unfortunately for Serena, Joe'x ex Kendall Long is scheduled to appear on Paradise later in the season, and it clearly drives a wedge between her and Joe. "Kendall is absolutely trying to stop this," Joe says in a voiceover as he's shown hugging a distraught Kendall. Shortly afterward, Serena is seen crying during an interview. This time around, she may be the one leaving heartbroken.
This article was originally published on