Bring Back The OG Sex And The City Promos, You Cowards
If Max wants And Just Like That... to be fun again, it's time to embrace the campiest thing the cast has ever done.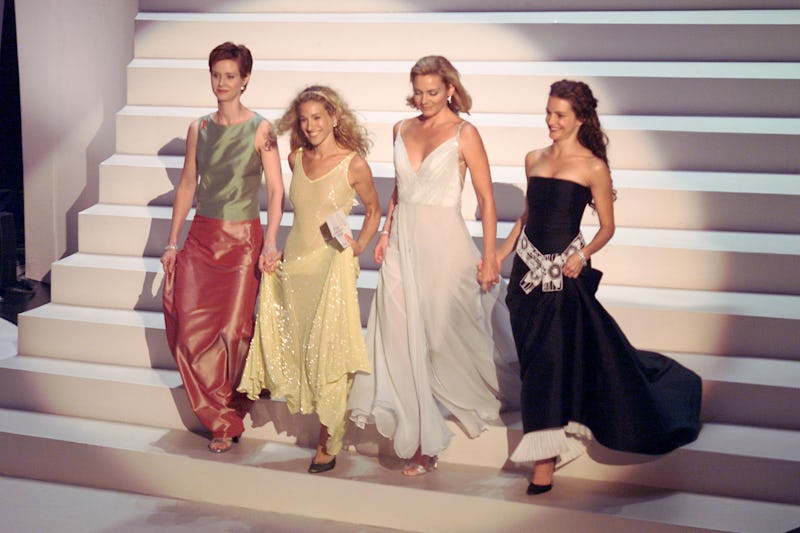 Frank Micelotta Archive/Hulton Archive/Getty Images
Sex and the City doesn't have a typical TV theme song you can sing along to. Instead, an iconic instrumental jingle played over the opening credits as Carrie Bradshaw got splashed in a tutu — which, sadly, wasn't carried over to the reboot And Just Like That... However, what the OG show did have by way of musical moments was extravagant promo commercials featuring the cast vamping it up to various throwback jams. These clips seemingly had nothing at all to do with the actual series. But they were fabulous. They were hilarious. They were camp. And it's time to bring them back.
As AJLT Season 2 streamed on Max, the OG commercials have gone viral on social media, with both longtime viewers and newer fans commenting about how fun they were. In the first promo, Sarah Jessica Parker, Kim Cattrall, Cynthia Nixon, and Kristin Davis strut down a non-existent runway, pose in front of green screen New York backdrops (with SJP in a bikini), and lip-sync the words to Andrea True Connection's 1976 disco-soul classic "More, More, More" — all while sipping martinis, of course. It was like the girls were in a music video for no explicable reason, with Davis especially having the time of her life.
They kept up the glamour for their Season 4 promos, strutting their stuff in all-white power suits and lip-syncing to Julie London's sultry cover of Ruby and the Romantics' "Our Day Will Come." Parker gives a particularly impassioned performance, aided by a rhinestoned-studded fedora, but Davis was absolutely living to sing the line, "No one can tell me that I'm too young to know our day will come."
For Season 6, the ladies went more old-school, featuring a vignette that was actually filmed on New York streets this time. The clip starts with Parker stepping out of a taxi that broke down on the road, clutching red balloons, and then frolicking around a pier with the Brooklyn Bridge behind her. The other three, lip-syncing to Betty Hutton's "It's Oh So Quiet," walk to meet Parker on the bridge and let the balloons loose together. Even with the sentimental aspect, it was still glamorous and whimsical in a way only these four could pull off.
Above all, these promos remind viewers of something that's often been said about SATC: New York City is the fifth character. Whether creating a monochromatic display of New York buildings, using panoramic videos of Times Square, or filming in front of the actual Manhattan skyline, the promos always made sure to incorporate New York in some form, emphasizing how the city shaped the ladies' style, attitudes, and connections to each other.
The And Just Like That... Season 2 finale signals both bittersweet endings and new beginnings, hinting at a light and summery third season to come. If Max wants the show to be fun again, bringing back this specific genre of promos would be a great first step to set the tone — and there's a plethora of songs they can use. Obviously, the number one choice should be Lily York Goldenblatt's masterpiece "The Power of Privilege," but no one's ready for that.
The girls could dance to Bananarama's 1992 disco-fied cover of "More, More, More" (or, to get even more niche, Rachel Stevens' 2004 rendition), which would be a sweet nod to the original promo while amping up the camp factor. Fergie's "Labels or Love," the de-facto theme song of the 2012 movie, and Cheryl Lynn's "Got to be Real," which played as Carrie memorably face-planted on the runway in Season 4, would be equally as fabulous and nostalgic for fans. Of course, the ladies could get more current, maybe using a Sam Smith song to honor their Season 2 guest appearance, or Dua Lipa, because it's too easy to picture them dancing to anything from Future Nostalgia.
AJLT has been renewed for a third season, and while viewers don't know when it will start filming, Max should waste no time planning for the most important aspect of the season: the comeback of the camp commercials.