Sex Education May Not End With Everything "Wrapped Up Completely Perfectly"
The series creator hinted at potential spinoffs.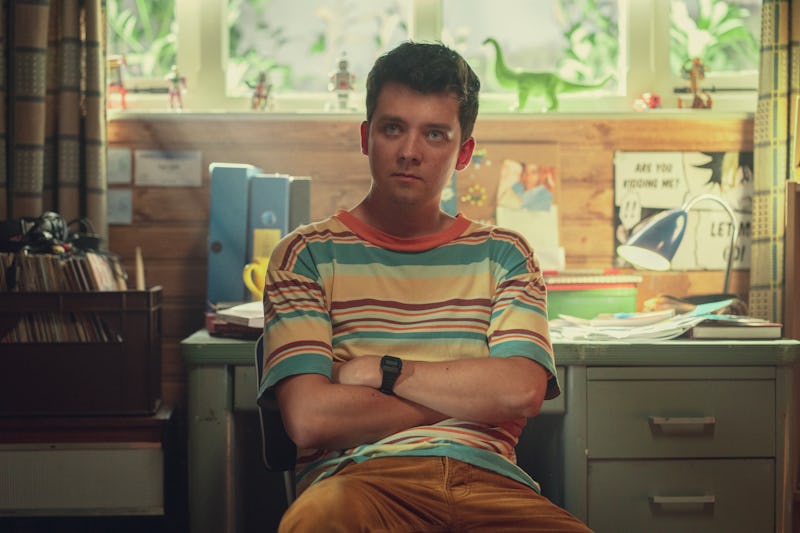 Samuel Taylor/Netflix
Ahead of the fourth and final season of Sex Education, series creator Laurie Nunn issued fans a light warning about what to expect from the finale. "I'm hopeful that there's a bittersweetness to [the ending], and that there's everything people want in there, even though it might not be wrapped up completely perfectly," she explained in a new interview with The Guardian, hinting at the possibility of unanswered questions remaining after the teen sex comedy's final eight episodes drop on Sept. 21.
Though Nunn anticipates passionate fan reactions to the conclusions of several storylines — including whether or not Otis (Asa Butterfield) and Maeve (Emma Mackey) end up together — potential viewer criticism didn't factor into her decision of how to end Sex Education. "I think if you start writing while thinking about how people are responding to the work, it can become very self-conscious," she told the UK publication, noting that she's no longer on social media after welcoming her son.
The infant's arrival also played a part in Nunn's hopes — and fears — for Sex Education's legacy. "Things move so fast nowadays and there's so much amazing TV out there. I'm always joking that my baby's gonna get older and be like: 'Oh no, Mum, you made that really problematic, really embarrassing sex show,'" she added. "But I really enjoyed writing these characters and I feel really connected to them. So if people remember them in a loving way, I'll be happy."
Nunn further addressed Sex Education's dedicated fandom in a recent interview with Netflix's Tudum. "When I hear people saying that they've seen something of themselves reflected in some of these characters, I still find it really overwhelming," she shared. "It very much was at the core of why I wanted to write the show in the first place — just to make something that would've made me feel less alone when I was 17, because I found being a teenager very, very difficult as a lot of people do. When I hear that people are connecting with [the show] in that way, it makes the writing process feel really worth it because it can definitely be a challenge at times."
Following the closure of Moordale Secondary, Sex Education Season 4 finds Otis and Eric (Ncuti Gatwa) facing their first day at the high-tech, progressive Cavendish Sixth Form College, per Netflix. While Otis is nervous about setting up his new clinic, Eric is "praying they won't be losers again." Meanwhile in the United States, Maeve is living her dream at prestigious Wallace University under the instruction of cult author Thomas Molloy (Dan Levy) — all while Otis pines after her from across the pond. The darker-than-usual final outing reportedly silos its core characters, which also includes Otis' mother, Jean (Gillian Anderson), as they tackle weighty issues while on separate journeys of strife and self-discovery.
Nunn's hint about loose ends further fuels fan theories regarding potential Sex Education spinoffs. "I'm definitely taking a break and thinking about other things," she told Tudum of her plans for the near future. "But Moordale is a really rich world, and writing about teenagers is always a lot of fun. So, I think that there's always potential for more to be explored in that world."