Twitter Agrees That Shakira's Hips Didn't Lie During Her 2023 VMAs Performance
The singer became the first South American artist to accept MTV's Video Vanguard Award.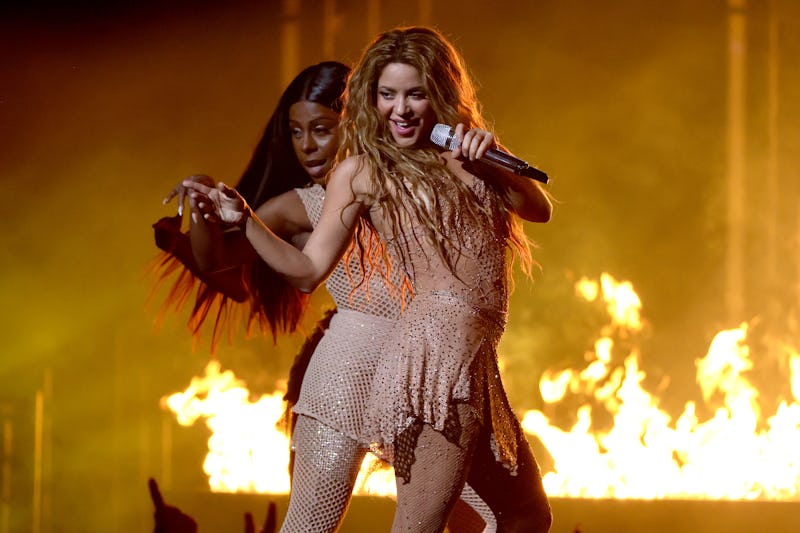 Theo Wargo/Getty Images Entertainment/Getty Images
Over three decades since she first rose to fame, one thing has persisted: Shakira's hips don't lie. On Sept. 12, the Grammy winner accepted the Video Vanguard Award at the 2023 MTV Video Music Awards, becoming the first South American artist to receive the accolade and commemorating the honor with a career-spanning medley. The number marked her first VMAs performance in over 17 years, with her last appearance in 2006 singing "Hips Don't Lie" with Wyclef Jean.
Naturally, Shaki reprised that megahit as part of her Video Vanguard performance, which blended some of her biggest hits from the '90s to today. The performance kicked off with her 2009 hit "She Wolf," recreating some of the poses in her iconic music video, before she went on to perform some of her biggest English and Spanish hits, ranging from throwback songs "Whenever, Wherever" and "Objection (Tango)" to more recent collaborations like "Te Felicito" and "TCG." Naturally, she was belly-dancing the whole way through, which lit Twitter on fire.
Shakira concluded her monumental medley by crowd-surfing through the audience and performing her latest viral hit, "BZRP Music Sessions, Vol. 53," which famously nods to her longtime ex-boyfriend Gerard Piqué. There's no better way to put him on blast than singing those lyrics loud and proud at the VMAs (atop a high riser at that), and Twitter was in awe.
Naturally, Taylor Swift was enjoying Shakira's performance just as much as all of us, which Twitter took note of.
In her Video Vanguard acceptance speech, Shakira thanked MTV for playing "such a big part in my career" and gave a shoutout to all of the creatives who helped her shape her visuals over the years. Most sentimentally, she thanked her parents and her two sons with Piqué, 9-year-old Milan and 7-year-old Sasha, who were in attendance to support their mom on her big night. "Thank you for cheering me up and making me feel like mama can do it all," she said.