The Wildest Meghan Markle Coronation Conspiracy Theory Was Officially Debunked
"Nothing sinister about it or surprising at all!"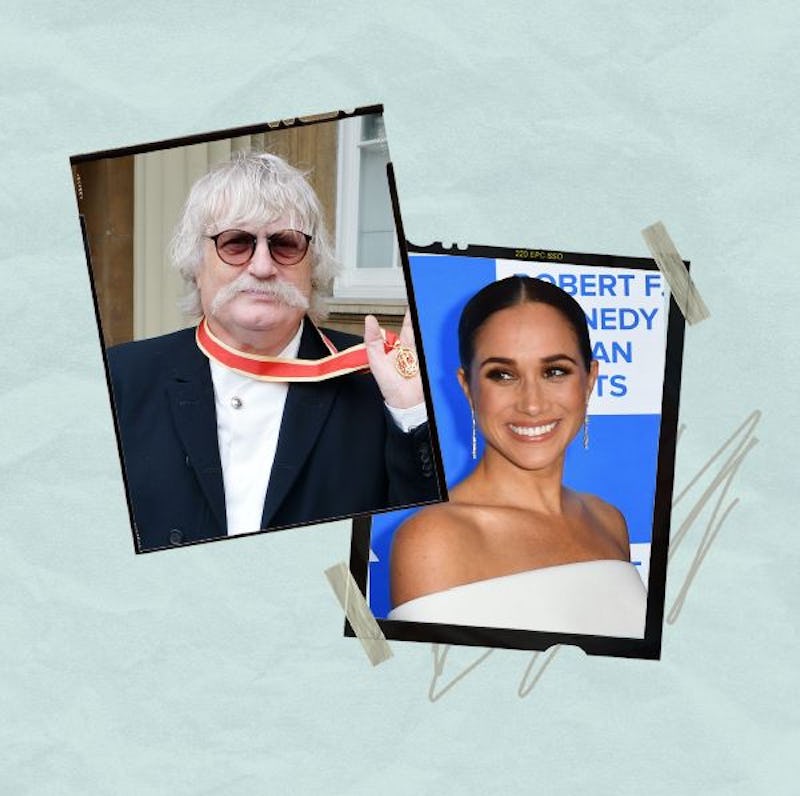 WPA Pool/Getty Images Entertainment/Getty Images; ANGELA WEISS/AFP/Getty Images
The British royal family put on a grand show as King Charles III was crowned on May 6, and still others managed to inadvertently steal some of the coronation spotlight. Several unexpected moments blew up on Twitter during the ceremony, from Katy Perry's relatable search for her seat to the choir's accidentally awkward "Vivat Regina Camilla" moment. The most bizarre of the bunch, however, has to be when viewers caught a glimpse of composer Sir Karl Jenkins and began speculating that he was someone in disguise — namely, the king's daughter-in-law and the Duchess of Sussex, Meghan Markle.
In the months-long lead-up to the coronation, the burning question was whether or not Prince Harry and Meghan would attend, given the strain in their relationship with senior royals, particularly Harry's dad, Charles, and older brother, Prince William. The answer finally came in early April when Buckingham Palace issued a statement confirming that Harry would attend the service while his wife stayed stateside with their two children, Prince Archie and Princess Lilibet. Nevertheless, as the coronation broadcast showed Jenkins in the audience on the big day, his shaggy hair, large mustache, and sunglasses inspired a subset of viewers to jokingly speculate that Meghan had decided to attend after all, in disguise.
While the Sussexes haven't responded to the absurd conspiracy theory, Jenkins filmed a now-viral TikTok to officially debunk it. "I was quite surprised that some people thought I was Meghan Markle in disguise," the 79-year-old composer said, in part, before going on to add, "I look this way all the time. … Nothing sinister about it or surprising at all!"
Jenkins also explained that he was in attendance because he'd written music for the service. He didn't seem fazed by all the interest in him, and even laughed off a tweet suggesting he was there "to steal the crown jewels." As for his mustache (or rather, his "moustache"), he also chuckled about it having "been referred to in The Times," then explained, "I've had the moustache since I was 18 years old. It was very trendy then."
The composer's TikTok soon went viral, and it has more than 96,000 likes at the time of this writing. Though viewers heard straight from Jenkins himself, many wanted to keep the disguise joke going in the comments. "This is just what Meghan Markle in disguise would say," one person quipped, while another wrote, "I've never seen you and Meghan Markle in the same room, sir," alongside face-with-tears-of-joy emojis.
The real Meghan celebrated another member of the royal family on Coronation Day. As the ceremony was held on Archie's fourth birthday, she stayed in California, and Harry kept his UK trip short before flying home, no disguise needed.