The Black Lotus Staff Has "Had Enough" In SNL's White Lotus Spoof
Bring your hopes, bring your desires, but don't you dare bring an attitude.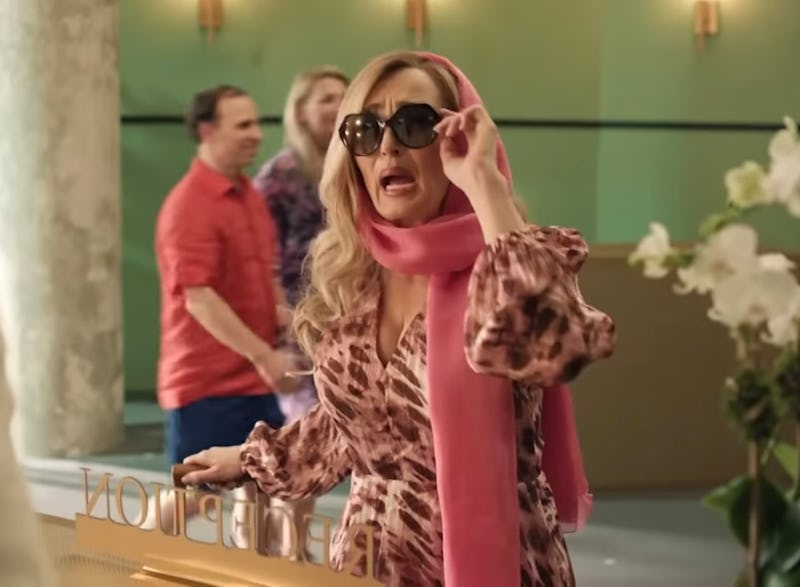 NBC/screenshot
With Aubrey Plaza hosting Saturday Night Live's Jan. 21 episode and a spot-on Jennifer Coolidge impersonator in the cast, a spoof of HBO's White Lotus was inevitable. The pre-taped sketch, titled "The Black Lotus," hilariously reimagined the anthology series with guests that have everything — and a staff that's had enough. Playing the parts of Black Lotus resort staffers, Kenan Thompson, Ego Nwodim, Punkie Johnson, and Devon Walker were here for the decadence and intrigue, but "none of the foolishness" the guests try to pull in the anthology series, which wrapped Season 2 in December.
Opening with SNL's Chloe Fineman reprising her Coolidge impression, this time as her White Lotus character, Tanya McQuoid, Thompson's front desk agent quickly made clear the entitled antics weren't going to fly at this resort. As Fineman's Tanya tried to check into the hotel even though she "forgot" her credit card in a limousine, he swiftly shut her down. "I don't know you," he responded. "I'm trying to run a business!" After she later rushed into the lobby amid a "bit of a crisis" that left her in need of a "psychic or fortune teller," she didn't have much more luck with Nwodim's resort manager character, who replied, "Not in here! This is Jesus' house!"
Though Plaza was readily on hand, she did not revisit her Season 2 character, Harper. Instead, the Parks and Recreation alum played a short-fused Latinx hotel bartender, who similarly wasn't here for any of the entitled white nonsense. After calling out a bar patron for getting "totally played" and scammed out of $50,000 from a "hoe" who also slept with his dad — a nod to Albie's (Adam DiMarco) Season 2 storyline — she physically attacked another hotel guest modeled after actor Jake Lacy's character, Shane, from Season 1. Because nobody was safe, the SNL spoof also roasted everyone from Portia and Jack to Dominic, Lucia, and Mia.
"Bring your hopes, bring your desires, but don't you dare bring an attitude," a narrator warned in the fictional The Black Lotus trailer, which joked that each season would take place in different "exotic" locations such as Atlanta, Washington, D.C., and "It'ly."
Though Coolidge has yet to weigh in on Fineman's latest imitation of her, she previously praised the SNL cast member's impression in an earlier December sketch. Titled "Jennifer Coolidge Is Impressed by Christmas Stuff," the sketch showed the comedian musing about such holiday traditions as hanging stockings, singing Christmas carols, and drinking eggnog. "Wow! A massive thanks to Saturday Night Live!! and to the exceptionally brilliant impressionist [Chloe Fineman] with your hilarious imitation!!" she captioned a Dec. 18. Instagram post. "Also, congrats to the new cast members!! I know how hard it is to get on that show, I tried my ass off to be one but you actually made it!! What a feat!"
Fineman, for her part, commented on Coolidge's post, writing, in part, "Thank you for being such a gift to us all."