Everything We Know About Snowpiercer Season 3
Filming has already begun.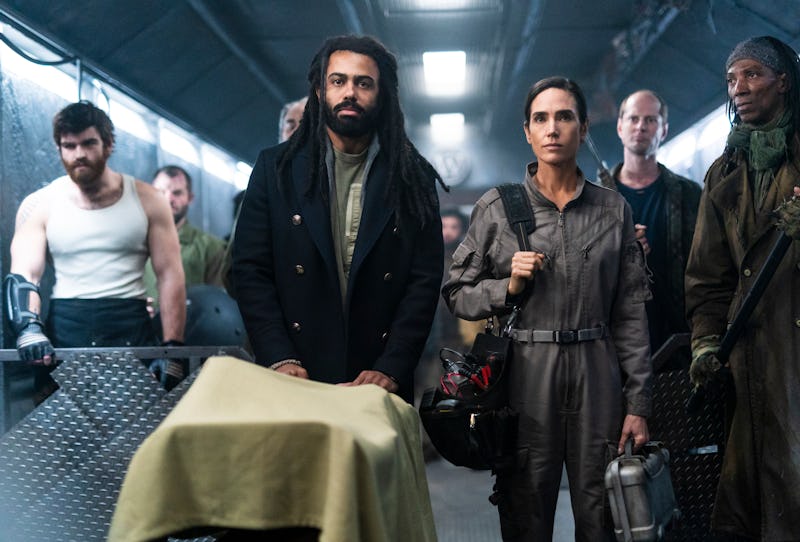 David Bukach
Snowpiercer may just be wrapping up its second season, but the series is already preparing for what comes next after being renewed for Season 3 in January. The show, which is based on a graphic novel and 2013 movie of the same name, tells the story of the passengers on a giant, perpetually moving train who — after Earth became a frozen tundra seven years prior — are now the last living humans on the planet. The train, called Snowpiercer, is divided by class, and the first season of the TNT series followed the attempts of the train's poorer residents to stage a revolution against the oppressive behavior of the wealthy first class residents.
In the second season, the train's inventor Mr. Wilford showed up with a second supply train, Big Alice, throwing the inhabitants of both trains into a complex power struggle with messy and disastrous results. Here's what we know about how that will feed into Season 3 so far.
The Snowpiercer Season 3 Cast
While details about Snowpiercer Season 3 are so far sparse, there have already been a couple of casting announcements. Chelsea Harris, who played Mr. Wilford's advisor Sykes in Season 2, has been promoted to a series regular for the upcoming season. In addition, Archie Panjabi — best known for her Emmy-award-winning performance as Kalinda Sharma on The Good Wife — has also reportedly joined the Snowpiercer cast for Season 3. Not much is known about Panjabi's character yet beyond her name: Asha.
It's always possible that a last-minute twist will change the cast lineup for the coming season, but currently, it looks as though much of the main cast from Snowpiercer Season 2 will be returning, including Daveed Diggs, Jennifer Connelly, Mickey Sumner, Sean Bean, Rowan Blanchard, and more.
The Snowpiercer Season 3 Premiere Date
It hasn't yet been announced when season 3 of Snowpiercer will premiere. However, the first season finished in July 2020, and the second season premiered a mere six months later in January 2021, which suggests that fans won't have to wait long before they can tune into the third season. It's also been confirmed that shooting for season 3 already began in early March 2021.
For now, any other details about Season 3 are being kept under wraps — even sometimes from the stars themselves! "I don't think I've ever known anything concrete about Till's arc, Season 1 or Season 2," Snowpiercer cast member Mickey Sumner told Collider earlier this month. "We're about to do Season 3, and I have zero idea. I start shooting tomorrow (March 5th), and I know what I'm doing in Episodes 1 and 2, but that's it."