Solar Opposites Will Get "Even Weirder" In Season 3
"There's some stuff in Season 3 that's really insane."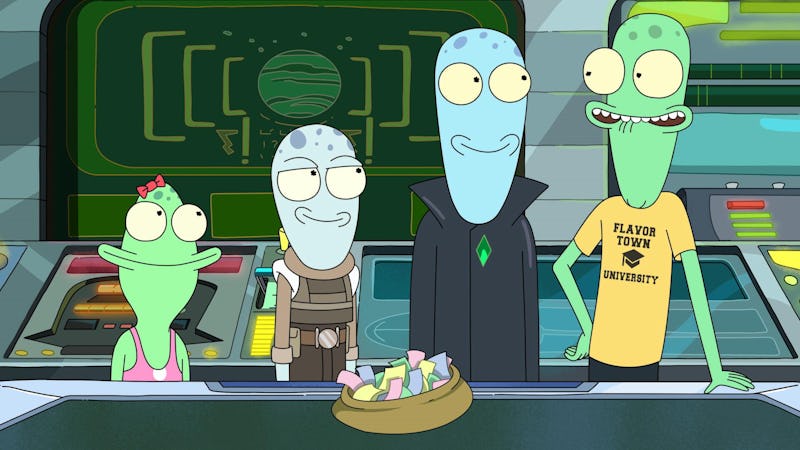 Hulu
Since its premiere in 2020, Solar Opposites has proven to be a quirky adult animated series that Hulu is keen to place its bets on. The show was initially ordered for two seasons, and after Season 1, the streaming service green-lit Solar Opposites for Season 3, too.
A premiere date hasn't yet been announced, and it's not clear how long fans will have to wait. If the production time is similar to the creators' other series, Rick and Morty, which took 18 months between seasons, it's possible that Season 3 could air later this year. But that's not accounting for how the pandemic may have affected things. Showrunner Josh Bycel told BubbleBlabber in 2020 that they were able to finish Season 2 amid coronavirus because the scripts were "pretty much almost done" when the lockdowns happened, and they were able to send home their animators with computers. But at the time, he didn't know how things would progress from there because they had to send their material "to Vancouver to get colored and all that stuff." So it's unclear if those kinds of potential delays could hinder a third season.
On top of that, Solar Opposites co-creator Mike McMahan told Deadline that the show has the same team as Rick and Morty, which was renewed for a fifth season in 2020. "It was a priority for us to never affect the production of Rick and Morty, making sure to be deferential to their time, and to the artists working on that," he explained. So it's possible the focus will be there for now.
Regardless, it sounds like Season 3 is already well into production. "I think we're still pushing the boundaries, too, going into Season 3," co-creator Justin Roiland hinted to Syfywire earlier this month. "There's some stuff in Season 3 that's really insane."
McMahan added that Season 3 is also longer. "It's like 12 episodes," he said. "We got even weirder."
When we last saw aliens Korvo (Roiland), Terry (Thomas Middleditch), Yumyulack (Sean Giambrone), Jesse (Mary Mack), and their Pupa (Sagan McMahan), they were dealing with issues that spanned from water nanobots to the Wall, a tiny civilization of shrunken-down humans that existed within Jesse and Yumyulack's bedroom. Roiland and McMahan hint that they plan to pursue more humorous ideas like the Wall; while Season 1 left off with humans Tim (Andy Daly) and Cherie (Christina Hendricks) leading a revolution, Season 2 shows what the tiny society looks like in the aftermath.
"The Wall is kind of like The Wire, where there was always a different flavor every season," McMahan told Syfywire. "[We wanted to continue] building out the story of the Wall and we continue to do that in Season 3 into a whole new direction and a really cool way."
As for how many seasons Solar Opposites is expected to run for, Roiland believes the show can keep going "for quite a bit longer" depending on which stories they pursue. "There's a lot of stuff we can do with these characters," he told Slashfilm. "I really think this show has some significant legs, and it's fun to make. Just in doing press we've come up with a handful of episodes where we're like, 'OK, this would be for Season 3 since we've filled up Season 2.' They're really fun ideas. It's definitely something we hope we get to do."