Sophie Thatcher Had To Call Her Mom After Filming The Yellowjackets Season 2 Finale
The actor also shares how she mirrored Juliette Lewis' onscreen charisma.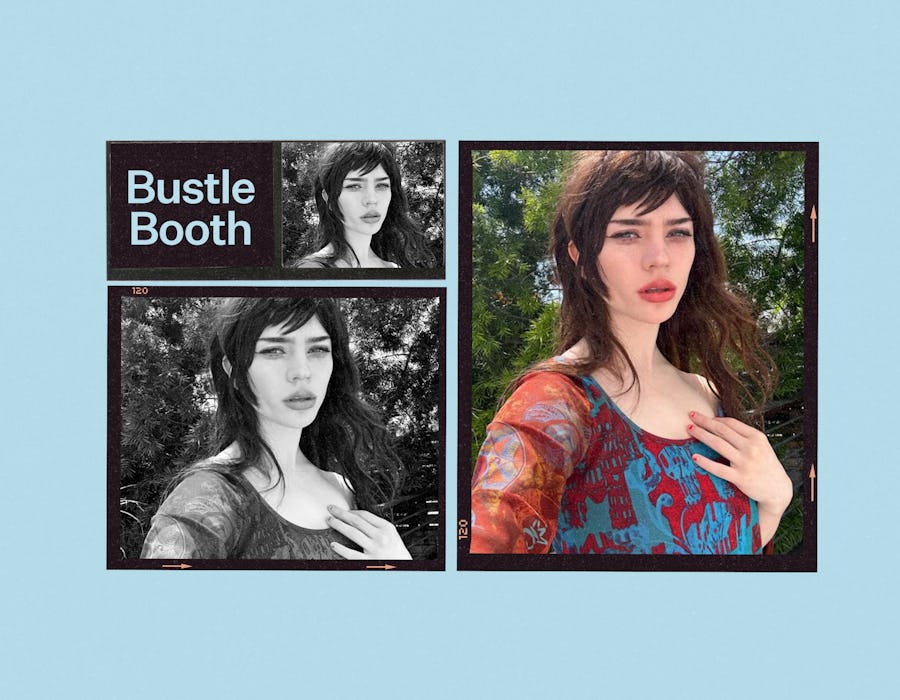 When Sophie Thatcher got the opportunity to play teen Natalie in Yellowjackets — the '90s version of Juliette Lewis' character — she knew immediately how she'd approach the role. "[Lewis] is so specific and so talented and has such a crazy onscreen charisma and such a specific charisma, that I immediately was like, 'I'm gonna want to mirror this,'" Thatcher tells Bustle. She adds, half-joking, "I mean, that is my job. I just copy people."
The 22-year-old has plenty of experience as a mimic. She began acting professionally when she was 10, appearing in local Chicago-area productions of The Secret Garden, Oliver!, The Diary of Anne Frank, and Our Town (in a role she split with her twin sister, Ellie), and her interest in imitation bled into her personal life. "Clementine from Eternal Sunshine [of the Spotless Mind] was in high school. I dyed my hair blue. I tried to dress like her [and] mimic her," Thatcher says. "Penny Lane from Almost Famous was my middle school phase. I wore fur coats to school and would curl my hair, and I remember stealing some of her lines or trying to put them into my words. Same with My So-Called Life."
So naturally, Thatcher and Lewis nailed down Natalie's look first. "We're very specific with how she dresses, how she looks, how she presents herself," Thatcher says, citing Natalie's trademark mullet. "She was kind of stuck in 1979."
On a show like Yellowjackets, though, that kind of preparation can only get you so far: When their characters resorted to cannibalism to survive the Canadian wilderness, the cast found themselves in uncharted territory. Because Jackie's corpse "looked very real," one co-star vomited on set, and Thatcher found herself having a genuine reaction. "There was a second where I could feel my breathing, and I was like, oh my God, I'm going to have a panic attack. But I didn't," she recalls.
After the Showtime show wraps its emotionally fraught second season, Thatcher will also take on another set of horrors in June's big-screen adaptation of Stephen King's The Boogeyman. "Darker stories evoke the strongest feeling out of me," she says. Filming the Yellowjackets finale was no exception: "I called my mom right after and was freaking out. I think we all were. But you can't really prepare because it's a lot."
Learn more about Thatcher in her Bustle Booth questionnaire below.
In The Bustle Booth
What's your coffee order?
Black coffee or matcha latte with almond milk.
What are the saved weather locations on your phone?
Los Angeles, New York, Chicago, Paris, and Vancouver.
What's your sign?
Libra rising, libra sun, cancer moon.
Favorite overused movie quote?
"Stella!!!" [from A Streetcar Named Desire]
What was your favorite cartoon as a kid?
Grew up on The Simpsons. The earlier seasons are fully ingrained in me. Also grew up on Daria.
What's one movie or TV show you're currently obsessed with?
Anything [John] Cassavetes or with Phillip Seymour Hoffman.
Who is your celeb idol?
Phillip Seymour Hoffman.
If you had to be on a reality TV show, what would it be?
Project Runway.
Go-to karaoke song?
Anything by Pulp or the Carpenters.
What's something that's inspiring you lately?
Making music with my boyfriend :p
What is something you would want people to say about you?
I would hope people think I'm open and honest.