The Spice Girls Are Set To Reunite At King Charles III's Coronation, Apparently
The group is reportedly "pondering a return to the stage as a five-piece."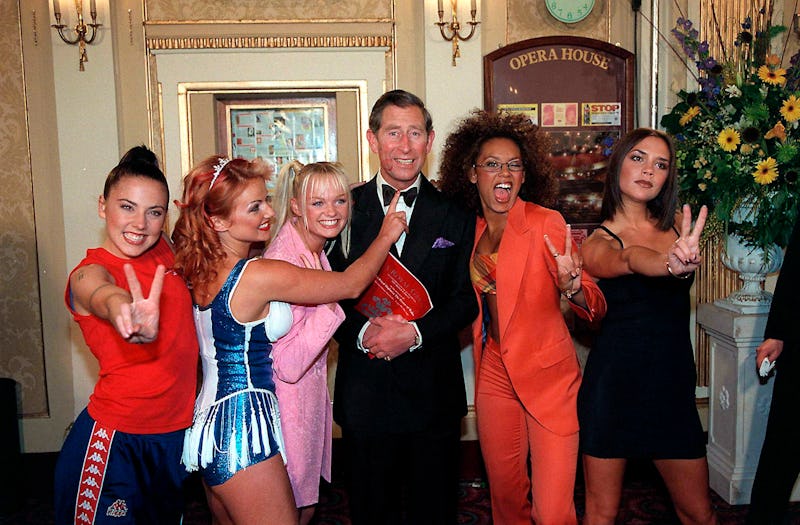 Tim Graham Picture Library/Getty Images
In Oct. 2022, Buckingham Palace announced that the Coronation of King Charles III is scheduled to take place on May 6 at Westminster Abbey. The ceremony will be conducted by the Archbishop of Canterbury and "reflect the monarch's role today and look towards the future." On May 7, the royal celebrations will continue with a special Coronation Concert that is set to be broadcast live from Windsor, and, although the line-up of performers is yet to be confirmed, the Spice Girls will reportedly reunite for the first time in a decade to mark the occasion.
Speaking to The Sun, one insider has claimed that royal organisers are "super keen" to secure the iconic '90s girl band, who are said to be "seriously pondering a return to the stage as a five-piece for such a historical event."
"The reality is that the Coronation is as special as The Olympics — a one-off celebration and unique performance. There is a general sense that a reunion could happen for something this significant. Mel B and Mel C are the ring leaders in the group, trying to make it happen," the source concluded.
Meanwhile, speaking on the U.S. talk show Sherri in Jan. 2023, Mel B disclosed that the entire group "did get together a couple of months ago" and teased that the girl group is talking about "doing something" together "very soon."
If the "Wannabe" hitmakers do indeed take the stage at the forthcoming royal concert, it will mark the first time the Spice Girls has performed together as a five since the London 2012 Olympics closing ceremony.
As mentioned, the concert will take place during the Coronation Weekend commencing May 6, and will be staged and broadcast live by the BBC at Windsor Castle. Buckingham Palace has also confirmed that "several thousand pairs of tickets" will be made available to members of the public via an official ballot.