The Spice Girls Release Unseen Music Video Of A '90s Mega-Hit
Stop right now, thank you very much.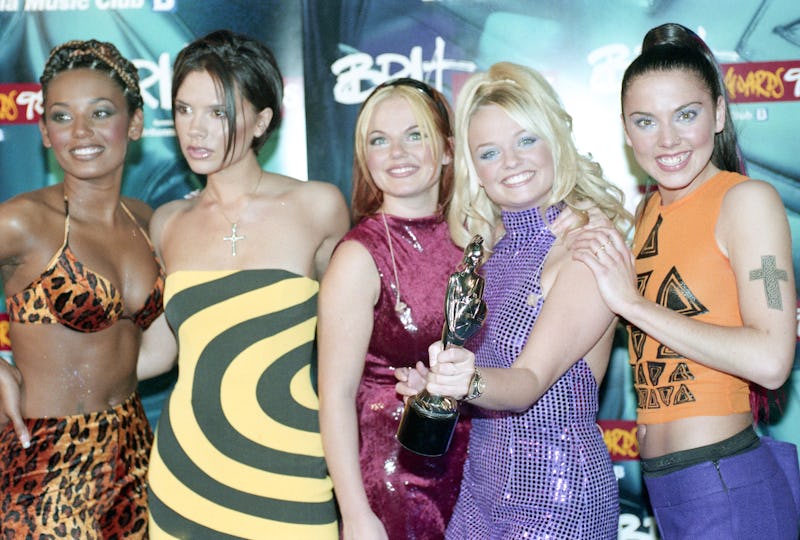 JMEnternational/Hulton Archive/Getty Images
It's been more than 25 years since the Spice Girls released their best-selling second album Spiceworld, and the band has been busy celebrating the milestone with a string of nostalgic releases — including a special anniversary edition of the band's sophomore album, titled Spiceworld 25, and an alternate "Spice Up Your Life" music video. Now, the iconic group is spreading girl power once again, marking the 25th anniversary of their mega-hit "Stop" with a never-before-seen music video.
On March 9, the Spice Girls dropped an alternative video for the hit single, using previously unseen footage from the original 1998 music video shoot. "We still love seeing you dance along with us and to celebrate this anniversary, we've released a new video captured on the original shoot 25 years ago," a message on the website reads.
The celebratory release was welcomed by longtime fans on social media, many of whom "love" the alternative 2023 version. "This dance remains burned into my brain in the best way possible," one fan wrote on Twitter," while another user commented: "After 25 years, I still know the choreography."
"Stop" reached No. 2 on the UK Singles Chart upon its 1998 release, and remains one of the group's most recognisable tracks. The single was featured on the band's second album Spiceworld, which enjoyed three weeks at the top of the UK Album Chart. As of 2022, the album had sold more than 14 million copies worldwide.
As mentioned, a special anniversary edition of the multi-platinum album dropped in Nov. 2022 and was made available in four different formats, including the digital deluxe edition, 2CD and hardback book, 2LP deluxe edition, double cassette, picture disc, and clear vinyl.