Stevie Nicks Says This Taylor Swift Song Helped Her After Christine McVie's Death
"Thank you to Taylor Swift for ... writing a song called 'You're On Your Own, Kid.' That is the sadness of how I feel."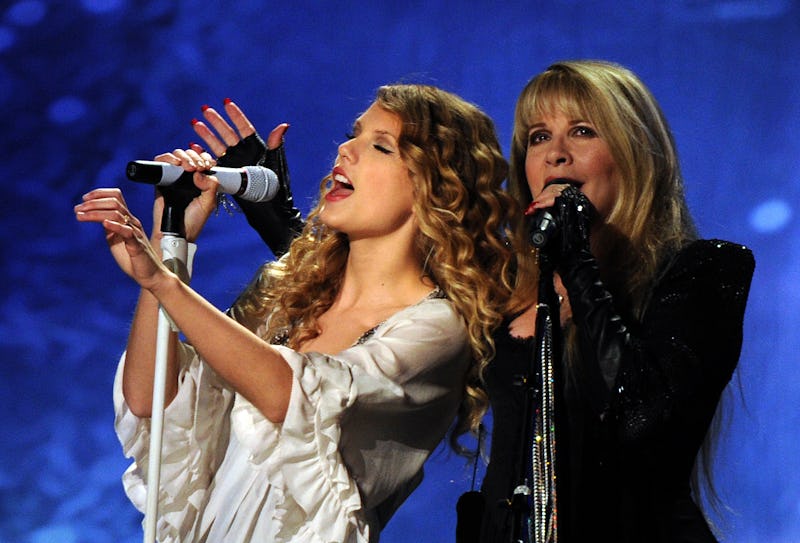 ROBYN BECK/AFP/Getty Images
At her Atlanta concert on May 22, Stevie Nicks revealed that Taylor Swift's Midnights track "You're On Your Own, Kid" helped her grieve the death of Fleetwood Mac bandmate Christine McVie, who died of a stroke and metastasized cancer in November 2022. As seen in videos posted to social media, the singer shared her gratitude to Swift. "Thank you to Taylor Swift for doing this thing for me, and that is writing a song called 'You're On Your Own, Kid,'" she said. "That is the sadness of how I feel."
Co-written and produced with her longtime collaborator Jack Antonoff, "You're On Your Own, Kid" is the latest addition to Swift's famous Track 5 canon, which means it's an emotional doozy. The song sees Swift recount her life from elementary school childhood and awkward adolescence to A-list superstar, outlining all the times she realized she's been on her own.
Nicks went on to explain how she related the song to her life and decades-long friendship with McVie. "As long as Chris was, even on the other side of the world, we didn't have to talk on the phone, we really weren't phone buddies," she said. "Then we would go back to Fleetwood Mac, and we would walk in and it would be like, 'Little sister, how are you?' It was like never a minute had passed, never an argument in our entire 47 years."
After hearing cheers from the audience, Nicks addressed both fans and Swift simultaneously before concluding her show by nodding to the song's lyrics. "So, when it was the two of us, the two of us were on our own, kids, we always were," she said. "And now, I'm having to learn to be on my own, kid, by myself. So, you help me to do that. Thank you."
Nicks and Swift have yet to officially collaborate on a song, but they have mutual fandom for each other. The two joined forces at the 2010 Grammy Awards, where Nicks joined Swift on her Grammy-nominated hit "You Belong With Me" before performing Fleetwood Mac's 1975 classic "Rhiannon." Later that year, Nicks wrote an essay for the TIME 100 honoring Swift: "Taylor reminds me of myself in her determination and her childlike nature. It's an innocence that's so special and so rare. This girl writes the songs that make the whole world sing."
While "You're On Your Own, Kid" did not make it onto Swift's 2023 Eras Tour setlist, she has performed it as one of her "secret songs." There's even speculation that Swift slyly revealed the name of Blake Lively and Ryan Reynolds' fourth child with the lyric, "So long, Daisy May," despite their baby not being born yet when the song was released, thanks to the singer's history of using their children's names in songs. However, the couple has yet to reveal the name or sex of their newborn.