Everything We Know About Sweet Magnolias Season 3
The small-town romantic drama ended on a shocking Season 2 cliffhanger.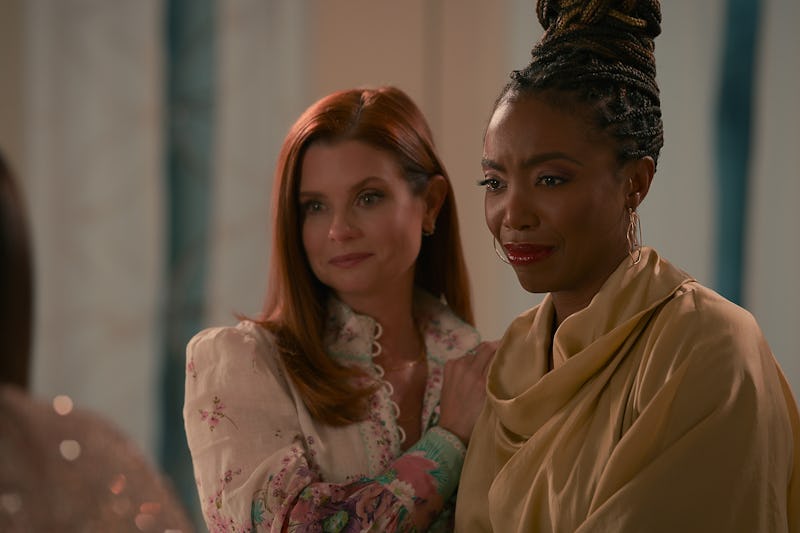 Netflix
Pack your bags for Serenity, South Carolina: Netflix's small drama Sweet Magnolias is returning for Season 3. Netflix announced the renewal on May 4 on Instagram with the caption, "We're going back to Serenity, y'all!"
The series follows three lifelong friends — Maddie (JoAnna Garcia Swisher), Dana Sue (Brooke Elliott), and Helen (Heather Headley) — as they navigate the ups and downs of work, romance, and family. The popular romantic drama is based on an 11-volume series of books by author Sherryl Woods, also titled Sweet Magnolias. The adaptation's first season was a sleeper hit, and Swisher expressed optimism about the series' future in January. "I think that there is a great excitement and willingness to [continue] it. I think that Netflix has always been incredibly supportive of the show, and we feel like they really love it," she said.
Here's everything else we know about Sweet Magnolias Season 3.
The Sweet Magnolias Season 3 Premiere Date
Sweet Magnolias will officially return for Season 3 on July 20 with 10 one-hour episodes.
The Sweet Magnolias Season 3 Cast
We'll see the core group of friends return with JoAnna Garcia Swisher, Brooke Elliott, and Heather Headley reprising their roles as Maddie, Dana Sue, and Helen.
We'll also likely see the return of Logan Allen as Maddie's younger son, Kyle; Anneliese Judge as Annie, Dana Sue's daughter; Carson Rowland as Ty, Maddie's oldest son; Justin Bruening as Cal, Maddie's love interest; Chris Klein as Bill, Maddie's ex-husband; Jamie Lynn Spears as Noreen, Bill's pregnant fiancée; Brandon Quinn as Ronnie, Dana Sue's estranged husband; Michael Shenefelt as Ryan, Helen's on-and-off boyfriend; Chris Medlin as Isaac, a kitchen staffer at Dana Sue's restaurant, Sullivan's; and Dion Johnstone as Erik, Isaac's mentor, and Helen's new partner.
The Sweet Magnolias Season 3 Plot
Season 3 will likely pick up after all those cliffhangers from Season 2.
Helen's motherhood storyline continued in Season 2. She's always wanted to become a mother, but she was left devastated after having a miscarriage with her ex Ryan, who also didn't want kids. They split up and Helen decided to move forward with IVF while pursuing a new romance with Erik. But Ryan returned to Serenity, and in the final moments of Season 2, he suddenly revealed that he wants to have kids now and even proposed to Helen — leaving it unclear if Helen will stay with Erik or try again with Ryan.
Meanwhile, Maddie finally learned the shocking truth about Isaac's paternity: her ex-husband Bill is the father. He had a one-night stand with Peggy (Brittany L. Smith), a newspaper editor who met Bill at a model UN conference when they were teens. On top of that shocker, Maddie also learned that her new love interest Cal, who has had issues with anger management, was arrested after punching his friend Stu (Dave MacDonald) at Sullivan's.
As for Dana Sue, she was suddenly targeted by a mysterious new woman in town, played by Wynn Everett. She first accosted Dana Sue's daughter, Annie, saying, "You look like something she'd spit out. She still busy wrecking people's lives?"
Later, Annie's boyfriend Jackson (Carson Rowland) showed a video of that same woman sticking a screwdriver into the tire of the Sullivans catering van. "Dear Lord, she's back," Maddie said. "What should we do?"
The show didn't reveal who she was, but it's clear the Sweet Magnolias know her — which can only mean even more drama is in store for Season 3.
This post will be updated as more information on Sweet Magnolias Season 3 becomes available.
This article was originally published on