At 28, Tamron Hall Was Stalking Oprah At The Food Court
The talk show host also reveals why she calls her 28-year-old self "the knockoff Jennifer Aniston."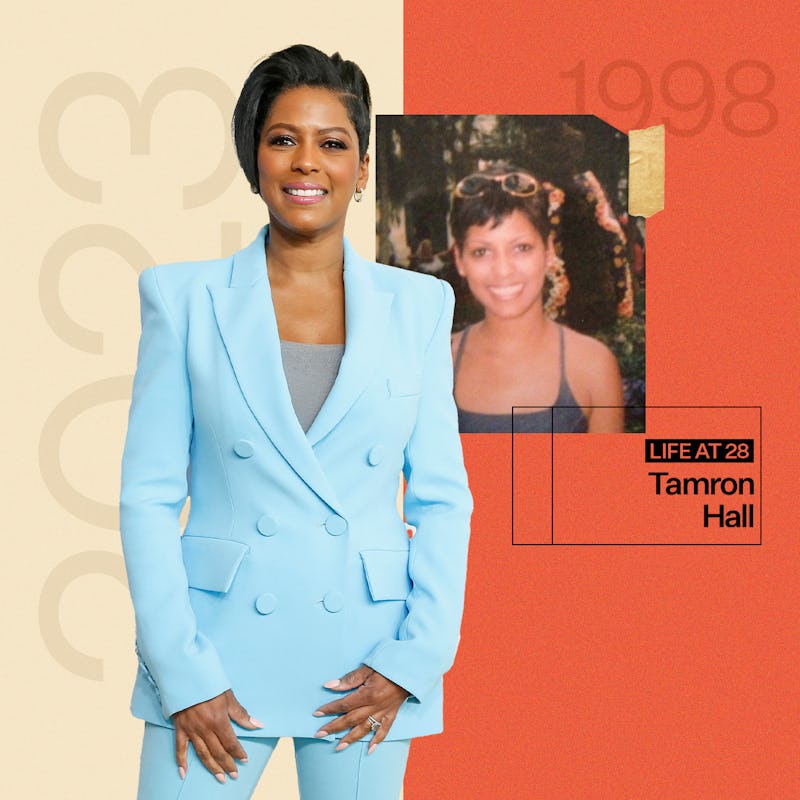 Caroline Wurtzel/Bustle; Rob Kim/Stringer/Getty Images; Courtesy of Tamron Hall
Tamron Hall's first day in Chicago didn't go how she expected. The then-26-year-old Texas native had just left her local news job in Dallas-Fort Worth, landed in the Windy City with her pet parrot, and was ironing her cute Bebe shorts while getting ready to meet friends for dinner. "I looked up at the news, and saw the headline that the world saw, which was Princess Diana was involved in an awful accident, and her condition was unknown," Hall says, recalling how, hours later, she was called in early to begin her new job at Chicago's Fox affiliate, WFLD. "It was a reminder of how life changes in a flash."
By the time Hall turned 28 just over a year later, she was settled into Illinois and grateful for turning down a competing offer to relocate to Miami. "I remember thinking if I go to Miami, I am going to lose focus, and I am not going to be able to maintain this career," she admits. "I think it was the first time I tried to make a sensible decision with my life."
Hall spent the next decade in Chicago learning "toughness" and developing a deep appreciation for the culture she wasn't exposed to growing up in small-town Luling, Texas. After relocating to New York City in 2007 for a stint on MSNBC, she'd eventually go on to become the first Black woman to co-anchor NBC's Today in 2014, before leaving the show three years later. Faced with a new beginning, Hall tried to reconnect with her younger self.
"For me, it was important to find the 28-year-old version of myself. Find that person that was willing to take the risk. Find that person that appreciated opportunity but wasn't going to shrink herself down to get that opportunity," she shares. "I had to leave the 48-year-old me to the side and say, Let 28-year-old Tamron fight this out."
Unsurprisingly, she came out on top. Now, based in New York City with her husband, music executive Steven Greener, and 4-year-old son Moses, Hall serves as the creator, executive producer, and host of the Emmy-winning Tamron Hall show, which enters its fifth season this fall. "The spirit of this show is that there's so much of life we can't control, but your story matters," she says. "It's easy to go to the last page, but what did it take to become that person?"
Below, Hall answers that question and opens up about her role model, signature haircut, and her lack of a work-life balance at 28.
Take me back to 1998, when you were 28. How were you feeling about your life and career?
I felt so excited and so lonely at the same time. I was living in corporate housing. It's a real career move when they pay for your housing. But I was there by myself with my bird. The 28-year-old me was incredibly optimistic but also frightened by life. It's such a critical age because you are definitely far away from college now. This is when you're putting on your armor. But I felt like a child in so many ways, too.
What was your work-life balance like at 28?
This is probably not the best advice, but those are the years that I worked hard, played hard. I'd go to a nightclub until 4 in the morning, and then go to work at 6 or 7. I was too naive to know I was supposed to have a work-life balance. I don't think I could have succeeded if I had been preoccupied with that. I was going to have fun because I was 28, but I was going to work hard because I wanted to achieve some things, too.
Who was your role model at 28?
Oprah, clearly. I drove by Harpo and took the famous picture outside the sign. Someone told me Oprah lived in a Watertown high-rise that had a food court, and I stalked that food court a lot — a lot! Whatever they were serving in that food court, I probably spent my whole check on it.
The '90s were quite the time for fashion. What were your on-air looks like at the time?
My short hair became a very signature look, and I'd actually stolen the haircut from Anita Baker when I was 18. But by the time I got to local news, so many anchors had long hair, more coiffed, beautiful hair, and I turned the expectation of what an anchor looks like on its head with short hair. I guess I was the knockoff Jennifer Aniston. You know how everybody wanted the Rachel then? There were some women who wanted the Tamron.
After you parted ways with NBC you said, "I'm not Tamron from the Today show. I'm Tamron." You continued to say no to opportunities that didn't serve you or that you felt were "insulting." Is that something you would have said or done at 28?
Yes, because I received a book at age 18 called The Path of Light, and around 28 is when I started to understand this chapter that asked: Who are you when the title beneath your name on your business card is gone? Those early messages at 28 certainly rang true much later, but they were already in the back of my mind. When I left the Today show, I was absolutely heartbroken. I thought it was my dream job. But there was something in my mind that kept saying, This is a good movie. Let's see how it ends. That made it a lot less frightening.
What advice would you give 28-year-old Tamron?
I might focus a little bit more on my love life. I dated, but I don't think I was dating for keeps. Work-wise, I made a lot of smart decisions. Not that I made bad decisions in my dating life, but maybe [I'd take a] few more romantic vacations with someone.
What would your 28-year-old self think of your life now?
First of all, she'd say, "Where are you getting this energy from because the way you partied at 28, girl!" I think she'd say, "You did good for yourself." I hope I've made her proud. It's hard sometimes not to focus on the challenges. You can go down that well where you think about how difficult it was. But I tell people if I keep looking at the roadblocks, I don't see the road. And I actually like being on this road.
This interview was edited and condensed for clarity.