Love Island's Tanyel Revan Has A Controversial Dream Dinner Guest
"I think he's too strong minded and that's how I am."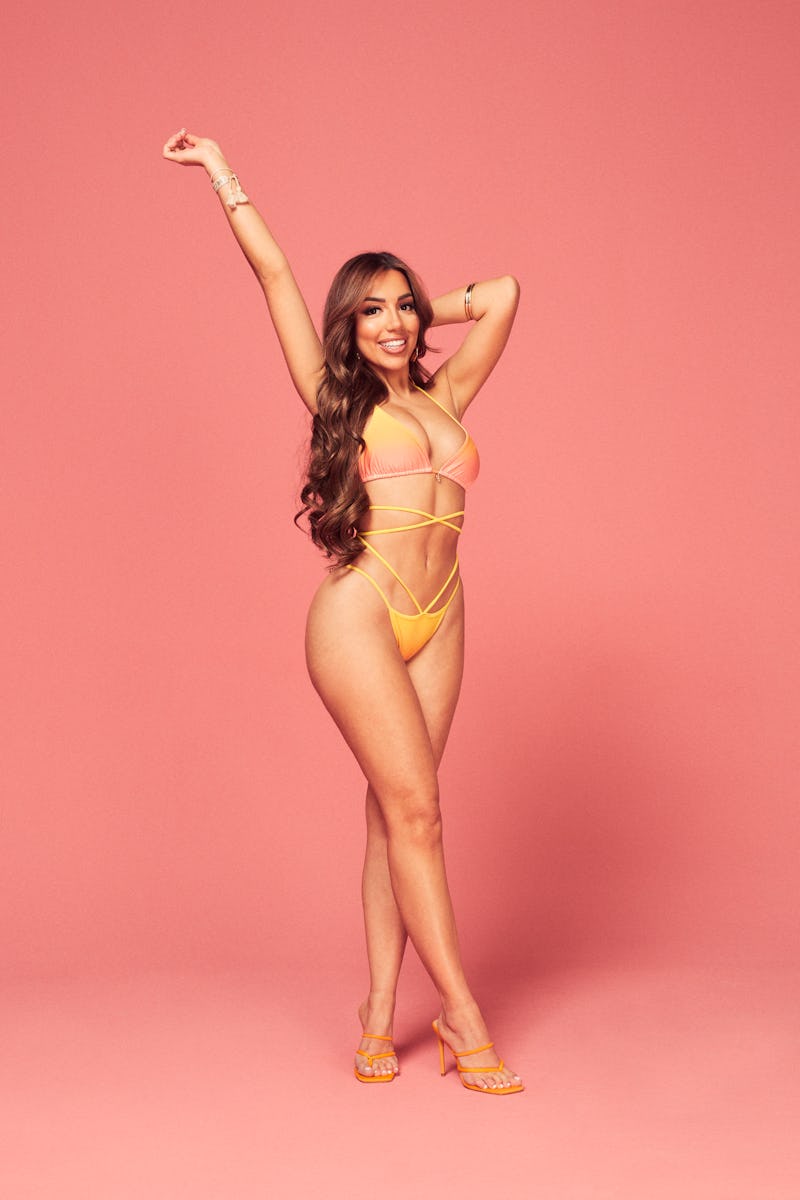 ITVX
Joining fellow contestants such as Will Young, Tanya Manhenga, and Anna-May Robey, Tanyel Revan is among those hoping to make her mark in the Love Island Winter 2023 villa. And it turns out the London-based hair stylist has a rather surprising dream dinner party guest in the form of Piers Morgan. "I think he's too strong minded and that's how I am. I like him and I don't agree with everything he says, but I think he's so direct and I appreciate and respect that," Tanyel told Bustle. Find out everything else there is to know about the hopeful contestant, below.
What Is Tanyel Revan's Job?
26-year-old Tanyel is a hair stylist in North London, per ITVX's statement. However, despite her time in the salon playing with colour and liquids, the Islander has a very specific fear. "I have this weird phobia of certain things touching me, like if it's something creamy or weird I actually feel like I want to throw up. Certain things can't touch me and I can't share drinks. I don't like anything milky — if milk touched my skin it would make me feel so sick. I hate it," she said.
What Is Tanyel Revan's Instagram?
In her own words, Tanyel brings "energy" and "confidence" to the Love Island villa, but she also brings that "funny, loud, feisty, charismatic" quality to Instagram. Posting from Paris, Dubai, and Cyprus, Tanyel has 19.9k followers and counting. Follow Winter Love Island's Tanyel at @tanyelrevan.
Tanyel's hair salon, Revan Hair, is also Instagram on @revanhair. The account, which had 721 followers at the time of publication, specialises in flat weft extensions, balayage, tints, and keratin treatments, per the bio.
Whilst being active on social media, the Islander supports ITV's Instagram ban on contestants. "I feel like it's quite good that they've done it to protect our mental health and our families," she explains to Bustle. "I don't have my phone already and I'm really relaxed in a way to not have to message someone, it's like a holiday."
What Else Is There To Know About Tanyel Revan?
Tanyel's celebrity crush is Channing Tatum, though she's quick to point out that she doesn't "like pretty boys." "They give me the 'ick' because they always have a crap personality," she said in a statement released by ITVX. "Channing Tatum is handsome but not too pretty. He's manly and he can dance. If a man can dance I'm in love with him straight away."
The hair stylist is drawn to bad boys, however. "I don't have a type, I'm done with that, I really go for personality, someone with charisma, a funny guy that puts me in my place. I think I like bad boys because they put me in my place," she tells Bustle.
The Islander wants to make the most of her experience in the Love Island villa and is sure she doesn't want to be tied down quickly. "I want to keep my options open and see who I fancy, I don't want to jump into something straight away because it's going to be a variety of men. I want to take things slow and not cut off chances of anyone later you may not know who comes along and who you may connect with better," she says.
Tanyel is also ready to do whatever it takes on her journey to find love and romance. "I'm a very loyal person but the whole point of this is to find love. These girls will have the same chance with the guys, so I'll go about it respectfully but at the end of it stepping on toes is fine."
This article was originally published on