Taylor Swift's 2023 Eras Tour Setlist Includes Songs From Midnights, Red, 1989 & More
The career-spanning setlist is a mix of songs from albums she's released since her 2006 debut.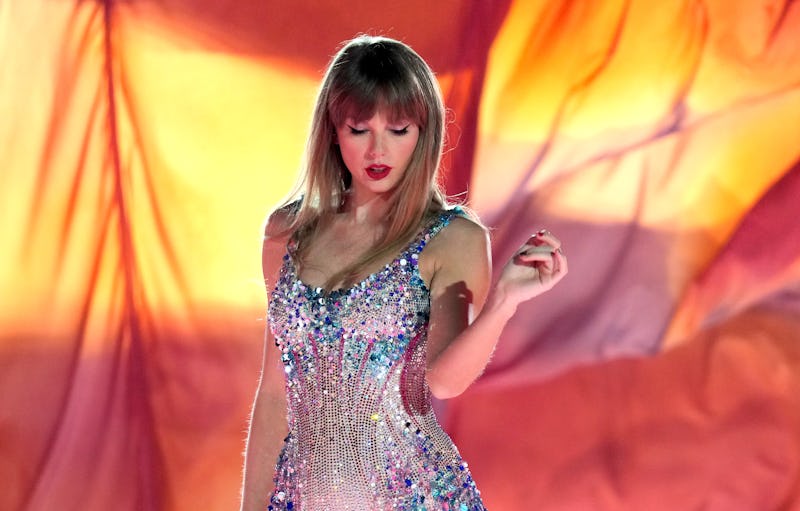 Kevin Mazur/Getty Images Entertainment
It's me, hi, I'm the setlist, it's me — and welcome to the Eras Tour. Taylor Swift's 2023 tour commenced on March 17, with die-hard Swifties gathering inside Arizona's State Farm Stadium in Glendale for opening night. After the 12-time Grammy winner announced her first tour in five years in November, people have been busy concocting dream setlists, imagining which songs from her 10 studio albums would make the final cut. Now, fans no longer have to wonder.
Since her last tour — 2018's Reputation World Tour — Swift has released four new albums, which include more than 70 new songs. She's also unleashed two re-recorded albums with additional "From The Vault" songs. With so many fresh tracks she's never performed live, alongside the many songs from her other albums, Swift's Eras Tour setlist was bound to be long.
For her three-hour Eras Tour set, Swift decided to split the setlist into album eras in this order: Lover, Fearless, evermore, Reputation, Speak Now, Red, folklore, 1989, her self-titled debut, and Midnights. Note: the setlist has slightly changed throughout the tour, as noted in the section below.
Taylor Swift's 2023 Eras Tour Setlist
"Miss Americana & the Heartbreak Prince"
"Cruel Summer"
"The Man"
"You Need to Calm Down"
"Lover"
"The Archer"
"Fearless"
"You Belong With Me"
"Love Story"
"'tis the damn season"
"willow"
"marjorie"
"champagne problems"
"tolerate it"
"...Ready For It?"
"Delicate"
"Don't Blame Me"
"Look What You Made Me Do"
"Enchanted"
"22"
"We Are Never Ever Getting Back Together"
"I Knew You Were Trouble"
"invisible string"
"betty"
"the last great american dynasty"
"august"
"illicit affairs" (bridge)
"my tears ricochet"
"cardigan"
"Style"
"Blank Space"
"Shake It Off"
"Wildest Dreams"
"Bad Blood"
"Lavender Haze"
"Anti-Hero"
"Midnight Rain"
"Vigilante Sh*t"
"Bejeweled"
"Mastermind"
"Karma"
Taylor Swift's Eras Tour Setlist Changes
Beginning on March 31 in Arlington, Swift replaced "invisible string" with "the 1," except for her May 6 show in Nashville, when she brought back "invisible string" to honor a bench in her name at Centennial Park.
Swift performed "Nothing New" with Phoebe Bridgers before "All Too Well" from May 5-28, when Bridgers was one of her opening acts.
Starting on July 7 in Kansas City, Swift added "Long Live" to the setlist during the Speak Now act after "Enchanted."
Swift performed "no body, no crime" with HAIM in place of "'tis the damn season" from July 22-Aug. 9, when HAIM was one of her opening acts. "'tis the damn season" returned to the setlist starting on Aug. 24 in Mexico City.
The Album Eras In Setlist Order
1st Era: Lover
2nd Era: Fearless
3rd Era: evermore
4th Era: Reputation
5th Era: Speak Now
6th Era: Red
7th Era: folklore
8th Era: 1989
9th Era: Taylor Swift
10th Era: Midnights
This article was originally published on