Taylor Swift's "All Of The Girls You Loved Before" References This "All Too Well" Lyric
The singer decided to put out the unreleased Lover leftover after it leaked and went viral on TikTok.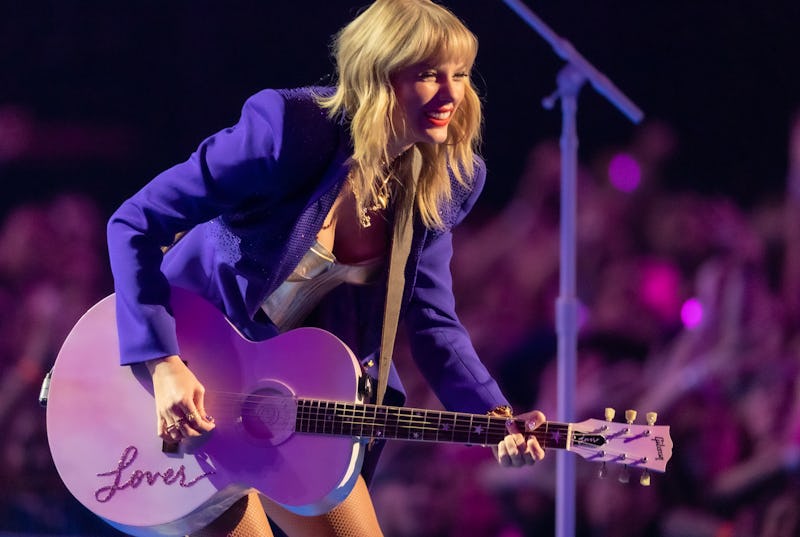 Variety/Penske Media/Getty Images
There's no surprise like a Taylor Swift surprise. On March 16, the eve of her Eras Tour kick-off, the singer announced that she would be releasing four new songs to mark the start of her long-awaited tour. The new tracks include the previously unreleased "All Of The Girls You Loved Before," a song she initially recorded during the sessions for her 2019 album Lover that didn't make the final cut but leaked earlier this month (a rarity for Swift). The song quickly went viral on TikTok, likely leading Swift to put out the final version, which has been added to the Lover album on streaming services.
Sonically and lyrically, "All Of The Girls" would have fit perfectly on Lover, as one of her most spellbound yet self-assured love songs to date. The dreamy, synth-filled ballad finds Swift completely settled into her relationship (with Joe Alwyn, her boyfriend of nearly six years, of course). Instead of becoming fixated on every girl he's dated in the past, she thanks them all for helping him become who he is today. "Teenage love taught you there's good in goodbye," she sings in the bridge. "Every woman that you knew brought you here, I wanna teach you how forever feels like."
Investigative Swifties will also find potential nods to vintage Swift moments. In the second verse, she remembers "crying in the bathroom for some dude whose name I cannot remember now," bringing to mind the infamous lyrics from "All Too Well (10-Minute Version)" where she cries in the bathroom at a party. Swift also sings about how "every dead-end street" eventually brought him to her, a metaphor to describe the end of a relationship that she also used in the chorus of "Red."
Read the full "All Of The Girls You Loved Before" lyrics below.
When you think of all the late nights, late fights over the phone
Wake up in the mornin' with someone, but feeling alone
A heart is drawn around your name in someone's handwriting, not mine
We're sneaking out into town, holding hands, just killing time
Your past and mine are parallel lines
Stars all aligned, they intertwined
And taught you the way you call me "baby"
Treat me like a lady, all that I can say is
All of the girls you've loved before (Oh)
Made you the one I've fallen for
Every dead-end street led you straight to me
Now you're all I need, I'm so thankful for
All of the girls you loved before
But I love you more
When I think of all the makeup, fake love out on the town (Oh oh oh)
Crying in the bathroom for some dude, whose name I cannot remember now
Secret jokes, all alone, no one's home, sixteen and wild (Oh)
We're breakin' up, makin' up, leave without saying goodbye (Oh)
Just know that it's everything that made me
Now I call you "baby"
That's why you're so amazing
All of the girls you've loved before (Oh)
Made you the one I've fallen for
Every dead-end street led you straight to me
Now you're all I need, I'm so thankful for
All of the girls you loved before
But I love you more
Your mother brought you up loyal and kind
Teenage love taught you there's good in goodbye
Every woman that you knew brought you here
I wanna teach you how forever feels like
The girls you loved before (Oh)
Made you the one I've fallen for
Every dead-end street led you straight to me
Now you're all I need, I'm so thankful for
All of the girls you loved before
But I love you more
I love you more