Here's Why Swifties Think Taylor Swift Is Collaborating With Nicki Minaj On 1989 (TV)
Some would say it's written in the stars.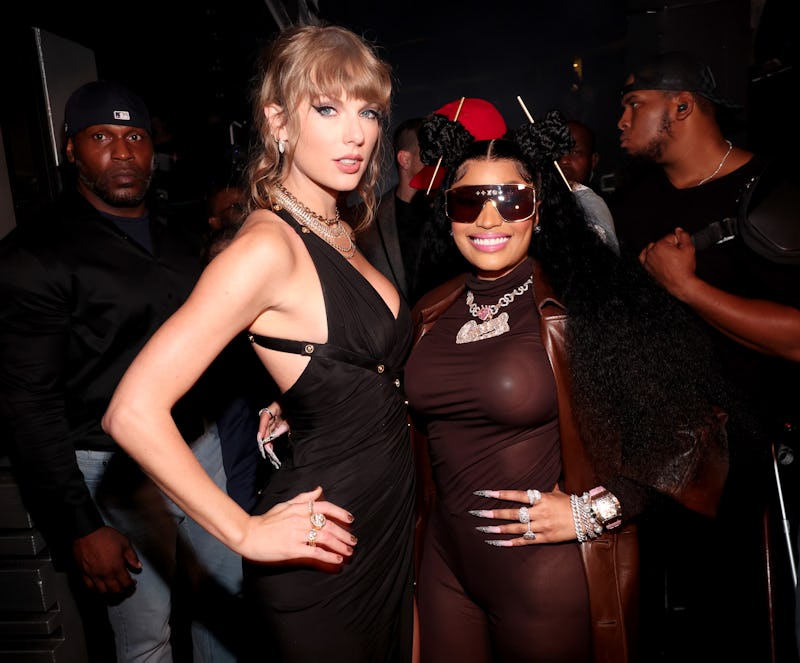 Christopher Polk/Variety/Getty Images
Swifties are currently overloading Google's servers trying to figure out Taylor Swift's 1989 (Taylor's Version) vault puzzles, which are currently popping up on the search engine. One of them may point to a surprising duet. Fans think Swift may be collaborating with Nicki Minaj on one of the five "From the Vault" tracks on 1989 (TV), as one puzzle answer matches potential easter eggs that the two artists have sneakily dropped recently.
One of the 89 vault puzzles (yes, 89 to match the album title) reveals the word "Sagittarius," which is both Swift and Minaj's zodiac sign. In August, the rapper responded to a Twitter post boasting that the two are the only female artists to chart over 100 songs on the Billboard Hot 100 using their star sign. "Fighting the urge to say Sagittarius tingz right now so bad," she wrote, alongside a hand-over-mouth emoji. At the 2023 MTV Video Music Awards, Swift called Minaj her "favorite Sagittarius" before she presented her the award for Best Director.
Now, the word being used in a vault puzzle has fans speculating more than ever that Minaj could very well featured in 1989 (Taylor's Version). All of Swift's re-recordings to date have featured a number of collaborators on her new Vault songs, including Maren Morris and Keith Urban on Fearless (TV), Chris Stapleton, Phoebe Bridgers, and Ed Sheeran on Red (TV), and most recently, Paramore's Hayley Williams and Fall Out Boy on Speak Now (TV).
That said, it's very possible that Swift is just using her star sign as a general hint for 1989, named after the year she was born, given how some of the other Google vault puzzles include "thirteen," to match her birthdate, and "Wednesday," the literal weekday she was born on. While Minaj's use of the word is intriguing, it could also be a red herring.
The pairing would make sense given Swift and Minaj's long history together. The rapper has credited Swift on multiple occasions for helping one of her first pop crossover hits, "Super Bass," become a huge smash, even as recently as 2021, when the song was certified Diamond. Back in 2011, Swift professed her love of "Super Bass" and even rapped a few lines during a radio interview. Later that year, Minaj came out at one of her Speak Now Tour shows to perform the track.
In 2015, Swift returned the favor by making a surprise appearance during Minaj's VMAs performance to perform "The Night Is Still Young" together, along with a snippet of her own "Bad Blood." At last year's VMAs, Swift was seen rapping the words to "Super Bass" and dancing during Minaj's Video Vanguard performance, even instructing the audience to stand up for her speech, during which she shouted out Swift once again. If their rumored 1989 (TV) collab comes to fruition, it would make for a sweet full-circle moment.