Taylor Swift Announces An Extended Cut Of The Eras Tour Concert Film
The record-breaking movie will be available to watch from home soon.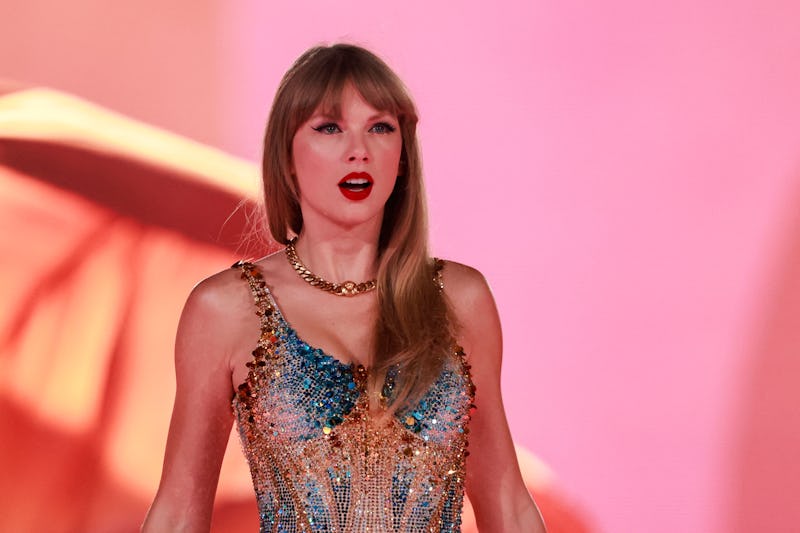 MICHAEL TRAN/AFP/Getty Images
1, 2, 3, let's go b*tch — Taylor Swift is taking the Eras Tour to movie theaters. On Aug. 31, Swift surprised fans by confirming rumors that she was making an Eras Tour concert film (even though she still has over a year of the worldwide trek left to go), and revealed that it was set to arrive in theaters on Friday, Oct. 13.
To the delight of fans, Swift's concert was released a day early in the United States and Canada "due to unprecedented demand." As if that wasn't enough, just a month and a half after its theatrical release, she announced that fans can watch an extended version of her Eras Tour film from home starting on Dec. 13, which happens to be her 34th birthday.
Swift first announced the film on Good Morning America before sharing her excitement on social media. "The Eras Tour has been the most meaningful, electric experience of my life so far and I'm overjoyed to tell you that it'll be coming to the big screen soon," she wrote on Aug. 31. Similar to the Eras Tour, there's a dress code for the occasion. "Eras attire, friendship bracelets, singing and dancing encouraged," she added. "1, 2, 3 LGB!!!! (iykyk)"
Rumors that Swift was planning an Eras Tour film or documentary first swirled when professional cameras were seen shooting the singer onstage as she performed some of her six shows at Los Angeles' SoFi Stadium. Fans also pointed out how their light-up bracelets for those shows were much bigger, almost as if they were tailor-made for a cinematic experience.
TMZ reported that cameras have also been following Swift behind the scenes, but since the film doesn't show any BTS footage, it's possibly being saved for a later project.
Below, here's everything you need to know about Taylor Swift: The Eras Tour concert film and how to stream it at home.
Can You Stream The Taylor Swift Eras Tour Movie?
On Nov. 27, Swift announced that an extended version of the Eras Tour movie will be available to rent on demand on Dec. 13.
"Hi! Well, so, basically I have a birthday coming up and I was thinking a fun way to celebrate the year we've had together would be to make The Eras Tour Concert Film available for you to watch at home!" she wrote.
The extended cut will include three performances that were previously edited out for the theatrical release — "Wildest Dreams," "The Archer," and "Long Live." Sadly, "cardigan" and "no body, no crime" still seem to be left on the cutting room floor. The movie will be available to rent in the U.S., Canada, and additional countries "to be announced" soon.
Taylor Swift Eras Tour Movie Rating
Taylor Swift: The Eras Tour was given a PG-13 rating by the MPAA for "some strong language and suggestive materials." The expletives used in songs like "champagne problems," "betty," and "All Too Well (10-Minute Version)" were all kept in the film.
Taylor Swift Eras Tour Movie Tickets
Tickets for the Eras Tour film are currently available to purchase from AMC Theatres, Cinemark, and Regal Cinemas, as well as the movie ticketing website Fandango. Swift announced that all tickets, including for the early-access screenings, will be available by 10 a.m. on Thursday, Oct. 12.
Tickets were on sale through Nov. 4, but the release was eventually extended through Nov. 29.
Tickets cost $19.89, to mark the upcoming release of 1989 (Taylor's Version), with children's tickets costing $13.13 — again, a reference to her favorite number. (If you see the film in IMAX or Dolby Cinema formats, there will be an upcharge.) No refunds will be permitted, in an effort to stop scalpers from buying tickets and reselling them at exorbitant prices.
Ticket buyers at AMC will receive a free mini-poster while supplies last, and collectible popcorn buckets and drink cups will be available to purchase at AMC theaters while supplies last. (If the popularity of Eras Tour merch is any indication, they won't last long.)
Taylor Swift Eras Tour Movie Runtime
The film is approximately two hours and 45 minutes. Since Swift's concert typically runs close to three and a half hours, five performances were edited out for time.
Thankfully, she still managed to incorporate two "secret songs" out of the six that were filmed for the movie ("I Can See You," "Maroon," "Our Song," "You Are in Love," "Death by a Thousand Cuts" and "You're on Your Own, Kid").
This article was originally published on