Taylor Swift's "Haunted" Piano Frightened Her & Her Fans In A Mid-Show Malfunction
Her piano went rogue and started playing notes on its own due to rain damage.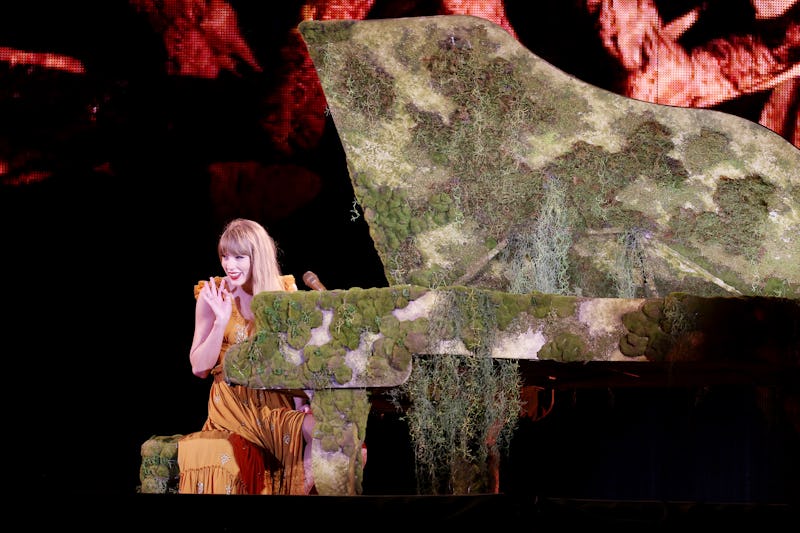 Scott Eisen/TAS23/Getty Images Entertainment/Getty Images
Taylor Swift loves a rain show — but her piano does not. At her Eras Tour show on May 22 at Gillette Stadium in Foxborough, Mass., Swift's piano malfunctioned while she tried to play her second "secret song" of the evening, due to damage caused by excessive rain from the night before. As seen in viral videos taken by attendees, Swift's floral piano played several bum notes as she attempted to tune it, before it went off the rails and started playing notes by itself, completely startling the 12-time Grammy winner.
"Oh my, do you hear that? Is that happening for you too?" she asked the crowd. Some fans in the audience thought it was an intentional comedic intro for a particular secret song or even a special guest, but when Swift said she was just going to play her second song on the guitar, fans knew this was not meant to happen. She went on to play the title track of her 2012 album Red, even remarking that it worked out for the best because a piano version would've been "really sad."
The night before, Swift played one of her infamous "rain shows," where it reportedly poured down for the entire duration of the three-hour-plus concert (but not enough to delay the show, which happened in Nashville two weeks prior), to the point where Swift had to physically brush away huge piles of water off the top of her piano during the "secret songs" segment.
"You know when you've been in a bath for too long and your fingers are so pruned?" she explained to the May 22 crowd. "I looked at my fingers trying to play guitar and it was like I had been in a bath for two and a half hours of lukewarm water. Another thing that happened is this is where we've broken my keyboard, 'cause it was literally underwater. I didn't know how any of the instruments were working last night. So this is broken, I'm just gonna get the guitar. It's gonna be fine."
Naturally, fans on Twitter started creating Swift-related memes and jokes.
Many Swifties even called the piano "haunted" in reference to her 2010 Speak Now deep cut "Haunted." Some even suggested that she should've used it as an intro for performing the song (while others were relieved that she didn't do so).
Despite the mid-show malfunction, Swift had no regrets performing in the rain as she said on social media the next morning while posting photos from the memorable show. "Last night we all danced together in the rain for THE ENTIRE 3.5 HOUR SHOW in foxy Foxborough MA!!" she wrote. "We've had rain shows at Gillette Stadium before but this was a full on deluge that never let up, I just want to thank that iconic crowd!! Love you so much you have no idea."