Twitter Can't Stop Quoting Taylor Swift & Ice Spice's "Karma" Remix Lyrics
"Karma is that girl like grahhh"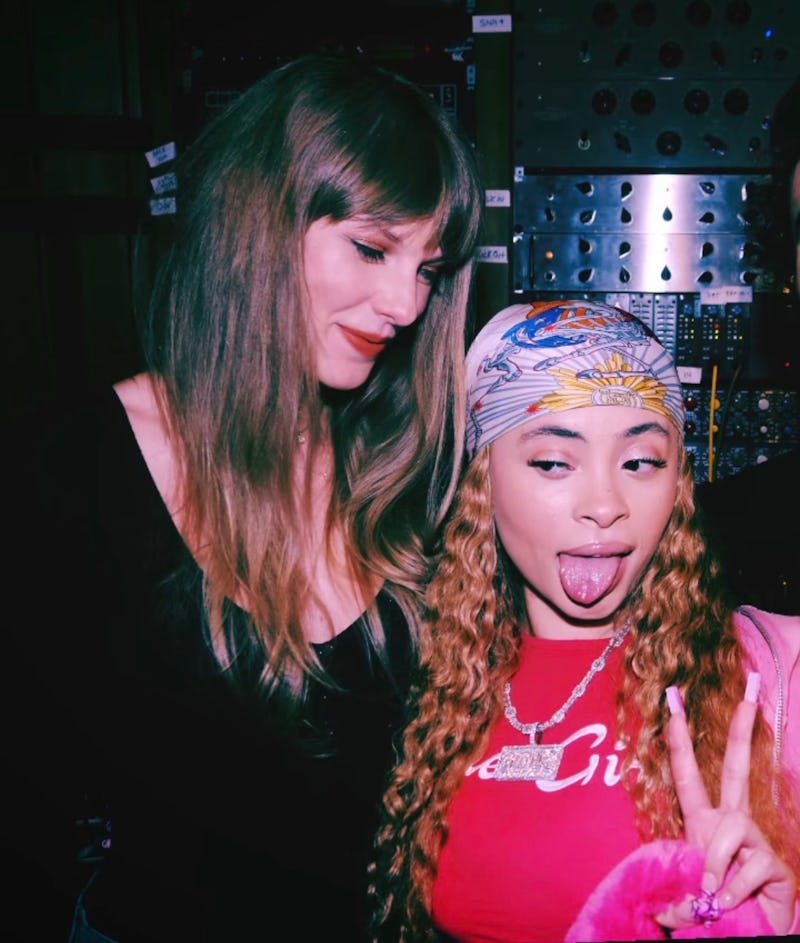 Instagram / Ice Spice
For Taylor Swift, karma is her boyfriend, a god, and now, her bestie, in the form of Ice Spice. On May 26, Swift released her remix of "Karma" featuring the rising rapper as part of Midnights (The 'Til Dawn Edition), which also includes a new take of "Snow on the Beach" featuring more vocals from Lana Del Rey and the streaming release of former Target bonus track "Hits Different."
On the remix, Ice Spice takes over the second verse and makes her own karmic comparisons, saying that karma is a "beauty winning that pageant" and "the fire in your house," which could be a nod to Swift's burning Lover house on the Eras Tour. "And she never leavin' you alone," she raps. "Watch her put ya opps on a throne / Got you wavin' pretty white flags, feenin' for that cash / Thinkin' it'll save ya, now you switchin' up your behavior / It's OK, baby, you ain't gotta worry, karma never gets lazy." She also adds new ad-libs to the track, calling karma "her bestie" and stating "facts" in the background of Swift's bridge.
Ice Spice has been celebrating their collaboration by sharing lyrics on Twitter and posting a new snapshot of her with Swift on her Instagram Story. "sweetest person ever thank u sm," she wrote on Twitter, responding to Swift's announcement. "i love yuuuu."
Swift opened up about working with Ice Spice to Spotify, saying their collaboration came about very naturally. "She reached out through her team just kind of saying, 'Hey, Ice has been a big fan of Taylor's since she was a little kid, would love to collaborate if that was ever something that came about'," she recalled. Swift said she had been listening to her music "nonstop" while gearing up for the Eras Tour and an idea popped into her head. "So I immediately got her number and said, 'Hey, would you wanna do your version of 'Karma'? Do you relate to this?' And so she jumped in head first."
The 12-time Grammy winner went on to lavish praise on the artist, calling her "the one to watch" in the music industry. "Getting to know her has been so special because I'm blown away by her... just watching her work ethic and how thoughtfully she approaches her career," she said. "She's like my new favorite artist and I'm so honored that she's on the song. So, yeah, what a joy."
Naturally, Swifties on Twitter (and Ice Spice herself) couldn't stop quoting the new lyrics, which are bound to take over Instagram captions all summer long.
They also poked fun at some of Ice Spice's new ad-libs, like when she says "facts" as Swift sings, "Karma takes all my friends to the summit," suggesting that it could be the next Eras Tour chant.
Given how "Karma" is the closing song on Swift's Eras Tour setlist, fans are speculating that Ice Spice could come out as a special guest during one of her shows to perform the remix. For those lucky fans in attendance, karma would truly be their bestie.