8 Easter Eggs From Taylor Swift's "Lavender Haze" Music Video
Including which Taylor's Version re-recording we could expect next.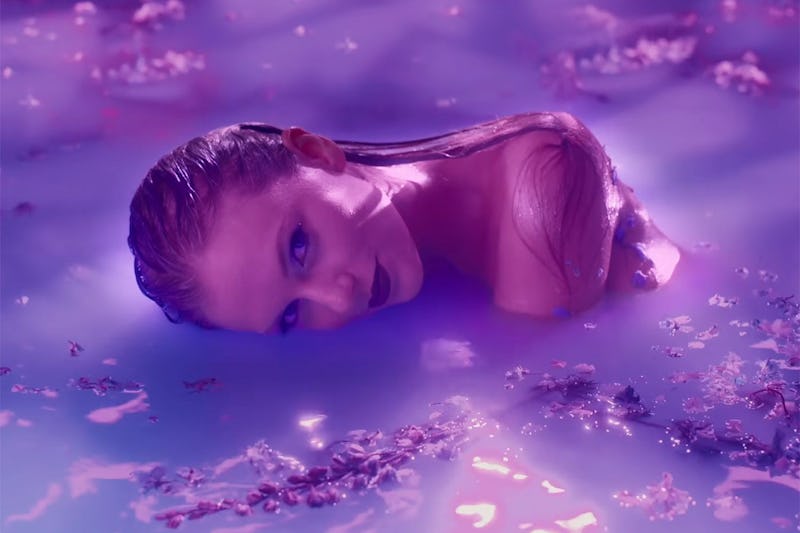 YouTube
Ever since Taylor Swift released Midnights in October 2022 and shared that we could expect *multiple* music videos for her 10th studio album, fans have been eagerly waiting for the latest drop. The last video we saw from this album was the dramatic and glamorous "Bejeweled" back in October last year, but now Miss Swift is back with a brand new video for fans to analyse and decode in the form of "Lavender Haze." The opening track of Midnights was co-written with none other than Zoe Kravitz and is an ode to love whilst also confronting the engagement/marriage speculation that surrounds her relationship with actor Joe Alwyn.
Another music video written and directed by herself, Swift has teamed up with model, actor, and singer Laith Ashley this time round to portray her love interest in "Lavender Haze." In a tweet, the actor shared his love and joy for Swift and the project. "Thank you so much @taylorswift13 for allowing me to play a small part in your story. You are brilliant and this is an experience I will never forget."
And so, without further ado, here are all the easter eggs to dig into for Taylor Swift's "Lavender Haze."
Speak (Right) Now?
Similar to the "Bejeweled" music video, "Lavender Haze" is also giving us some pretty heavy hints when it comes to which re-recording we might expect next from the global icon. The purple imagery throughout the video is yet another indicator that fans might be getting Taylor's Version of Speak Now very soon.
In another reference to Speak Now, we see some Koi fish when Swift opens up the television screen after the weather report, which fans were quick to point out are the same fish that appeared on her Speak Now guitar all those years ago.
A Lover Throwback
Sticking with the fish, many fans also pointed out the parallels between Swift and her Koi fish in the "Lavender Haze" video and the fishbowl scene in her "Lover" video. In this new video, the fish have become bigger and more free, potentially referencing Swift feeling more free in her own life. In fact, Koi fish are known to swim against the current which could be a symbol of perseverance and overcoming obstacles, and a subtle reference to her Reputation era.
Written In The Stars
As Swifties will probably already know, "Lavender Haze" is one of the many songs on Midnights, that seems to be referring to her partner Alwyn and their relationship. The Grammy-winner even acknowledged the ongoing engagement rumours in the lyrics with, "All they keep asking me is if I'm gonna be your bride. The only kind of girl they see is a one night or a wife."
In the video, the reference to Alwyn is all but confirmed with a "Mastermind" vinyl (another Midnights song) that features two constellations: a Sagittarius one for Swift and a Pisces one for Alwyn. The constellations reference also links to the opening lyric of "Mastermind", "Once upon a time, the planets and the fates and all the stars aligned."
The Power Of 13
Would it be an easter eggs round up without a reference to Swift's lucky number, 13? Well, no. And "Lavender Haze" is certainly no different. In the TV weather report featuring Ashley, eagle-eyed fans spotted a "13" on the map that corresponded to the Nashville area, which is Swift's hometown.
Blowing Smoke
In the video, Swift is seen blowing a ring of lavender smoke, which could be a small reference to Lewis Carroll's Alice in Wonderland where the caterpillar blows a ring of smoke. And this wouldn't be the first time that Swift has referenced the famous story. They're also included in 1989's "Wonderland" lyrics ("Didn't you calm my fears with a Cheshire cat smile?"), folklore's "long story short", and the "Anti-Hero" music video where Swift is drinking from miniature bottles and eats tiny food.
It Looks Like (Midnight) Rain
There were several subtle hints for "Midnight Rain" which has led some fans to believe that it could be strong contender for the next single or music video to be released from this album. In the TV weather report, rain is forecast for midnight and in a later scene in the video, Ashley is seen wearing a jacket with a sunshine on its sleeve, which appears to be referencing the lyric, "He was sunshine, I was midnight rain."
Other Midnights Clues
In yet another Midnights reference, Ashley is hosting a weather report on TV which fans have pointed out is illustrating a lyric from "Karma", where she sings "karma is the guy on the screen, coming straight home to me." And the fact that Swift crawls to the television screen seems to confirm another lyric from the song as she's "crawling like a cat."
"Maroon" also gets a nod at the beginning of the video as we see a shot of vinyls and incense burning on a sideboard in the bedroom, referencing the lyric: "When the morning came we were cleaning incense off your vinyl shelf / 'Cause we lost track of time again."
The Teenage Years
In a true vintage throwback, Swifties also drew paralells between a certain scene in "Lavender Haze" and a scene from the "Our Song" music video, taken from her self-titled debut album. In both scenes, Swift is seen lying on a bed of flowers with the only main difference being the colour schemes.
You can check out the music video for yourself, here: