Taylor Swift Fuels Travis Kelce Dating Rumors At A Kansas City Chiefs Game
The NFL star and singer reportedly grabbed dinner after the game.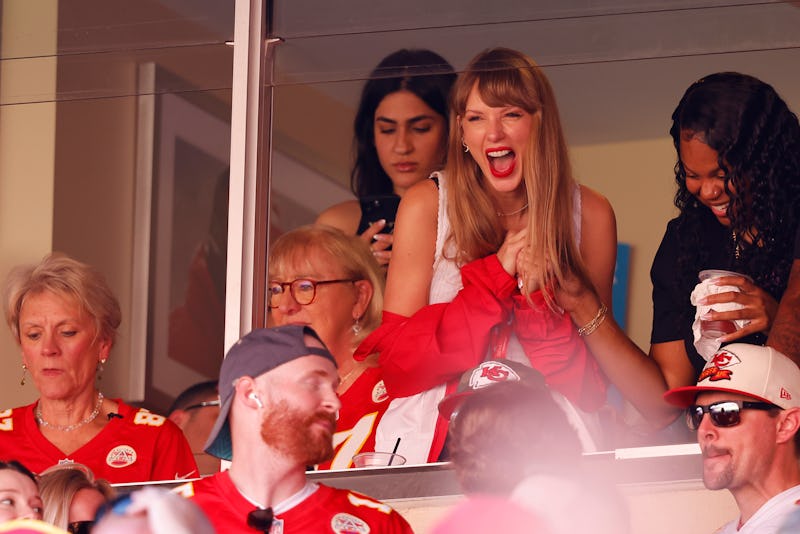 David Eulitt/Getty Images Sport/Getty Images
Has Taylor Swift officially entered her red (and gold) era? Amid speculation that she's dating Kansas City Chiefs star Travis Kelce, Swift attended Kelce's home game on Sunday, Sept. 24, further fueling romance rumors by watching from a suite — and sitting next to none other than the NFL tight end's mom, Donna Kelce.
As the Chiefs and the Bears fought it out on the field, several sports media outlets — and even the NFL itself — quickly capitalized on Swift's appearance at Arrowhead Stadium, sharing videos of Swift cheering and clapping on social media. In one widely-circulated clip, Donna appeared to tell Swift something that surprised and delighted her; other videos caught the singer celebrating a touchdown and shouting, "Let's f*cking go!"
Following the Chiefs' game, Swift and Kelce were spotted leaving together before they reportedly drove off in a convertible and grabbed dinner. A source told People that she was happy to accept Kelce's invitation to the game, even though dating isn't her top priority at the moment. "Taylor is very focused on work right now and hanging out with her girlfriends. Travis invited her to the game, and of course she said 'yes,'" the source said, adding, "she just thought it was a fantastic way to spend Sunday."
Just days earlier, Travis revealed that he'd invited Swift to see him play while addressing the dating rumors on The Pat McAfee Show. Though he wouldn't reveal if they'd met in person, the two-time Super Bowl winner shared that he "threw the ball in her court." What did he tell Swift? "I've seen you rock the stage at Arrowhead [Stadium]. You might have to come see me rock the stage at Arrowhead and see which one's a little more lit." As for where their relationship might be heading, Kelce told the host, "We'll see what happens in the near future."
Travis' comments about Swift came one day after after his brother, fellow NFL star Jason Kelce, joked about the rumored couple on another radio show. "I don't really know a lot about Travis' love life. I try to keep his business kind of his business, stay out of that world," the Philadelphia Eagles center said on DeCamara & Ritchie on Audacy's SportsRadio 94 WIP. "Having said that, man, I think they're doing great and I think it's all 100% true, and I hope this thing goes a mile." Though many believed Jason had confirmed his brother's relationship with Swift, he later clarified, "No, I'm joking, I don't know what's happening."
The speculation about Swift and Kelce began in July, when he admitted to having a crush on the Midnights singer — and to shooting his shot during her Eras Tour stop in Kansas City. "If you're up on Taylor Swift concerts, there are friendship bracelets, and I received a bunch of them being there, but I wanted to give Taylor Swift one with my number on it," he said on his New Heights with Jason and Travis Kelce podcast. "I was disappointed that she doesn't talk before or after her shows because she has to save her voice for the 44 songs that she sings."
Though Kelce was "a little butthurt" at first, he at least seems to have caught Swift's attention. And now that she's seen him shine on the field, maybe their love story really will begin.
This article was originally published on