Fast Friends
Riley Keough and Taylour Paige dish on starring in Zola — and finding each other on the best, worst road trip ever.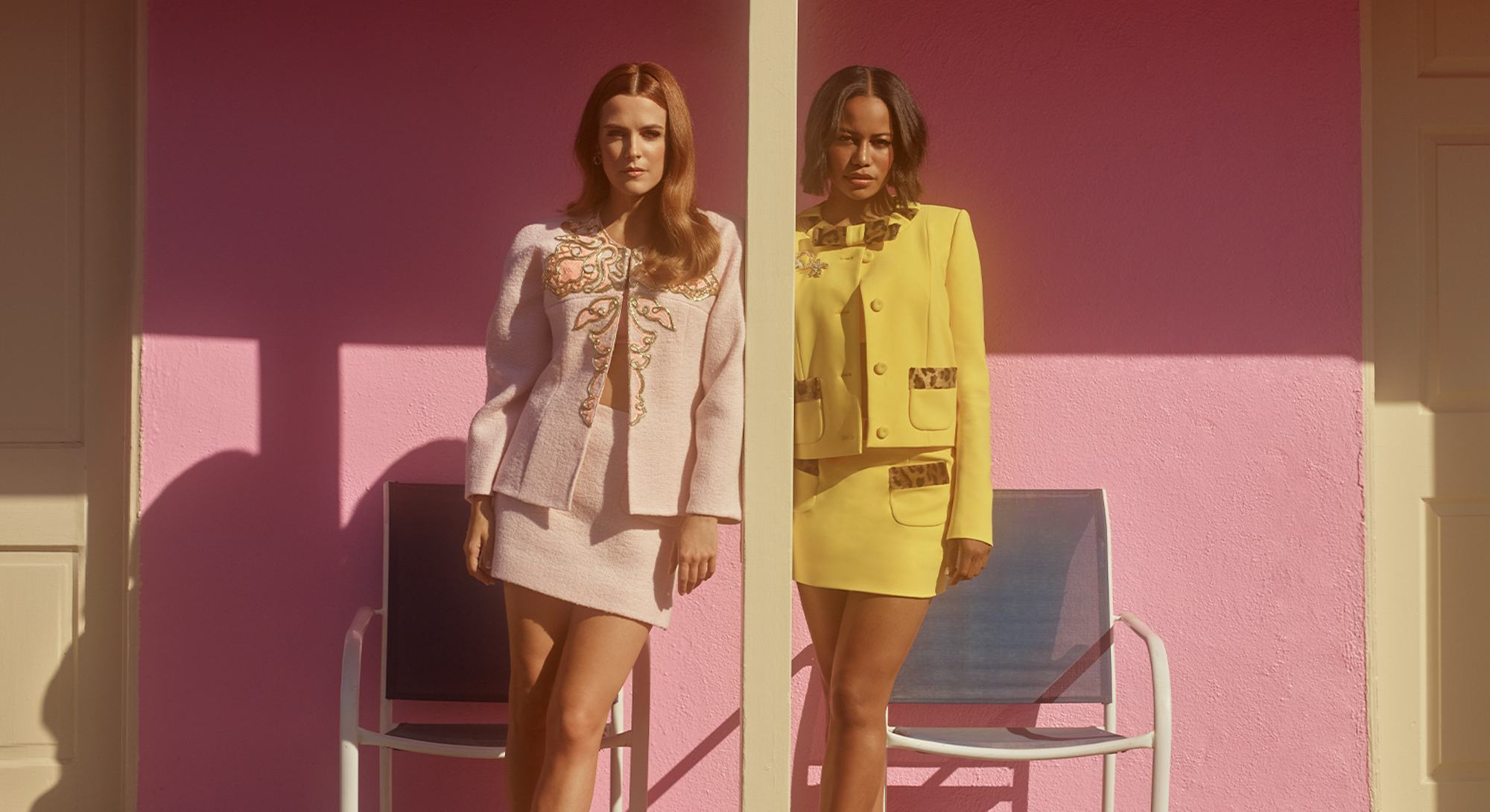 Taylour Paige and Riley Keough know exactly which scene in Zola was their favorite to shoot: the one where Keough's character, Stefani, throws her phone at her formerly affable, dum-dum boyfriend Derrek (played by a perfectly cast Nicholas Braun). Derrek has just discovered that Stefani is tricking on their fateful road trip. He flips out and blows her spot up on Facebook. "An interesting fact about that scene," Keough offers, "is when I throw the phone at Nick, on one take I accidentally hit him in the balls. I was mortified. He was in so much pain, he had to stand up and walk out of the room. I felt so bad, but it was an accident. I was just in the moment." Obviously that's the take that ended up in the film.
When Paige and Keough signed on to star in Zola, the long delayed and highly anticipated film adaption of a viral Twitter thread posted in 2015 by then-exotic dancer A'Ziah Wells King — stage name "Zola" — no one was quite sure what to expect from the actors or the film itself. The original story, recounted by King/Zola with wit and agency in 148 tweets, was irresistible: Zola meets a new friend while waiting tables at Hooters, agrees to go with her to Tampa to dance at Florida strip clubs for a weekend, and discovers along the way that she is surrounded by idiots and probably in danger. But how well would a six-year-old Twitter saga about a "hoe trip" gone wrong translate to the screen?
Director Janicza Bravo had faith that Paige and Keough would deliver, and she was right. "To quote Zola, 'They ate that up,'" Bravo says of the two actors' performances in what will certainly be the first big, zeitgeisty indie seen by audiences who have spent more than a year confined to their homes and the internet.
Hermès clothing, Manolo Blahnik shoes
Bottega Veneta dress and bracelet, Hermès vintage scarf, Swarovski ring
There is incredible comedic chemistry between Paige and Keough in their roles as Zola and Stefani, who rapidly become friends and then foes as what exactly Stefani has dragged Zola into becomes apparent. "It's a quick, lustful romance, where they kind of fall in love very quickly, but then it ends up being this toxic situation instead of true love," Keough says. "True love in two minutes," Paige adds.
Paige and Keough had never met before they showed up to make Zola, and they also fell into mutual girl crush mode immediately. Unlike Zola and Stefani, though, they've stayed fast friends. Since the months they spent filming together in St. Petersburg, Florida, in 2018, their Instagrams have regularly featured posts of the two hanging out, often goofing around. "You changed my life @rileykeough I love you sublime angel queen," Paige captions one. "My angel," Keough captioned a car selfie showing Paige in the back seat. They are full of stories of cast dinners at seafood shacks and bike rides on the beach.
A couple of people were like, 'Aren't you the girl from like... What are you doing here?' I'm like, 'Girl, same as you, trying to get money!'
In some ways, they are an unlikely pair. Keough, an established indie darling, grew up in a show business family of sorts — her grandparents are Elvis and Priscilla Presley, and her mother is Lisa Marie Presley. Her breakthrough role was starring in the first season of the TV adaptation of The Girlfriend Experience. She's logged memorable appearances in art films like Lars von Trier's The House That Jack Built and David Robert Mitchell's Under the Silver Lake, as well as popcorn flicks like Mad Max: Fury Road.
Paige, a classically trained dancer, debuted onscreen as a featured dancer in High School Musical 3. She was a Laker girl and then played a fictionalized cheer dancer in VH1's Hit the Floor. Her supporting role in Ma Rainey's Black Bottom, opposite Viola Davis and Chadwick Boseman, was widely praised, but Zola feels like her introduction as a star.
How did they find their way to a movie about a hilarious Twitter thread about an effed-up road trip that ended in a sex-trafficking twist? Keough remembers reading Zola's story on Twitter when it happened. Paige is wisely not really on Twitter except to promote projects. "I didn't read the Twitter thread until I found out I was auditioning for it and I needed to know what the tea was. And of course I was like, 'Holy sh*t.'"
"In somebody else's hands, this movie would have been an entirely different film, which I probably wouldn't have been a part of and I think Taylour as well definitely wouldn't have been a part of," Keough says. "Janicza and Jeremy [O. Harris, Bravo's co-writer] really protected this story and protected Zola's story." Protecting that story meant honoring King's unique voice and her story's sex worker and stripper characters. Instead of punishing or idealizing them, or both, Zola allows them to be in situations where they are objectified but respects them as subjects. "They're imperfect women in an imperfect situation and setting. You can accept them as people [with] their complications and still find yourself rooting for [them]," Bravo says. "In making this movie, if you were to, for a second, disrespect these women, sex work, it would just be such a failure."
These are the women King says she originally tweeted the story for — not because she was looking to go viral. "I think anyone who tries to go viral on purpose ends up sounding or looking stupid. So it wasn't intentional," King recalls. "I was just kind of venting on Twitter like I always did. All of my followers were sex workers, Black women. I had developed this community. So I was just kiki-ing with them how I always did." She was surprised when the thread blew up but not shocked that other people got wrapped up in what everyone agrees is one of the most gripping yarns ever spun online. It was "divine timing," King says. "Everything happens for a reason."
There was obviously a version of this film where the clothes could have been basic, like ripped jean shorts and a neon bathing suit top and flip flops. There's a Tampa version.
A few more divinely timed things happened after that: The story was optioned by James Franco's production company, two white guys wrote a draft of the screenplay, and the film was set up with several indie production houses behind it.
Then Franco was accused of sexual misconduct and exited the directing post, citing an overpacked schedule. Bravo, who'd had her eye on the project since she first read King's opening salvo in 2015 — "Y'all wanna hear a story about why me & this b*tch here fell out???????? It's kind of long but full of suspense." — came aboard in spring of 2017 and brought on Harris (Slave Play) to help her write a new script. Call it divine timing or karma, but Zola fell into exactly the right hands.
One of the biggest challenges Bravo faced was making the film's audience feel what users of the internet felt reading King's thread for the first time. "I was concerned that we weren't going to be able to mirror what was so electric about the experience of having read it on Twitter," recalls Bravo. "How do you replicate that moment of theater?" In the end, she landed on what Paige describes as "an interpretation of the tweets as hyperbole, not a biopic."
For Keough, hyperbole was not a problem. She lived in Florida for part of her childhood and vividly remembers her 12-year-old self watching MTV Spring Break and thinking I can't wait until I do that one day. She says she based her performance as Stefani, a hyper Southern party girl, on her years of observing people… partying in Florida. The resulting character is, by design, a lot, even more so when contrasted with Keough's own flower child vibe: Halfway through the interview, she asks to pause because her husband, stuntman and actor Ben Smith-Petersen, has brought in a baby bird that fell out of the nest outside.
"What? Where?" Paige says.
"Sweet bird," Keough says. "It's a bird emergency."
"What are we going to name her?" Paige asks.
Paige prepared for the role of Zola in her own way. "I actually went on a little road trip to Vegas to see if I could strip at this club." She stayed at her friend rapper YG's place and headed out with a female friend who actually is a stripper. "So I went, and it was a mess. It was." The club wouldn't let Paige on stage: "My boobies were too small. I had a bun. I looked not like how you want to see a stripper in Vegas, I guess." She laughs about it.
Paige had better luck back home in L.A. "I worked at Crazy Girls for four weeks in L.A., and I was a bit undercover, kind of." Did anyone recognize her? "A couple of people were like, 'Aren't you the girl from like...?' Like, 'Shh, shh, shh.' 'What are you doing here?' I'm like, 'Girl, same as you, trying to get money!'"
Paige had never done pole before; ankle hangs weren't taught at the Debbie Allen Dance Academy. The learning curve for her was about unlearning her technique. To embody Zola, Paige knew her dancing had to be looser. "I wanted to look like a stripper." Her big scene on the pole comes when Zola performs at a Tampa club shortly after she, Stefani, and company get to Florida. Learning that routine gave Paige newfound reverence for a different kind of dancing and dancer. "I truly have so much respect for strippers... It's really hard on the body. You're in that thing till 4 or 5 a.m., and then you have to get up for your life the next day before you go back in there."
Part of looking like a stripper is dressing like one, and Zola and Stefani's wardrobes presented another opportunity to send the film's energy over the top. Bravo and costume designer Derica Cole Washington decided to put Paige and Keough in luxury clothes, specifically the 2000s revival looks that have dominated runways of late. It's a move reminiscent of other young, female buddy comedy classics like Clueless and B.A.P.S. where the clothes helped create a maximalist fantasy version of real life. The high fashion becomes part of the movie's beautiful spectacle.
Hermès clothing
Bottega Veneta dress and bracelet, Hermès vintage scarf, Swarovski ring
"There was obviously a version of this film where the clothes could have been basic, like ripped jean shorts and a neon bathing suit top and flip flops. There's a Tampa version," says Keough. "It could have been that, and it wasn't. I loved how Janicza wanted it to be this elevated aesthetic." Keough's favorite look is "the first outfit you see me in, where I'm that pink Dior thingy. I love that one. And then there's also this sort of Ashanti jumpsuit that I wear a little bit later that I was obsessed with, that I wanted to keep."
In the way that Clueless was, it's just very, very modern.
There are some more casual outfits that also feel especially fresh. "I liked my blue outfit," Paige says of a blue velour sweatsuit, a Juicy throwback, that she wears with a bikini underneath while on the road trip. "It was comfy. I was wearing Cortezes." She also liked the flashy stripper outfit she wore for her big dance number, complete with heart-shaped pasties. "It was metallic-looking like money, a money bathing suit."
Bravo was once a stylist, and her eye for sartorial detail persists when she directs. "My parents are tailors. I'm very aggressive about clothing." She has a specific mark she hopes to hit with the Zola wardrobe: "When I met [Washington], I was like, 'At Halloween, I'll know the movie is a success if I see young women dress like these characters.'" It's easy to imagine Zola and Stefani costumes taking a rightful place among other classic couples costumes like Wayne and Garth.
In the script, Bravo and Harris use language in the same heightened way, running with the tone King set when she laid down that first tweet. The nightmarish and very white Stefani speaks in exclamations and AAVE. Paige didn't want to mimic King exactly for the fictionalized Zola, but she drew inspiration from the real Zola's Detroit accent, especially her pronunciation of little words like "that" and "Ma." Paige took special care to add that "little Midwest flair" to a scene where Zola realizes she's in over her head and calls her mother. It's a way for Zola to connect without revealing too much. "In that moment, she's terrified for her life, she wants her mommy, but she's having to keep a face that everything's fine," Paige says.
Paige was nervous about playing the straight man to Keough's Dior-clad clown, but Bravo convinced her that her reaction takes would be as funny as the ridiculous voice and set of mannerisms Keough does as Stefani, and they are. Both actors say the movie is just asking to be memed, especially Paige's arch delivery of Zola's best lines. They each have meme wish lists. Keough says, "My favorite line of the whole movie is 'Pussy's worth thousands!'" which Zola says when she finds out how little Stefani is charging for sex. "I hope someone makes that for me so I can post it." Paige's is a quip from the original thread, uttered by Zola as Stefani and Derrek are getting into another argument about the small matter of the trip turning out to involve prostitution. Zola, ever practical, deadpans that this is no reason to miss out on the amenities. "She's like, 'So I go down to the pool. I mean, I am in Florida!' I think that it's so funny. It's like, I mean, I am in Florida, sh*t, you know?"
If the internet embraces the movie like it did King's Twitter narrative, Paige will be viewing the memes from Bulgaria, where she is now filming Macon Blair's remake of Troma Entertainment's low-budget horror classic The Toxic Avenger. Looking ahead, she'd love to do a musical; her personal favorites are The Sound of Music and Funny Girl. Keough, meanwhile, is in rehearsals for Amazon Prime series Daisy Jones & The Six, about a '70s rock group based on Fleetwood Mac. But they're in touch, and they'll always have that epic trip to Florida.
Zola feels uniquely modern, and it is as refreshing as a rainbow snow cone in a Florida summer. To restate, it's the first film adapted from a Twitter thread! "How iconic is that? It's a period piece," Paige says, and the period is this one. "You're right!" Keough says. "In the way that Clueless was, it's just very, very modern, a modern tale, a modern odyssey." It's a 2015 story that radiates the current American mood: excited to get out on the road, but also terrified.
Zola premieres in theaters June 30.
Top Image Credits: On Keough: Chanel jacket and skirt, Calle Del Mar top, (worn under), Agmes earrings, On Paige: Moschino jacket and skirt, Calle Del Mar top, (worn under), Tiffany & Co. Schlumberger® brooches
We only include products that have been independently selected by Bustle's editorial team. However, we may receive a portion of sales if you purchase a product through a link in this article.
Photographer: Emman Montalvan
Stylist: Rebecca Ramsey
Keough's Hair: Chad Wood
Keough's Makeup: Mia Jones
Paige's Hair: Alexander Armand
Paige's Makeup: Shannon Pezzetta
Manicure: Thuy Nguyen
Bookings: Special Projects
Videographer: Sam Miron