Ozzie's Coming Out Scene With Kitty On That '90s Show Has Twitter Sobbing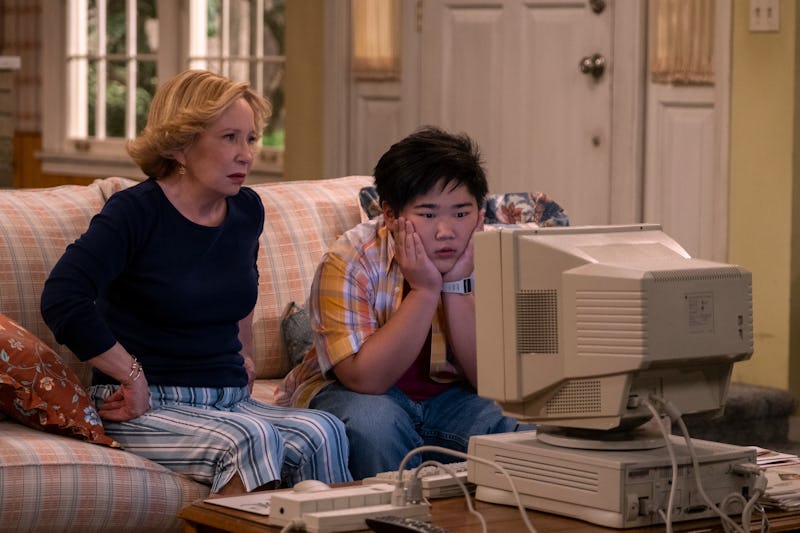 Patrick Wymore/Netflix
On Netflix's That '90s Show, snarky teen Ozzie (Reyn Doi) reveals "his 16-step coming out plan" to his new friend Leia (Callie Haverda). Having just completed step 6 (telling strangers he'll never see again in his small town that he's gay), Ozzie tells Leia that his next step is coming out to an adult that he sees all the time and that he'd chosen her grandmother, Kitty (Debra Jo Rupp). The emotional coming out scene that followed not only left Kitty in tears but had That '90s Show viewers tweeting that they were crying, too.
Ozzie gets some alone time with Kitty by offering to help set up her first computer and teach her how to get online (via dial-up internet, of course). After backing out of his first attempt, he later decides to come out in an email that he sends to her new AOL account. But when the original That '70s Show cast member accidentally restarts her computer, Ozzie can't wait the five minutes it will take to reboot and says, "Mrs. Forman, I'm gay. I've known for a while now, and I wanted you to know. I even have a boyfriend, Etienne, who lives in Canada."
Her response? "Well, I don't know how I feel about this," she says before explaining that her friend Sharon is a mess after the Canadian man she married took off with her car. After Ozzie asks, "But you're OK with me being gay?" Kitty replies, "Well of course I am" and gives him a hug. "You just made me feel really special," she adds while getting choked up and wiping tears from her eyes.
After the That '70s Show spinoff premiered, Doi told People that it was "definitely a joy" to film the heartfelt moment. "Being able to work with Debra Jo on such an important scene, I believe, to the show and also to Ozzie's storyline was really amazing," he said in an interview published on Jan. 23. "And I know that a lot of people came up to me after we had filmed the show [in front of a live audience] that Friday night, and they said, 'That scene made me really emotional.' And I still get comments like that today. So, I'm happy that [comes across] on screen."
Indeed, the memes and tweets that Ozzie's coming out scene inspired reflected that sentiment, too, with the most common theme being that viewers had a tough time quelling the waterworks.
For some, Kitty's acceptance of Ozzie was exactly how they wished everyone would react when someone comes out to them. The character made members of the LGBTQ+ communities feel seen and represented.
Kitty's reaction to Ozzie telling her he's gay ultimately solidified her place as one of America's favorite TV moms, too.
As Doi added in his People interview, he was "just glad that Ozzie is accepted in the show by all of his friends and obviously [Kitty]." It's clear that fans are now embracing him off-screen as well.