Everything To Know About Charity's Bachelorette Season
ABC just revealed the 25 men who will be vying for Charity's heart.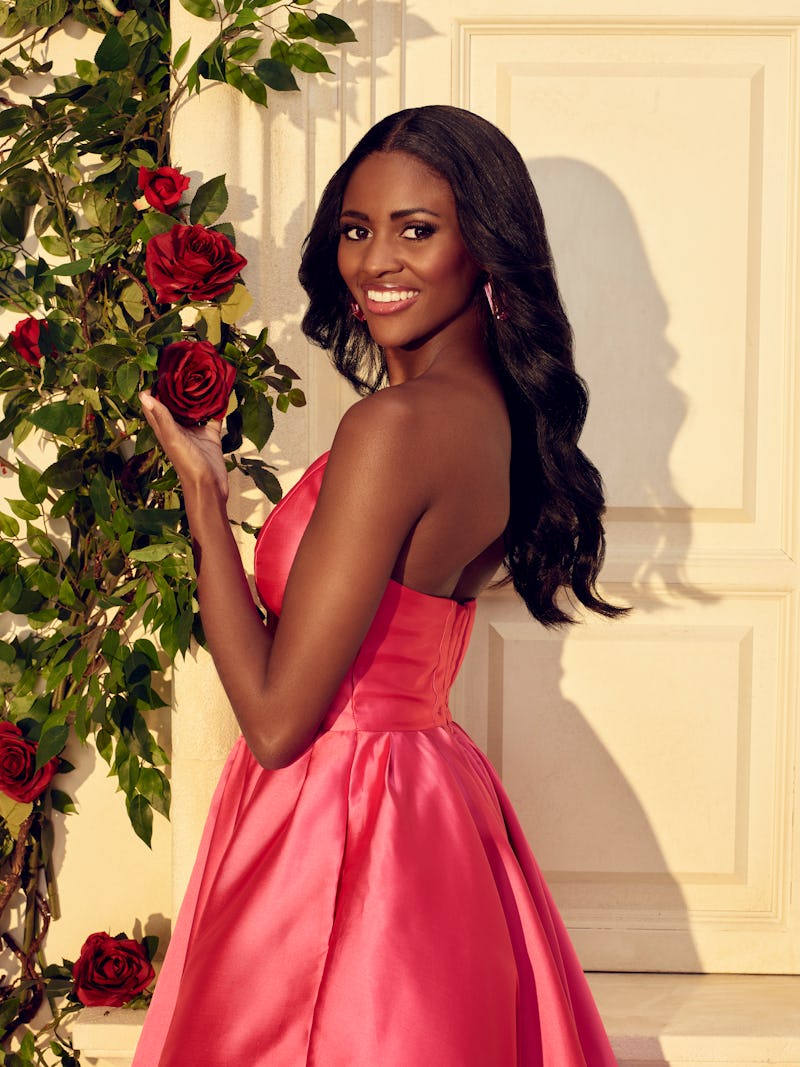 ABC/Sami Drasin
ABC's The Bachelor: The Women Tell All special featured a surprise proposal — but there was no Neil Lane engagement ring involved. Immediately after filming wrapped, host Jesse Palmer marked a first for The Bachelorette franchise and surprised Zach Shallcross' ex, Charity Lawson, backstage to ask her to be the new Bachelorette for Season 20. Under the guise that they were shooting a promotional "This or That" game segment for the show's social media account, Jesse eventually gave the prompt, "Bachelor in Paradise or The Bachelorette?" Still unaware of what was about to happen, Charity answered, "Goodness gracious. Let's say Bachelorette."
After Jesse dropped a few not-so-subtle hints, she finally caught on just in time for him to announce, "I want you to be our next Bachelorette." Initially refusing to believe the proposal, the 27-year-old child and family therapist eventually gave her answer: "It is a yes! Absolutely! 100%, like, absolutely. Wait, I'm gonna cry. I'm shaking right now."
Charity, who also shared the happy news with her parents on speakerphone, slowly began to wrap her head around all the ways in which her life was about to change. "I've waited forever to find the love of my life, and it blows my mind that I could meet my person and be engaged and literally have my happily ever after," she explained during an interview in the March 14 episode. "I'm feeling so many emotions. I'm truly so happy, so grateful, and I am so ready to get engaged to the right person."
Meanwhile, it wasn't lost on Charity that she is now only the fourth Black lead in 20 seasons either. "I can't wait to show little girls that look like me [that] being in a position like this is possible," she added. "I know that I'll be making a lot of people proud."
As she gears up to find love, here's everything to know about Charity's Bachelorette season.
The Bachelorette Season 20 Premiere Date
The Women Tell All special taped on Feb. 24, and Charity began filming her season the weekend of March 18. Ahead of Zach's Bachelor finale, ABC announced Charity will make her Bachelorette debut on Monday, June 26, 2023 during a new time slot. The new season will air from 9 p.m. to 11 p.m. ET on Mondays.
The Bachelorette Season 20 Cast
During her first interview as the new Bachelorette on Good Morning America's March 16 episode, Charity revealed the qualities she wants in a potential future husband. "I definitely am looking for someone who is a compassionate person, so someone who is extremely kind and treats others well. I think, for me, that's something that I value and I have in myself, so I also want that in my partner," she explained. "But also, I love to laugh and have a good time, so a sense of humor, I think that's huge. So, anyone who can come up with a good joke or two is a winner."
On June 1, ABC announced the official cast, revealing the photos, names, ages, and hometowns of the 25 men who will be on Charity's Bachelorette season.
Aaron B.
Aaron B. is a 29-year-old software salesman from San Diego, California.
Aaron S.
Aaron S. is 33 and a firefighter from San Diego.
Adrian
Adrian, 33, is a realtor from Northridge, California.
Brayden
Brayden is a 24-year-old travel nurse from San Diego.
Caleb A.
Caleb A. is 29 and a resident physician from Ann Arbor, Michigan.
Caleb B.
Caleb B., 24, is a pro wrestler from Orlando, Florida.
Christopher "Chris"
Chris is a 27-year-old jumper with two Guinness World Records from White Plains, New York.
Dotun
Dotun is 30 and an integrative medicine specialist from Brooklyn, New York.
James
James, 28, is an attorney from Chicago, Illinois.
Joe
Joe is a 32-year-old tech operations director from San Francisco, California.
Joseph "Joey"
Joey is 27 and a tennis pro from Lawai, Hawaii.
John
John, 27, is a data scientist from New York, N.Y.
John Henry
John Henry is a 30-year-old underwater welder from Virginia Beach.
Josh
Josh is 28 and a Harvard grad student from Bethlehem, Pennsylvania.
Kaleb K.
Kaleb, 26, is a construction salesman from Norcross, Georgia.
Ahmad Khalid "Khalid"
Khalid is a 28-year-old tech recruiter from Dearborn, Michigan.
Michael
Michael is 28 and a yacht captain from Chicago.
Nicholas "Nick"
Nick, 32, is an HR executive from Bayonne, New Jersey.
Peter
Peter is a 33-year-old airline pilot from New York City.
Sean
Sean is 25 and a software sales representative from Tampa, Florida.
Spencer
Spencer, 32, is a medical sales director from Moorpark, California.
Tanner
Tanner is a 30-year-old mortgage lender from Pittsburgh, Pennsylvania.
Taylor
Taylor is 32 and a loan officer from Springboro, Ohio.
Warwick
Warwick, 27, is a construction manager from Nashville, Tennessee.
Xavier
Xavier is a 27-year-old biomedical scientist from Carrboro, North Carolina.
The Bachelorette Season 20 Filming Locations
Though Charity explained on GMA that she doesn't have "much of a say" in her filming locations, she "kinda tossed out" a few destinations she hopes to visit. "Greece is one of them, so we're gonna kind of put that out in the air and hopefully we get to go there," she shared. "But I'm open to anything. I think with the right person, I think any date will be fun."
What types of dates are off-limits? "I'm not open to the cage swimming with sharks. . . . No, not happening," Charity joked. "But anything else, I am ready for."
The Bachelorette Season 20 Trailer
An official trailer will drop closer to The Bachelorette's June 26 premiere date, but ABC did release a short promotional video teasing that Charity's "reign" is about to begin.
The network also debuted a sneak peek of Charity's first night of filming during The Bachelor's live finale and "After the Final Rose" special on March 27. As the first limo pulled up to Bachelor Mansion, Jesse revealed that the man she was about to meet is someone she already knows and has a history with: her "undercover brother," Nehemiah, whose mission includes putting on a disguise to find out if his little sister's contestants are there for the right reasons.
This post will be updated as more The Bachelorette Season 20 details become available.
This article was originally published on