The Best Songs By Fictional Popstars & Bands, Ranked
These fake artists have made a real impact on the music industry and fans' hearts.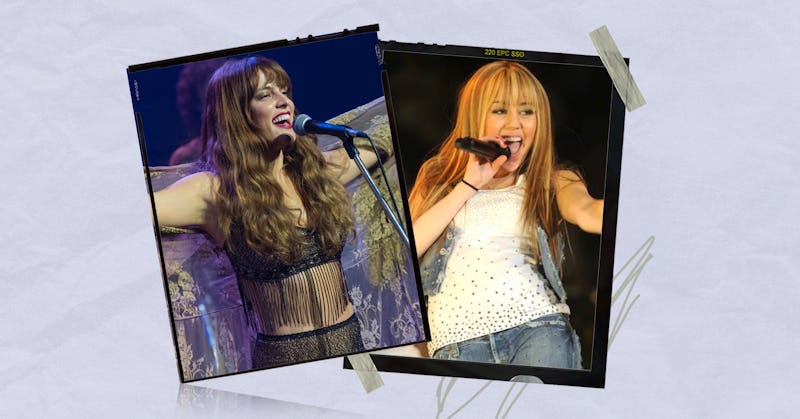 Amazon Studios; Kevin Mazur/WireImage/Getty Images
The best artists of our generation aren't even real. Since what seems like the beginning of television itself, Hollywood has written movies and TV shows of all genres telling stories about fictional rock bands, teen popstars, heartthrob boy bands, and empowering girl groups. In most cases, viewers were only supposed to become invested in their stories, not listen to the music on repeat. Naturally, that hasn't been the case, as millennials who grew up listening to Hannah Montana and Josie & the Pussycats still put those nostalgic jams on playlists decades after their debuts, only making our obsessions with newer fictional artists like Ashley O and Daisy Jones & the Six even stronger.
In recent years, fictional songs are earning more real-life rewards. Lady Gaga played emerging popstar Ally in 2019's A Star Is Born, and won her first Oscar and several Grammys in real life for writing the film's anthemic ballads. And she's not the only time a fake artist has been recognized by real critics and awards bodies. Given their influence on the music industry as a whole, there's no better time to rank the 20 best songs by fictional artists that have stood the test of time.
For the purposes of this ranking, only entirely fictional artists from major films and TV shows are included, not those who started onscreen but then continued on in real life, like The Cheetah Girls and Big Time Rush. These fake bands and popstars also must have at least a small degree of fame and stardom in their fictional world, not just musical aspirations, meaning the kids from Camp Rock and Glee don't count. These 20 songs come from a wide array of millennial classics, but one thing they all have in common is their uncanny ability to live in our minds rent-free.
20. Sex Bob-Omb, "Garbage Truck" (Scott Pilgrim vs. The World)
Scott Pilgrim vs. The World was ahead of its time, partially because of how it starred A-listers like Brie Larson, Chris Evans, and Anna Kendrick before they broke out, but mostly because of the brilliantly named band Sex Bob-Omb. While "Garbage Truck" is a little too fuzzy and grating to be a permanent playlist add, the lyrics that attempt and utterly fail to be seductive make for a great laugh.
19. DuJour, "Backdoor Lover" (Josie and the Pussycats)
Josie and the Pussycats wasn't the only band in their movie — the whole reason they exist is due to the tragic story of DuJour, the boy band who was killed in a plane crash. It's a shame, because "Backdoor Lover" is annoyingly catchy, and the second-best pop song that may be about anal sex (losing to Britney Spears' "Over to You Now"). Considering comedians like Donald Faison, Breckin Meyer, and Seth Green played the boy band members, they knew exactly what they were doing.
18. Boys In Motion, "Boys In Motion" (That's So Raven)
Yes, Boys In Motion's best song is literally just called "Boys In Motion," and it is indeed worthy of our devotion, given how it's so catchy that it'd put the Jonas Brothers to shame. The only reason why Raven Baxter's favorite boy band ranks so low is that their biggest hit is only a minute long. At least they knew how to leave us wanting more.
17. Celeste, "EKG" (Vox Lux)
The entirety of Vox Lux, from Natalie Portman's rollercoaster performance as popstar Celeste to Sia's original songs for the film, is the definition of camp, chaos, and confusion. No track exemplifies this more than the finale of Celeste's show, "EKG," which contains copious amounts of autotune and the lyric "My heart's like a house beat." It plays right after the film's bonkers twist is revealed, making it easy to question your life choices. But it's easier to just submit to the insanity, like Celeste's sister and daughter in the audience.
16. Robin Sparkles, "Let's Go To The Mall" (How I Met Your Mother)
Before Robin Scherbatsky on How I Met Your Mother was just a boring journalist, she was Robin Sparkles, an '80s teen popstar that loved all of the wonderful things the decade made popular, like malls. An ode to flirting with boys at the food court, buying hoop earrings, and trying on jelly bracelets with her BFFs Jessica and Tori, "Let's Go To The Mall" could've been in an old Olsen Twins movie, which is a huge compliment. She had no reason to be embarrassed by her popstar past.
15. Jordan Cahill, "More Than Me" (Stuck In the Suburbs)
Taran Killam may be more known for Saturday Night Live and playing King George in Hamilton, but first and foremost, he will always be Jordan Cahill from Stuck in the Suburbs. The 2004 DCOM proves that he could've been a great teen popstar, with his bleach blonde tips and a carefree, aspirational anthem that makes for the ultimate car karaoke. The dancing could've used some work though.
14. Girls5eva, "B.P.E." (Girls5eva)
Sara Bareilles, Renée Elise Goldsberry, Paula Pell, and Busy Philipps' fictional girl group Girls5eva perfectly straddles the line between parody and greatness (what else would you expect from series creator Tina Fey?). "B.P.E." is the perfect example of that winning combo, and yes, it stands for exactly what you think it does. With one-liners like "confidence boosted by vitamin P" and "open up those classified files from the Department of Treasury," this is one you can both bop to and laugh at.
13. Ally, "Why Did You Do That?" (A Star Is Born)
In A Star Is Born, "Why Did You Do That?" is supposed to be Ally's pop sell-out moment, causing tension in her marriage to Bradley Cooper's country crooner Jackson Maine, who looks on at her Saturday Night Live performance in disgust. It does the job just fine, but one thing that everyone involved in writing the song missed (including Lady Gaga) is that it absolutely slaps. If you didn't want to get up and dance in the movie theater, you're a liar. Clearly, Jackson is not the best arbiter of taste.
12. Josie and the Pussycats, "Pretend to be Nice" (Josie and the Pussycats)
Nothing establishes a new girl group like a kick-ass breakup anthem. In the 2001 film, Josie and the Pussycats had their breakout moment by ripping into an ex-boyfriend who didn't understand his woman's worth and couldn't even pretend to be nice, ghosting her for days at a time. With that guitar solo and epic key change, Rosario Dawson, Tara Reid, and Rachael Leigh Cook proved that they were a pop-rock force to be reckoned with, which their sinister label head would soon find out.
11. Lemonade Mouth, "Determinate" (Lemonade Mouth)
Lemonade Mouth's first hit is exactly what a fake band's song should be: catchy, empowering, and utterly ridiculous. "Determinate" rapidly pivots from an inspirational piano ballad to an electro-pop rallying cry to nerdy boy rapping you'd usually laugh at, before realizing you don't have the stamina to replicate it, all based on a word that's not being used correctly. Bridgit Mendler, Naomi Scott, and Hayley Kiyoko went on to do greater things, but "Determinate" remains their most fun achievement.
10. Daisy Jones & the Six, "Regret Me" (Daisy Jones & the Six)
Daisy Jones and the Six made the jump from book page to an actualized (still fictional) rock band on Amazon's 2023 limited series, with lyrics in the 2019 novel finally coming to life. "Regret Me" establishes the band's Fleetwood Mac inspirations, with stars Riley Keough and Sam Claflin trading vocals about an ill-fated love affair like they're really Stevie Nicks and Lindsey Buckingham. Their characters aren't actually together, but the song's catchiness and relatability make it hit regardless.
9. Cora, "Buddha's Delight" (Music and Lyrics)
As Drew Barrymore's character in Music and Lyrics says, the first hit from Shakira-inspired popstar Cora (Haley Bennett's most iconic role) is "an orgasm set to the Gandhi soundtrack," and that's exactly what makes "Buddha's Delight" an actual delight — or a guilty pleasure, given its potential to offend many cultures at once. Hugh Grant, as a washed-up '80s singer-songwriter, thinks her entire image and catalog is a travesty, so when Cora enlists him to write a love song, he gets uber sentimental in an attempt to humanize her, but the problem is that it's not nearly as much fun as her ode to Buddha.
8. 4*TOWN, "Nobody Like U" (Turning Red)
If the Oscars had any sense, 4*TOWN's "Nobody Like U" would be the third Oscar-nominated song on this list (at least the Grammys recognized its greatness). Finneas leads a Disney millennial's dream boy band, including Jordan Fisher and himself, that drives the plot of Turning Red and reminds us how fun it is to fangirl. Co-written with his sister Billie Eilish, "Nobody Like U" perfectly captures the glory days of 2000s boy bands, while adding the duo's moody touch and charmingly goofy one-liners.
7. Pink Slip, "Take Me Away" (Freaky Friday)
Freaky Friday star Lindsay Lohan doesn't even sing on Pink Slip's first garage-rock song, yet it sounds straight off her 2004 debut album Speak. An angsty plea to run away from the suburbs for the rock star life, "Take Me Away" is packed to the brim with hooks that rival LiLo hits like "Rumors" and "First." Of course, the highlight is Lohan and onscreen mom Jamie Lee Curtis' epic guitar solo that transforms it into a legitimate pop-rock anthem that deserved mainstream hit status.
6. Hannah Montana, "The Best of Both Worlds" (Hannah Montana)
If Miley Stewart were a real person who released this as her popstar persona Hannah Montana's first single in 2023, fans would figure out her secret before the song was over, but "Best of Both Worlds" transcends real-world inaccuracies. From the first guitar riff to the Orlando Bloom shout-out, the 2006 show's theme song ensured Hannah Montana would become this generation's most impactful fake popstar, and set the stage for Miley Cyrus to reach even higher heights over 15 years later.
5. Fire Saga, "Húsavík" (Eurovision Song Contest: The Story of Fire Saga)
Fire Saga's ode to their Icelandic village hits all of the right notes. It's cheesy enough to be believable as a Eurovision contender, heartfelt enough to move you to tears, and so cinematic that its real-life Oscar nomination felt inevitable, not like a joke. Even Will Ferrell's vocals can't ruin it, and it doesn't matter that Rachel McAdams isn't always singing — her voice is blended with Molly Sandén. When she sings in Icelandic and hits that "Speorg note" in the film, you start to miss Húsavík yourself.
4. Ashley O, "On A Roll" (Black Mirror)
Apparently playing one fake popstar wasn't enough for Cyrus. Her second onscreen alter-ego Ashley O, featured on the Season 5 finale of Netflix's Black Mirror, pokes fun at the same pop culture tropes that Hannah Montana proudly embraced, but created a high-key clever banger in doing so. "On A Roll" flips the Nine Inch Nails' anti-capitalist 1990 anthem "Head Like A Hole" on its head, keeping the melody but inverting the lyrics to become an uber-cheery, slyly submissive, and money-driven bubblegum hit. Even the band couldn't deny its brilliance, selling Ashley O merch after the episode.
3. Ally, "Shallow" (A Star Is Born)
As soon as Lady Gaga bellowed "oh-ah-ah-ahh-ah-auhhh-auhhh-oh-oh-woah-ohhhhhh" in the trailer for A Star Is Born, the world was never the same. Ally became a certified name both on and offscreen solely from the power of "Shallow," an epic power ballad that generated as many memes as it did awards, winning the Oscar for Best Original Song in 2019. Cooper gets some credit, as their electric chemistry onscreen and onstage at the Oscars was so intense it fueled romance rumors galore, but Gaga's pensive lyrics and soaring vocals made "Shallow" the timeless classic it has already become.
2. Hannah Montana, "Nobody's Perfect" (Hannah Montana)
Yes, a Hannah Montana song is ranked above an Oscar winner, what about it? One could argue that "Nobody's Perfect" predated the 2010-11 trend of self-empowerment pop songs, including Gaga's "Born This Way" and Katy Perry's "Firework," but in the Disney-friendly way of telling us to embrace our mistakes and flaws. The cheesy message feels grandiose, with relentlessly catchy mantras, a cinematic orchestral intro, and even a spoken monologue before the grand finale. This brand of sleek but heartfelt dance-pop motivation is why Hannah Montana's TV jams haven't aged a day.
1. Isabella Parigi, "What Dreams Are Made Of" (The Lizzie McGuire Movie)
Lizzie McGuire only experienced 15 minutes of fame thanks to "What Dreams Are Made Of", but her Italian doppelgänger Isabella was a full-blown popstar who gave us the greatest song ever made by a fictional artist (with Paolo, who fans don't speak of). Hilary Duff proved she was destined for pop stardom after performing this at the Roman Colosseum (kind of), a song so sugary and whimsical yet well-crafted that it works perfectly as a romantic ballad and a cinematic pop banger. Two decades after the 2003 film, the song's legacy lives on, getting referenced ad nauseam and soundtracking millennials' sentimental milestones. If "Dreams" was featured in an animated Disney classic, not what the Academy may have dismissed as a Disney Channel spin-off, it could have won an Oscar.