The Capture Is Finally Back – & S2 Looks Tense AF
The trailer features Holliday Grainger and new addition Paapa Essiedu in nail-biting scenes.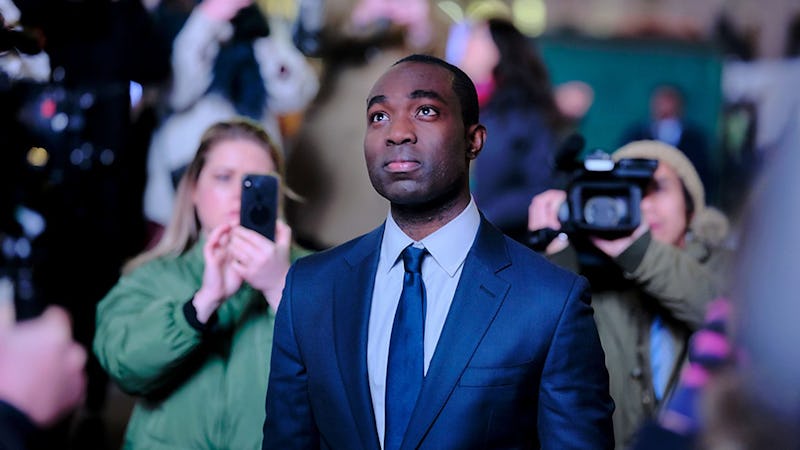 BBC
Bringing in an audience of 7.7 million viewers during its first season, BBC One's The Capture resonated with British audiences so much that it became the "most requested new title" in 2019. After a two-year hiatus, the series, which will this time see Paapa Essiedu take on a lead role, is back with a new story that's sure to get the nation talking. Holliday Grainger is set to return as DCI Rachel Carey, as she investigates another case within the UK's "Correction" unit. This time, the focus will be on her battle against a series of "invisible' assassins" including the media and powerful tech companies But what else can we expect to see in the second instalment? Read on to find out.
The Capture Season 2 plot
In scenes we've yet to recover from, Shaun Emery's story came to quite an abrupt end in Season 1. But the same can't be said for Rachel Carey, who still has plenty of cases related to surveillance manipulation to investigate.
This time, Rachel has found herself "in the middle of a new conspiracy — with a new target," so much so that she can't even "trust her closet colleagues," according to the show's official synopsis. An investigation into her latest target will be fraught with more deep fake technology, rising tension between the government and Big Tech, and a corrupt British media.
Meanwhile, creator and writer Ben Chanan has given a little more insight into how Essiedu's character will influence the narrative, telling the BBC that this particular chapter of The Capture is "honed [in on] the story of Issac Turner, a young, ambitious, idealistic British politician." After what happened to Shaun in the first series, I dread to think what may happen to Isaac.
Speaking about the show as a whole, he's also revealed that gritty 1970s dramas released in the wake of the U.S. Watergate scandal also proved an inspiration, as well as the increasing difficulty in knowing what to trust online that dominates today.
"Video evidence is one of the most successful ways to convict a criminal. Video fakery is becoming ever more convincing. So what happens when these two developments collide? What happens to criminal justice if we can no longer trust what we see?" he told BBC.
The Capture Season 2 cast
I May Destroy You's Paapa Essiedu has joined the series as politician Issac Turner, and is understandably excited to be part of an immensely popular series. "Ben [Chanan, the show's writer] has written one of the freshest and most prescient scripts of recent times ,and I can't wait to see what this incredible cast can do with it," he said in a press statement sent to Bustle. Essiedu will be joined by two new cast mates, too. Game of Thrones' Indira Varma features as steely Newsnight presenter Khadija Khan, while Hanna's Andy Nyman's role is still to be confirmed.
As mentioned, Grainger will reprise her role, as will Sons of Anarchy's Ron Perlman, Devils' Ben Miles, The Crown's Lia Williams, Babylon's Cavan Clerkin, MotherFatherSon's Ginny Holder, and The Salisbury Poisonings' Nigel Lindsay.
The Capture Season 2 trailer and release date
The Capture will start on BBC One and iPlayer on August 28, so be sure to mark the date in your calendars. As expected, the trailer delivers nail-biting drama and high-stakes action. See it for yourselves, here:
This article was originally published on