Everything To Know About The D'Amelio Show Season 3
The first family of TikTok is coming back with new episodes.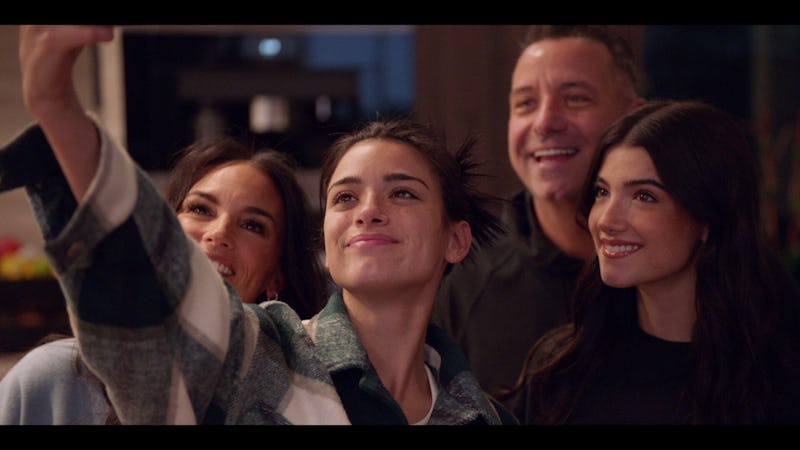 Hulu
Not long after TikTok's most famous family concluded Season 2 of their reality series, Hulu announced that The D'Amelio Show is coming back for Season 3. On Dec. 6, the streamer confirmed Charli, Dixie, and their parents will return for 10 new episodes, chronicling their private life and careers.
While the whole family is the heart of the show, Season 2 highlighted Charli and Dixie and their attempt to forge their own paths. The renewal announcement comes a few weeks after Charli won the Mirrorball Trophy on Dancing With The Stars. Though she often spoke about her love of dance throughout Season 2 of her family's reality show, Charli revealed to Yahoo in September that her love of performing had begun to wane. "I wasn't enjoying what I was doing for work," she told the outlet. "I had to get everything back in order. And now I definitely appreciate getting to do something like Dancing With the Stars and [getting] to have fun and perform in front of my friends and family. That is everything that I wanted."
In the same Yahoo interview, Heidi D'Amelio, who was also on Season 31 of DWTS, spoke about the experience of getting to compete alongside her daughter. She revealed that she and Charli are always checking on one another between rehearsals, adding, " it's fun to do that, and to have someone that you're so close to going through it with you." The family's DWTS success may suggest the D'Amelios will have a lot of material for the third season of their series. Here's everything we know so far about The D'Amelio Show Season 3.
The D'Amelio Show Season 3 Potential Premiere Date
The D'Amelio Show Season 3 does not have a release date yet, but if you analyze the past seasons' release dates, a pattern emerges. Season 1 premiered in September 2021, whereas Season 2 dropped in September 2022. A third season would likely debut in September 2023.
The D'Amelio Show Season 3 Cast
Charli, Dixie, Heidi, and Marc D'Amelio will return for the new season. The cast may even expand to include more screen time for Charli's and Dixie's love interests in Season 3. Dixie has been linked to fellow TikTok sensation Noah Beck since July 2020, and despite breakup rumors, the couple confirmed their relationship at the 2022 MTV VMAs. As for Charli, she has spoken openly about her relationship with Landon Barker, the son of drummer Travis Barker, who is married to Kourtney Kardashian.
"I couldn't be happier with who [Charli and Dixie] have brought home," Marc told People in September. Both Beck and Barker appeared in Season 2 of The D'Amelio Show, and in that same conversation with People, Charli regarded her relationship with Barker as being especially refreshing. "I think I'm very lucky to have someone like Landon in my life," she said. "I don't even feel the need to look at my phone and look at that stuff. I just get to be in the moment with the people that love me."
This article will be updated as more information about The D'Amelio Show Season 3 becomes available.
This article was originally published on