The Ending Of The Fabelmans, Explained
Getting David Lynch onboard was no easy task.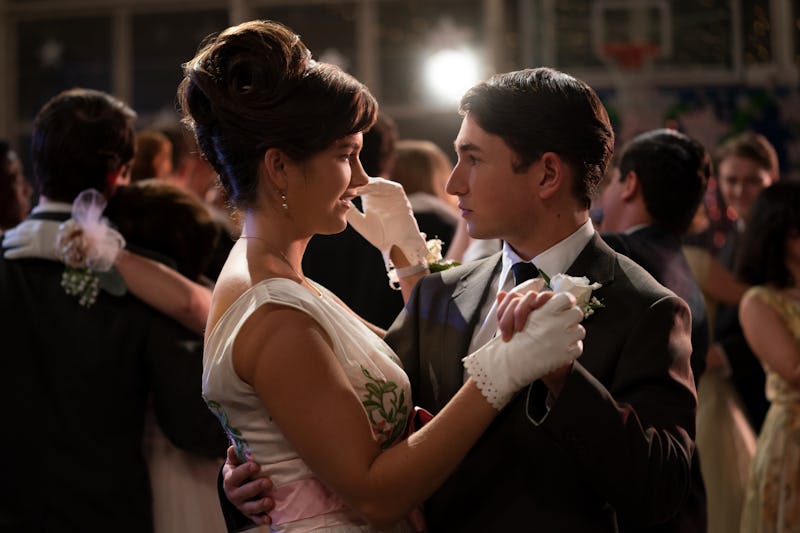 Merie Weismiller Wallace/Universal Pictures and Amblin Entertainment
In Steven Spielberg's latest movie, the loosely autobiographical The Fabelmans, the director explores his childhood and the beginnings of his career. The film ends with a a scene in which the Sammy (young Spielberg's stand-in, played by Gabriel LaBelle) meets the tough-talking director John Ford, who's played by fellow famed director David Lynch. Ford who tells him he needs to work on his framing before he can become a real director. Like so many other moments in the film — including a scene in which his mom Mitzi (Michelle Williams) brings home a monkey — the moment is based on actual events from Spielberg's life.
Throughout the movie, there are a number of references to Ford — namely when Sammy watches one of Ford's movies, The Man Who Shot Liberty Valance. Sadly, Ford, who died in 1973 at the age of 78, isn't around to see the tribute. But movie geeks will surely get a kick out of the scene and Spielberg's clever stunt casting.
Here's what to know about the ending of The Fabelmans, and Lynch's surprise appearance.
What to Make of David Lynch's Cameo
The idea of casting Lynch, Spielberg said, came from the husband of The Fabelmans co-writer Tony Kushner. Once Spielberg heard Lynch's name, "a lightbulb went off," he said, per Deadline.
Like Ford before him, Lynch has inspired generations of directors with his work on celebrated TV shows and movies, including Twin Peaks, Eraserhead, Blue Velvet, and Mulholland Drive. He's also famously a bit of an oddball — and definitely not the kind of guy who's always out and about courting publicity — so getting him to appear in The Fabelmans was no small feat.
At a screening of the film, Spielberg told Martin Scorsese that he had to work to convince Lynch. "He said he was not an actor, and had other projects, and John Ford was so great, what if he didn't come up to those standards? He was just kind of shy about it," Spielberg said, per Deadline. He then went to a mutual friend, Laura Dern, to help court Lynch — and eventually, he warmed up to the idea. But Lynch had his stipulations, Spielberg said: "He says, 'I decided I am going to do this under one condition ... I want to get the costume two weeks ahead of time to live in.' I said, 'You mean you are going to wear it? He said, 'Yes, every day.' The hat, the [eye] patch, everything. And he showed up in a pretty ratty costume."
Yes, Spielberg Did Really Meet John Ford
Like so much about the movie, this fateful meeting was real, and Spielberg's been telling the story for ages. In one interview, he described their encounter in detail: "All of a sudden a man comes into the office, dressed like a big game hunter. Like, safari clothes. Floppy hat. He had a patch over his eye. He was chewing on a handkerchief and he had a cigar in his other hand. And he had lipstick kisses all over his face, but the kind that are put there for fun, you know. Not smears but complete shapes of lips on his forehead, his cheeks, one on his nose. And he goes into his office without saying a word to his secretary. She grabs a box of Kleenex and she runs after him."
Then, Spielberg went on to recount the words Ford said to him — the same ones Lynch's Ford says in the movie: "When you can come to the conclusion that putting the horizon on the bottom of the frame or the top of the frame is a lot better than putting the horizon in the middle of the frame, then you may someday make a good picture-maker. Now get out of here!"